You are here
US flying 'manned missions' to seek abducted Nigeria girls
By AFP - May 13,2014 - Last updated at May 13,2014
LAGOS — Manned US aircraft were flying over Nigeria on Tuesday, searching for over 200 schoolgirls abducted by Boko Haram Islamists after Abuja dismissed a prisoner-swap offer from the militants.
"We have shared commercial satellite imagery with the Nigerians and are flying manned ISR [intelligence, surveillance and reconnaissance] assets over Nigeria with the government's permission," a senior US administration official said Monday.
The official declined to be named and it was not immediately clear what kind of aircraft were being deployed, nor where they were based.
Boko Haram's leader said in a new video obtained by AFP Monday that the girls, whose abduction has sparked global outrage, would only be released if the government freed militant fighters from custody.
Abubakar Shekau made the claim in a 27-minute video, which apparently showed about 130 of the teenagers who were snatched from their school in the remote northeastern town of Chibok nearly a month ago.
The militant leader said the girls in the video had converted to Islam and all were shown in Muslim dress, reciting the first chapter of the Koran and praying at an undisclosed location.
Asked if the government would reject Shekau's suggestion, Interior Minister Abba Moro told AFP: "Of course".
State Department spokeswoman Jen Psaki said US intelligence experts were "combing through every detail of the video for clues that might help ongoing efforts to secure the release of the girls".
Their disappearance has triggered global outrage, in part due to a social media campaign that has won the support of high-profile figures including US First Lady Michelle Obama, Pope Francis and Pakistani schoolgirl Malala Yousafzai.
A total of 276 students were abducted on April 14 from Chibok, which has a sizeable Christian community. Police say 223 are still missing.
Nigeria's government has been criticised for its slow response to the kidnapping, but has been forced into action as a result of international pressure.
President Goodluck Jonathan has accepted help from the United States, Britain, France, China and Israel, which have sent specialist teams to help in the search effort.
French President Francois Hollande has also called for a west Africa security summit to discuss the Boko Haram threat, which could be held as early as Saturday.
The United States and Britain have been invited, he said.
The latest footage shows the girls in black and grey full-length hijabs, sitting on scrubland near trees.
Three of them are shown being interviewed — two said they were Christian and had converted while one said she was Muslim.
All three pronounced their belief in Islam dispassionately to the camera, sometimes looking down at the ground and apparently under duress.
Most of the group behind them were seated cross-legged on the ground. The girls appeared calm and one said they had not been harmed.
There was no indication of when the video was taken, although the quality is better than on previous occasions and at one point an armed man is seen in shot with a hand-held video camera.
Shekau does not appear in the same scene. Instead, he is seen dressed in combat fatigues, carrying an automatic weapon in front of a lime-green canvas backdrop.
'We have liberated them'
Speaking in his native Hausa language as well as Arabic, he restated his claim of responsibility for the kidnappings, and said the girls were converting to Islam.
"These girls, these girls you occupy yourselves with... we have indeed liberated them. These girls have become Muslims," he said.
"There are still others who have not converted and are holding on to your belief. There are many of them," he added.
"Only Allah knows how many women we are holding, the infidels who Allah commands us to hold."
On the prisoner release, Shekau said Boko Haram's brothers in arms had been held in prison for up to five years and suggested that the girls would be released if the fighters were freed.
"We will never release them [the girls] until after you release our brethren," he said.
Boko Haram has been waging an increasingly deadly insurgency in Nigeria's mainly Muslim north since 2009, attacking schools teaching a "Western" curriculum, churches and government targets.
Civilians, though, have borne the brunt of recent violence, with more than 1,500 killed this year alone while tens of thousands have been displaced after their homes and businesses were razed.
Boko Haram has used kidnapping of women and young girls in the past, and Shekau indicated that more were being held. Eleven girls were abducted from the Gwoza area of Borno state on May 4.
Jonathan has previously said that he believed the kidnapped students were still in Nigeria and would be freed soon.
There have been fears that the girls may have been taken into neighbouring Chad or Cameroon, from where Boko Haram is said to have launched attacks in the northeast and may have camps.
Related Articles
May 12,2014
Boko Haram's leader said in a new video obtained by AFP on Monday that more than 200 abducted Nigerian schoolgirls would only be released if the government freed militant fighters from custody.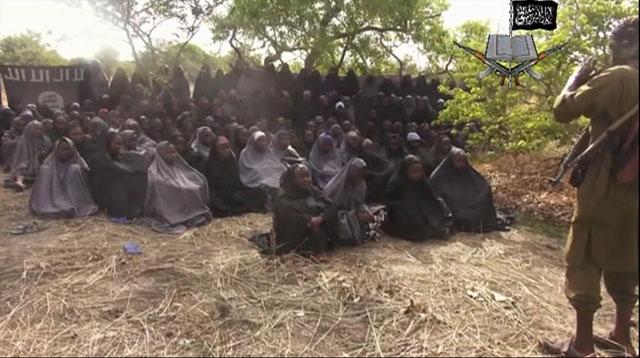 Nov 01,2014
Boko Haram has claimed that the 219 schoolgirls it kidnapped more than six months ago have converted to Islam and been "married off", shocking their families and confirming their suspicions about a supposed ceasefire and deal for their release.
Apr 14,2015
Nigeria's president-elect Muhammadu Buhari on Tuesday cautioned he could not make promises on the return of 219 schoolgirls kidnapped by Boko Haram, as the country marked the first anniversary of their abduction.
Newsletter
Get top stories and blog posts emailed to you each day.