You are here
US and EU slug it out with Russia over Ukraine
By AFP - Feb 01,2014 - Last updated at Feb 01,2014
MUNICH, Germany — The United States and EU traded unusually sharp barbs with Russia Saturday over Ukraine's future amid concerns that Kiev could resort to possible military intervention to end anti-government protests.
Neither side pulled any punches, with US Secretary of State John Kerry saying what happens in Ukraine is crucial for Europe's future while his Russian counterpart Sergei Lavrov blasted wilful and two-faced Western interference.
"Nowhere is the fight for a democratic, European future more important today than in Ukraine," Kerry told political, diplomatic and military leaders at the Munich Security Conference.
"The United States and EU stand with the people of Ukraine in that fight," said Kerry who later Saturday met Ukrainian opposition leaders including former world boxing champion Vitali Klitschko in Munich.
Kerry, speaking on a panel with US Defence Secretary Chuck Hagel alongside, said the "vast majority of Ukrainians want to live freely in a safe, prosperous country".
"They are fighting for the right to associate with partners who will help them realise their aspirations — and they have decided that means their futures do not have to lie with one country alone, and certainly not coerced."
Earlier Saturday, the party of opposition leader Arseniy Yatsenyuk said he had warned European officials it was "very likely" Kiev would "resort to a use of force scenario, including with the involvement of the Ukranian army".
The Ukrainian defence ministry has warned that protestors' seizure of government buildings was unacceptable and that "further escalation of the confrontation threatens the country's territorial integrity".
Ukraine's SBU security service meanwhile announced a criminal investigation into what it said was an opposition attempt to seize power.
Yatsenyuk's party, which has jailed former prime minister Yulia Tymoshenko as its head, told AFP that "an announcement by the SBU is an element of a use-of-force scenario, planning the possible introduction of a state of emergency".
For his part, Klitschko warned of "a spiral of escalation" and told journalists that in Ukraine "we must avoid the start of a civil war".
He also said that "I would support sanctions" against the government of President Victor Yanukovych because "it is the only language understood by today's dictators of Ukraine".
'Ukraine's future with Europe'
European Council President Herman Van Rompuy told another panel that the EU wanted good relations with Russia, but that the Ukrainian people had to have the right to choose their own future, a future with Europe.
The West and Russia have been at loggerheads over Ukraine since Yanukovych ditched an EU association accord in November under pressure from a Moscow trying to bring its former Soviet satellite back into the fold.
His decision sparked off massive anti-government protests, which turned increasingly violent last month after he rushed through a series of curbs on protests.
Kerry's meeting with the Ukraine opposition may have explained the unequivocally harsh remarks by Lavrov who accused the West of stoking the violence in Kiev in a clear example of double standards.
"Why are many prominent EU politicians actually encouraging such actions although back home they are quick to severely punish any violations of the law?" Lavrov told the conference.
"What does incitement of increasingly violent street protests have to do with promoting democracy?," he said, speaking at the same panel as Van Rompuy.
"Why don't we hear condemnation of those who seize and hold government buildings, attack the police, torture police, use racist and anti-Semitic and Nazi slogans?" Lavrov said.
Spheres of influence
EU foreign affairs head Catherine Ashton is due to visit Kiev again next week, having previously met the government and opposition figures several times there to call for peaceful dialogue.
Other prominent EU, US and international figures have also been frequent visitors to Kiev, drawing a strong government and Russian response although Lavrov's remarks Saturday were unusually blunt in comparison.
Describing the situation in Ukraine as raising "fundamental questions" about EU-Russia relations, he said that in this case "a choice is being imposed."
Europe's future should "not be about new spheres of influence... it should be about how all countries" cooperate in the interest of all, he said.
For his part, Kerry said "Russia and other countries should not view the European integration of their neighbours as a zero-sum game".
"The lesson of the last half-century is that we can accomplish much more when the United States, Russia and Europe work together," he added.
Related Articles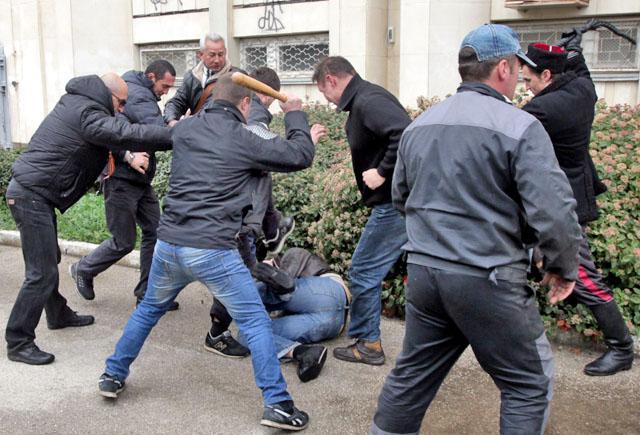 Mar 09,2014
Pro-Russian activists attacked supporters of Kiev's new leaders with clubs and whips as thousands rallied across Ukraine in rival demonstrations Sunday, while Russian President Vladimir Putin dug in his heels in the escalating standoff with the West.
Feb 04,2014
The mayor of a western city warned that his police would fight any troops sent in by the president. The governor of an eastern region posted an image of an opposition lawmaker beaten bloody, saying he couldn't contain his laughter.
Feb 18,2014
Ukrainian protesters hurled petrol bombs, fireworks and stones at riot police on Tuesday, and at least nine people died in the worst day of violence since demonstrations erupted against President Viktor Yanukovich 12 weeks ago.
Newsletter
Get top stories and blog posts emailed to you each day.