You are here
UN Security Council calls for 'humanitarian pauses' in Gaza
By AFP - Nov 17,2023 - Last updated at Nov 17,2023
Palestinians walk past the rubble of the Al Saqa Mosque, damaged during an Israeli strike, at Khan Yunis in the southern Gaza Strip on Thursday (AFP photo)
UNITED NATIONS, United States — The UN Security Council on Wednesday called for "extended humanitarian pauses" in the Gaza Strip, the first time it has broken its silence since the start of the bloody conflict between Hamas and Israel.
The resolution, prepared by Malta and adopted with 12 votes in favour, "calls for urgent and extended humanitarian pauses and corridors throughout the Gaza Strip for a sufficient number of days" to allow aid to reach civilians in the besieged territory.
The text raises the question of how many days would be considered sufficient. A previous version of the draft seen by AFP called for an initial pause of five consecutive days within 24 hours of the adoption of the resolution.
"It needs to be long enough for us to be able to mobilize the resources, once we have enough fuel, for people to get what they need," said Stephane Dujarric, spokesman for the UN secretary-general.
Security Council resolutions are meant to be legally binding, but in practice some members have ignored them.
The resolution called on all parties to comply with international humanitarian obligations "notably with regard to the protection of civilians, especially children".
It also called for the "immediate and unconditional release of all hostages held by Hamas and other groups, especially children". Over 230 hostages are believed to be held by Hamas.
Three states abstained, the United States, Britain and Russia.
Israel's foreign ministry spokesman also called for an "unequivocal" condemnation of Hamas, but signalled there was no room "for prolonged humanitarian pauses" as long as the hostages were not released.
Diplomats say members waited to schedule a vote until they were relatively sure of success.
With its 10 non-permanent members taking the lead, the Security Council launched new talks on a resolution, but those negotiations got bogged down on the wording to be used to call for a stop, however brief, to the fighting.
The United States opposed any use of the term "ceasefire", diplomats said. Other terms floated were "truce" and "pause".
"I know we are all disappointed about the inaction of the Council in the past 40 days," China's UN Ambassador Jun Zhang said on Wednesday.
Malta's UN Envoy Vanessa Frazier said "the Security Council members are united in wanting a voice."
While recognising the "nuances" between their positions, she said all 15 members have "the desire to save life and provide respite" to civilians.
Related Articles
Dec 02,2023
GAZA STRIP, Palestinian Territories (AFP) — Israel carried out deadly bombardments in Gaza for a second day on Saturday after a week-long tr
Dec 11,2023
DOHA — Mediation efforts are continuing to secure a new Gaza ceasefire despite ongoing Israeli bombardment that is "narrowing the window" fo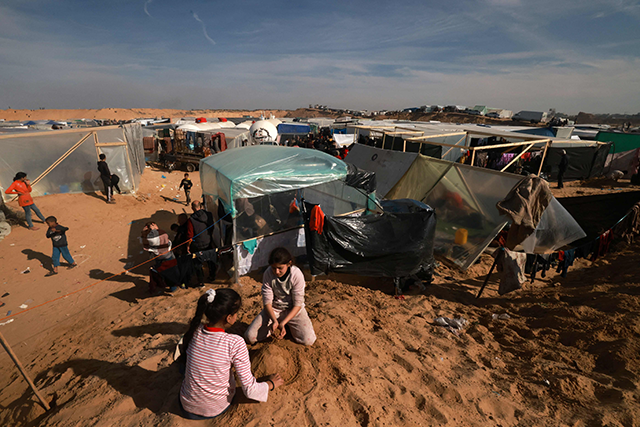 Dec 07,2023
UNITED NATIONS, United States — The UN secretary-general, warning he expects public order in Gaza to break down completely and soon, struck