You are here
Trump strikes defiant tone over vulgar comments ahead of debate
Public opinion poll finds 39 per cent of voters thought Trump should withdraw from race
By Reuters - Oct 09,2016 - Last updated at Oct 09,2016
This Wednesday file photo shows Republican presidential candidate Donald Trump speaking during a campaign rally in Reno, Nevada (AP photo)
WASHINGTON — Republican Donald Trump on Sunday struck a defiant tone in the face of calls for him to abandon the US presidential race, attacking prominent Republicans and saying he has "tremendous support" despite a storm over vulgar comments he made about women.
On a day in which Trump was due to debate Democratic presidential candidate Hillary Clinton and with a month to go to the November 8 election, Trump took to social media to try to squelch any speculation that he could leave the race.
"Tremendous support [except for some Republican leadership]. Thank you," Trump wrote on Twitter.
"So many self-righteous hypocrites. Watch their poll numbers — and elections — go down!" Trump tweeted, apparently referring to those Republicans who have withdrawn support for his candidacy over a 2005 video that emerged on Friday.
A string of Republican senators, in reaction to the revelations in the video, withdrew their support of Trump, with some advising Trump to drop out of the race.
Former New York Mayor Rudy Giuliani, a Trump adviser, warned in appearances on Sunday talk shows that at the debate, Trump would not rule out going on the offensive by bringing up her husband Bill Clinton's past infidelities.
The 2005 video showed Trump, then a reality TV star speaking on an open microphone about groping women and trying to seduce a married woman. The video was taped only months after Trump married his third wife, Melania.
Interviewed on NBC's "Meet the Press", Giuliani said both presidential contenders were flawed but that Trump feels he owes it to his supporters to stay in the race.
"He obviously feels very bad about what he said, he's apologised for it," Giuliani said. "What he'd like to do is move on to the issues that are facing the American people."
Republicans have attacked Hillary Clinton, 68, over what they say is her role in trying to discredit women who accused Bill Clinton of sexual misconduct decades ago.
Clinton campaign chairman John Podesta, interviewed on "Fox News Sunday", called the Trump remarks captured on video "disgusting", adding, "This is who this guy is".
Trump, 70, is facing the biggest crisis of his 16-month-old campaign. The pressure on him will be intense at the 9pm EDT (0100 GMT) debate at Washington University in St Louis. Sources told CNN the first questions would be about the uproar.
It is the second of three scheduled presidential debates as the long-running US election contest enters its final weeks.
Trump already had an uphill battle to win the White House.
Before the video surfaced, a Reuters/Ipsos poll had Clinton leading by five points on Friday. Now, the question is whether Trump's quest for the presidency has been dealt a lethal blow.
Earlier setbacks
Trump has survived a string of setbacks during this grueling campaign and is hoping that he can again recover.
A new public opinion poll by POLITICO/Morning consult, taken just after news of the video broke, found that 39 per cent of voters thought Trump should withdraw from the race; 45 per cent said he should stay.
But his support among Republicans was largely holding, according to the poll, which found that of those who said Trump should leave, only 12 per cent identified themselves as Republicans.
The 2016 elections are about more than the race for the presidency. The video renewed Republican worries that Trump's problems could hurt party efforts to retain majority control of the US Senate and House of Representatives.
"There is full-on panic" about the Senate elections, said a senior Senate Republican aide, who asked not to be identified.
The Democratic Coalition Against Trump, the nation's largest grassroots anti-Trump organisation, released a new attack ad that centred on the 2005 video.
Scott Dworkin, the group's senior adviser, said, "We aim to target this ad in competitive House and Senate districts of elected Trump supporters, current or former."
The possibility of Trump abandoning his quest for the White House, however remote, raised questions about the handling of ballots already cast, such as those from soldiers overseas, the elderly who cannot go to the polls and college students living away from home.
Democratic National Committee Chairwoman Donna Brazile said the party would likely challenge any effort by Republicans to replace Trump as their candidate on the ballot, adding that it would be "very confusing" for voters with early ballots already being cast.
On Saturday, some prominent Republicans suggested that Trump withdraw from the race and be replaced by vice presidential running mate Mike Pence.
Pence, who said he could not defend Trump's comments on women, said on Saturday that Trump needs to show contrition during the debate.
"We pray for his family and look forward to the opportunity to show what is in his heart when he goes before the nation," Pence said in a statement.
Republican US House Speaker Paul Ryan was heckled by Trump supporters at a rally in his congressional district in Wisconsin on Saturday, after having disinvited Trump following the release of the recording of Trump making lewd remarks.
"You better back Trump!" they yelled. "You turned your back on him!" "Shame on you!"
Related Articles
Oct 10,2016
WHITE PLAINS, United States — Donald Trump and Hillary Clinton on Monday headed back to the campaign trail after a fiery presidential debate
Nov 09,2016
NEW YORK — Republican Donald Trump stunned the world by defeating heavily favoured rival Hillary Clinton in the US presidential election, en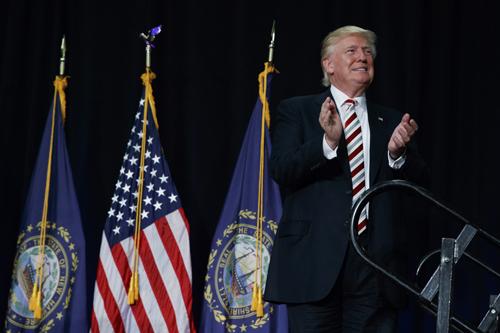 Aug 07,2016
WASHINGTON — Republican Donald Trump's top aides and supporters on Sunday downplayed a chaotic week in which the New York businessman was di
Newsletter
Get top stories and blog posts emailed to you each day.