You are here
Trump heads to White House after stunning win, Clinton concedes
Clinton makes concession speech in New York
By Reuters - Nov 09,2016 - Last updated at Nov 09,2016
US President-elect Donald Trump gestures as he speaks at election night rally in Manhattan, New York, on Wednesday (Reuters photo)
NEW YORK — Republican Donald Trump stunned the world by defeating heavily favoured rival Hillary Clinton in the US presidential election, ending eight years of Democratic control of the White House and sending America on a new, uncertain path.
A wealthy real estate developer and former reality TV host, Trump rode a wave of anger toward Washington insiders to win Tuesday's White House race against Clinton, the Democratic candidate whose gold-plated establishment resume included stints as a first lady, US senator and secretary of state.
Trump's victory marked a crushing end to Clinton's second quest to become the first woman president. She also failed in a White House bid in 2008.
"Donald Trump is going to be our president. We owe him an open mind and the chance to lead," Clinton, 69, said in a concession speech in New York on Wednesday morning, joined by her husband, former president Bill Clinton, and daughter Chelsea.
Speaking in front of a row of American flags, she told supporters her loss was painful "and it will be for a long time", and that she had offered to work with Trump on behalf of the nation.
President Barack Obama, who campaigned hard against Trump, invited him to the White House for a meeting on Thursday.
"We are now all rooting for his success in uniting and leading the country," Obama said at the White House, saying he and his staff would work with Trump to ensure a successful transition. "We are not Democrats first, we are not Republicans first, we are Americans first."
Trailing in public opinion polls for months, Trump pulled off a major surprise and collected enough of the 270 state-by-state electoral votes needed to win, taking battleground states where presidential elections are traditionally decided, US television networks projected.
His four-year term begins on January 20 and he will enjoy Republican majorities in both chambers of the US Congress. Television networks projected the party would retain control of the 100-seat Senate and the House of Representatives, where all 435 seats were up for grabs.
"He just earned a mandate and we now just have a unified Republican government," House Speaker Paul Ryan told reporters in Wisconsin, crediting Trump's Election Day momentum with helping Republican victories that maintained the party's control of Congress.
Worried that a Trump victory could cause economic and global uncertainty, investors fled risky global assets.
The US dollar, Mexican peso and world stocks fell on Wednesday but fears of the kind of shock that wiped trillions of dollars off world markets after Britain's "Brexit" vote in June failed to materialise immediately.
But US stocks were little changed on Wednesday, rebounding from stunning overnight losses fueled by the election result. Sectors such as banking and steel that appeared poised to benefit from a Trump presidency led the charge.
Trump appeared with his family early on Wednesday before cheering supporters in a New York hotel ballroom, saying it was time to heal the divisions caused by the campaign and find common ground after a campaign that exposed deep differences among Americans.
"It is time for us to come together as one united people," Trump said. "I will be president for all Americans."
He said he had received a call from Clinton to congratulate him on the win and praised her for her service and for a hard-fought campaign.
His comments were an abrupt departure from his campaign trail rhetoric in which he repeatedly slammed Clinton as "crooked" amid supporters' chants of "lock her up".
But Trump's campaign manager, Kellyanne Conway, on Wednesday did not rule out the appointment of a special prosecutor to investigate Clinton's past conduct, a threat Trump made in an election debate last month.
Despite losing the state-by-state electoral battle that determines the US presidency, Clinton narrowly led Trump in the nationwide popular vote, according to US media tallies.
Republican National Committee senior strategist Sean Spicer told MSNBC that Trump and his senior aides were meeting at Trump Tower in New York on Wednesday to "start the proper transition" to a Trump presidency.
Prevailing in a race that opinion polls had clearly forecast as favouring Clinton, Trump won avid support among white non-college educated workers with his promise to be the "greatest jobs president that God ever created".
"Such a beautiful and important evening! The forgotten man and woman will never be forgotten again. We will all come together as never before," Trump wrote on Twitter early on Wednesday.
In his victory speech, he said he had a great economic plan, would embark on a project to rebuild American infrastructure and would double US economic growth.
Trump, who at 70 will be the oldest first-term US president, came out on top after a bitter and divisive campaign that focused largely on the character of the candidates and whether they could be trusted in the Oval Office.
The presidency will be Trump's first elected office, and it remains to be seen how he will work with Congress. During the campaign Trump was the target of sharp disapproval, not just from Democrats but from many in his own party.
Trump survived a series of blows on the campaign, many of them self-inflicted, including the emergence in October of a 2005 video in which he boasted about making unwanted sexual advances on women. He apologised but within days, several women emerged to say he had groped them, allegations he denied. He was judged the loser of all three presidential debates with Clinton.
A Reuters/Ipsos national Election Day poll offered some clues to the outcome. It found Clinton badly underperformed expectations with women, winning their vote by only about 2 percentage points.
And while she won Hispanics, black and young voters, Clinton did not win those groups by greater margins than Obama did in 2012. Younger blacks did not support Clinton like they did Obama, as she won eight of 10 black voters between the ages of 35 and 54. Obama won almost 100 per cent of those voters in 2012.
During the campaign, Trump said he would "make America great again" through the force of his personality, negotiating skill and business acumen. He proposed refusing entry to the United States of people from war-torn Middle Eastern countries, a modified version of an earlier proposed ban on Muslims.
Related Articles
Mar 02,2016
Republican Donald Trump and Democrat Hillary Clinton took big steps toward securing their parties' presidential nominations on Tuesday with
Oct 28,2020
WARM SPRINGS, United States — Joe Biden flayed Donald Trump on Tuesday with accusations the US President has surrendered to a surging pandem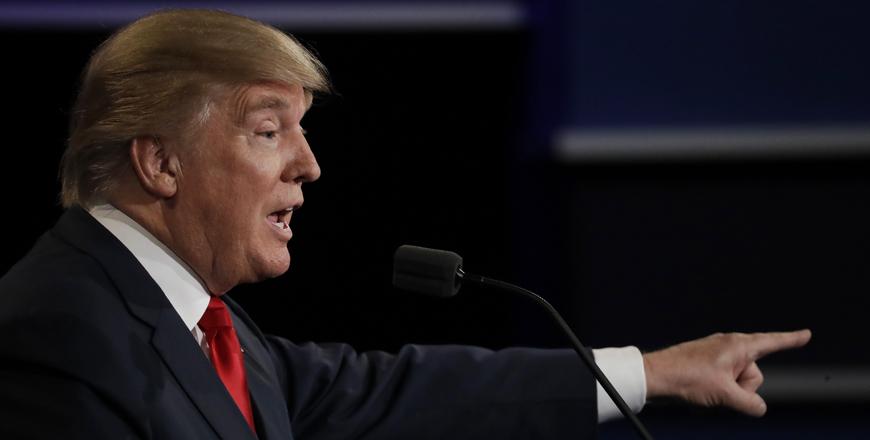 Oct 20,2016
LAS VEGAS — Donald Trump sailed into another political tempest on Thursday after threatening not to recognise the outcome of the US presiden