You are here
President Putin says nearly half million Russians added to army in a year
By AFP - Sep 12,2023 - Last updated at Sep 12,2023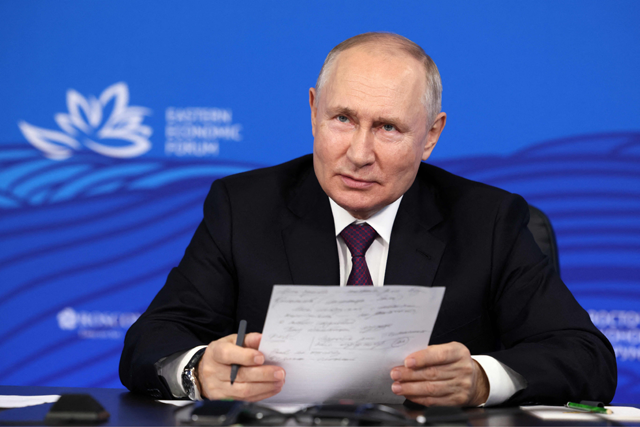 In this pool photograph distributed by Sputnik agency, Russia's President Vladimir Putin chairs a meeting with representatives of business and the expert community during the Eastern Economic Forum in Vladivostok on Tuesday (AFP photo)
MOSCOW — President Vladimir Putin said on Tuesday that the Russian army has added over half a million people in the last year, both drafted and volunteer fighters, to fight in Ukraine.
After a first wave of mobilisation last year triggered a wave of emigration, the Kremlin so far has refrained from announcing a second draft, but has pursued a campaign to recruit volunteers.
"We had a partial mobilisation... We called up 300,000 people. Now, in the last six-seven months, 270,000 people have voluntarily signed contracts to serve in the Russian army," Putin said at the Eastern Economic Forum.
"Moreover, the process continues, with 1,000-1,500 people coming every day to sign contracts," he added.
Asked about whether Russia will introduce another mobilisation wave, he did not outright deny the possibility, but said:
"Our men, knowing what awaits them on the front, still go for this consciously and voluntarily to defend the motherland," Putin said.
Russia has never revealed how many men took part in the launch of its February 2022 Ukraine offensive, but Western countries have estimated the number to be between 150,000 and 190,000.
Putin also said that Western deliveries of F-16s fighter jets to Kyiv would only drag out the conflict.
"They are going to deliver F-16s. Will this change anything? I don't think so. It will just prolong the conflict," he said.
He also denounced Washington for sending Kyiv controversial cluster munitions, which triggered criticism from Brussels.
"Not long ago, the US administration believed that the use of cluster munitions is a war crime," Putin said.
"Now, they themselves are supplying cluster munitions to combat areas in Ukraine."
The controversial weapons can disperse up to several hundred small explosive charges, which can remain unexploded in the ground.
Ukraine has relied on Western weaponry to launch and lead its counteroffensive against Russian forces.
Newsletter
Get top stories and blog posts emailed to you each day.