You are here
Philippine typhoon survivors pray for victims on 10th anniversary
By AFP - Nov 08,2023 - Last updated at Nov 08,2023
TACLOBAN, Philippines — Survivors of Super Typhoon Haiyan prayed for their dead loved ones in the devoutly Catholic Philippines on Wednesday as they commemorated the 10th anniversary of a storm that killed more than 6,000 people.
Haiyan, one of the strongest storms ever recorded, unleashed winds of up to 315 kilometres an hour and whipped up tsunami-like waves that devastated central islands in the archipelago nation.
Tacloban, the capital of Leyte province, bore the brunt of the storm's fury and was almost totally destroyed by 5 metre-high storm surges that crashed over mostly poor coastal communities.
People returned a decade later to Tacloban's seaside convention centre — which was used as an evacuation site during Haiyan — for a Catholic mass to remember the victims and pay tribute to those who helped rebuild the city.
Philippine President Ferdinand Marcos attended the ceremony along with members of his Cabinet, foreign diplomats and survivors of the storm.
"Ten years have gone by, and yet the memory of this tragedy remains indelible in our hearts and in our thoughts," Marcos told the audience.
He said the Philippines— typically affected by more than 20 major storms a year — needed to build "stronger and more resilient communities" in the face of climate change, which scientists have long warned is making storms more powerful.
"Be assured that the government is always striving to ensure that such tragedies of this magnitude will be avoided and will be adapted to," he said.
"We must make climate change a vital component of our national policies."
'It will never be forgotten'
Stormy clouds hung over the city of around 280,000 people on Wednesday, adding to the sombre atmosphere of the anniversary.
About 6,300 people were killed by Haiyan, and a decade later more than a thousand are still missing. More than four million people were left homeless.
Some residents placed lit candles in the streets in the evening in remembrance of the people lost in the disaster.
Marlon Tano, 56, thought he was going to die during Haiyan when surprising storm surges swamped the building where he had sought shelter. Steel bars on the windows trapped him and others inside.
"We did not expect the water to enter the building," Tano told AFP on Wednesday as he recalled the traumatic events.
"I was able to rescue maybe six children. I rode a sofa or Cabinet that was floating and was able to reach the ceiling."
Tano planned to light candles in his street and "pray for the souls of the Typhoon Yolanda victims", he said, using the Philippines' name for the storm.
Despite the huge loss of life and property, Vicar General Erlito Maraya, who led Wednesday's mass, told the audience at the convention centre "there is life after Yolanda".
"No wind or water, no matter how strong, can wash our faith away," Maraya said, attributing the resilience of the survivors to their deep religious beliefs.
A few people holding umbrellas for the occasional shower of rain visited a cemetery in Tacloban where hundreds of people killed in Haiyan are buried.
Residents left flowers and lit candles were at a memorial plaque with the names of victims, or sat next to one of the white crosses marking a loved one's final resting place.
Yolanda Billones, a mother of 12, left a bouquet of white flowers for her 15-year-old son Riojen.
"I have accepted that he is gone and there is nothing I can do," said Billones, 58.
Even after so many years, May Flor Ramirez, 39, said the memories of Haiyan were still strong, as was the sadness she felt for the loss of one of her siblings and their family.
"For me the pain has not really gone away," the mother of seven told AFP.
"It will never be forgotten."
Related Articles
Dec 08,2014
Millions of people in the Philippine capital hunkered down on Monday as a major storm churned towards the megacity, after claiming at least 23 lives while ripping apart homes in remote island communities.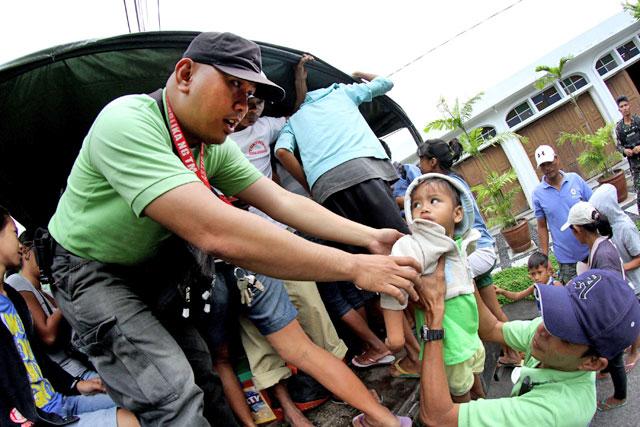 Dec 06,2014
A powerful typhoon roared into the eastern Philippines on Saturday, bringing lashing rain and strong winds that felled trees, ripped off tin roofs and toppled power lines in areas still bearing the scars of a super typhoon 13 months ago.
Dec 21,2021
SURIGAO CITY, Philippines — The death toll from the strongest typhoon to hit the Philippines this year surged to 375 on Monday, as desperate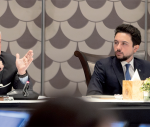 Newsletter
Get top stories and blog posts emailed to you each day.