You are here
New Zealand accepts int'l help as cyclone cripples North Island
By AFP - Feb 16,2023 - Last updated at Feb 16,2023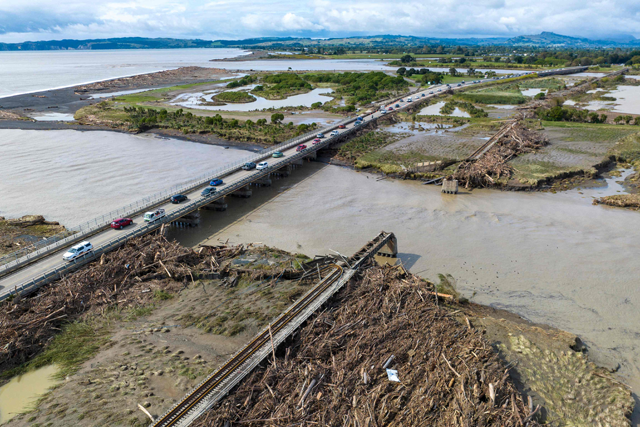 An aerial photo shows a rail bridge (right) damaged and washed away during Cyclone Gabrielle near Napier on Thursday. New Zealand is under a national state of emergency after Cyclone Gabrielle bore down on its northern coast, on February 12 (AFP photo)
NAPIER, New Zealand — New Zealand redeployed gunships and helicopters to deliver water, food and fuel to cities cut off by Cyclone Gabrielle on Thursday, as overwhelmed rescue teams embraced overseas offers of help.
Five people have died and 10,500 more have been displaced, according to authorities, in a disaster that has crippled the country's populous North Island.
Four days of violent winds and lashing rains caused landslides and widespread flooding that lacerated the island's road network, caused rolling power cuts and knocked out hundreds of mobile phone towers.
Police said 3,500 people had been reported as "uncontactable", as residents around the country tried desperately to reach loved ones.
New Zealand Prime Minister Chris Hipkins said the police held "grave concerns" for those still missing.
"We do need to be prepared for the likelihood there will be more fatalities," he warned.
Hipkins said over 100,000 households were still without power on the North Island, home to more than three-quarters of the country's five million residents.
On Thursday, the east-coast city of Napier was briefly cut off after experts detected damage to the last useable bridge linking its 65,000 residents with the rest of the country.
The national Transport Agency said the bridge had since reopened, but only for emergency services and critical workers.
Isolated residents have been told not to leave their homes unless "absolutely essential" and to restrict water use.
When residents do venture out, they wade through murky floodwaters to get supplies or huddle on the steps of a few buildings that still have wifi, trying to let loved ones know they are safe.
Around the city, petrol stations have put up signs declaring there is "NO FUEL" for anyone other than emergency services.
'Bumpy ride'
Earlier Hipkins warned New Zealanders of a long, gruelling recovery ahead, with power not expected to be restored to some areas for weeks and the clean-up likely to take much longer.
"This is a traumatic event," he said. "It's a very big challenge to restore infrastructure as fast as we can, but we have to acknowledge that we are in for a bumpy ride."
"There are no overnight fixes. We could have the bulldozers working 24/7 and it would still take time to reestablish road links."
The New Zealand Defence Force has deployed two large naval vessels and a C-130 Hercules transport plane to deliver thousands of litres of water along with personnel and several mobile water treatment plants to hard-hit regions.
NH90 helicopters have brought in supplies and rescued hundreds of people stranded on their rooftops.
After offers of help from the United States and other countries were initially set aside, Hipkins said emergency response experts from Australia would arrive in the coming days.
The cyclone itself has already faded into the South Pacific, but further downpours and severe thunderstorms complicated relief efforts and sparked new landslides.
Authorities are still grappling with the scale of the devastation wrought by the storm, and estimates of the damage done and the cost of repairs are scarce.
"We know it's going to be in the region of billions, not millions, of dollars," Kiwibank Chief Economist Jarrod Kerr told AFP.
"I think the figure will be in the range of several billion, five to 10 billion dollars [$3-6 billion], possibly more."
Related Articles
Feb 16,2023
NAPIER, New Zealand — New Zealand redeployed gunships and helicopters to deliver water, food and fuel to cities cut off by Cyclone Gabrielle
Dec 28,2019
WELLINGTON — Tropical Cyclone Sarai barrelled off the coast of Fiji on Saturday, forcing hundreds of residents to move to higher ground ahea
Mar 14,2015
A terrifying tropical cyclone which smashed into Vanuatu in the South Pacific wreaked widespread devastation, aid agencies said Saturday, raising fears that dozens may have died in what may be one of the region's worst weather disasters.