You are here
IAEA warns of 'increasing' military activity near Ukraine nuclear plant
By AFP - Mar 29,2023 - Last updated at Mar 29,2023
A general view of the Russian-controlled Zaporizhzhia nuclear power plant in southern Ukraine on Wednesday (AFP photo)
ENERGODAR, Ukraine — The chief of the UN atomic watchdog said on Wednesday he was working on a security plan for the Moscow-controlled Zaporizhzhia nuclear plant and warned of increased military activity around it.
During a rare visit to Europe's largest nuclear plant currently controlled by Russian forces, the head of the International Atomic Energy Agency, Rafael Grossi, said he was working to find a compromise that would suit both Moscow and Kyiv.
But he also warned of "increasing" military activity around the nuclear plant and hoped Russia and Ukraine would agree on safety principles.
"The idea is to agree on certain principles, certain commitments, including not to attack the plant," he added.
Kyiv and Moscow have accused each other of shelling the plant, increasing fears of a disaster.
The United Nations has called for a demilitarised zone around the Zaporizhzhia nuclear plant.
Grossi said his team had previously focused on "the possibility of the establishment of a well-determined zone around the plant."
"Now the concept is evolving," he said.
"We are focusing on the protection itself... rather than on territorial aspects which pose certain problems."
The UN atomic watchdog chief arrived Wednesday at Ukraine's Zaporizhzhia nuclear power plant in a rare visit to Europe's largest atomic facility currently controlled by Russian forces.
There are persistent fears over the safety of the nuclear plant in the southern Zaporizhzhia region, where there has been frequent shelling since Russian troops invaded last year.
The Ukrainian nuclear power operator Energoatom and Russian news agencies announced on social media that the International Atomic Energy Agency's Rafael Grossi had arrived with his delegation.
Energoatom distributed footage of a convoy of civilian and military vehicles marked with the letter Z, a symbol emblazoned on Russian military hardware in Ukraine.
"Raphael Grossi plans to see how the situation at the ZNPP has changed, speak with the nuclear engineers at the plant, and act as a guarantor of the rotation of members of the IAEA permanent mission," it said on social media.
This is Grossi's second visit to Zaporizhzhia since Russia invaded Ukraine last February and the aim of the visit is to "assess first-hand the serious nuclear safety and security situation at the facility", the IAEA said.
The agency has had a team of experts inside the plant since September 2022, but Grossi has said the situation "is still precarious".
'Anything can happen'
Earlier this week, he met with Ukrainian President Volodymyr Zelensky, who said it was not possible to restore safety at the plant with Russia in control.
"Without the immediate withdrawal of Russian troops and personnel from the Zaporizhzhia nuclear plant and adjacent territory, any initiatives to restore nuclear safety and security are doomed to failure," Zelensky told Grossi.
Renat Karchaa, an advisor to Russia's Rosenergoatom, which runs the facility, said Wednesday ahead of the visit that it would unlikely bring about any major breakthroughs.
"We are far from having any illusions that Grossi's visit will dramatically change anything. For us, this is an ordinary working event," he was cited as saying by Russian news agencies.
"Of course anything can happen," he added.
The plant needs reliable electricity supply to ensure essential nuclear safety and security functions.
But it has suffered repeated electricity outages during the war, causing alarm in the IAEA and the international community.
The Russian invasion has caused devastation across swathes of the country, and despite more than 13 months of gruelling battles, Ukraine's top diplomat on Tuesday struck a defiant tone.
"Russia has to withdraw from every square meter of Ukrainian territory," Foreign Minister Dmytro Kuleba said in a virtual session ahead of the Summit for Democracy, which US President Joe Biden will formally kick off on Wednesday.
"There should be no misinterpretation of what the word withdrawal implies."
'Crime of aggression'
In Ukraine's eastern Donetsk region, fighting in recent months has been concentrated on the eastern city of Bakhmut, with Kyiv saying it is holding out in the urban hub to exhaust Russian troops.
The key military objective of Russia's invasion is the complete capture of Donetsk, which it already claimed to have annexed last year even as fighting there is ongoing.
Moscow said Tuesday it had for the first time downed a long-range rocket supplied by the United States to Ukraine.
These devices have a range of up to 150 kilometres, which could threaten Russian positions and supply depots far behind the front lines.
Russian authorities said Wednesday that Ukrainian forces had used US-supplied HIMARS systems to strike Melitopol in the Zaporizhzhia region.
The city controlled by Moscow lies some 65 kilometres from the frontline and analysts have speculated it could be a target for a highly-anticipated Ukrainian counter offensive.
Since the invasion, more than 850 health facilities in Ukraine have been attacked, according to the World Health Organisation — creating a massive gap in health and emergency services.
A Norway and EU-backed project is conducting medical evacuation flights, carrying Ukraine's war wounded to hospitals across Europe.
Vladyslav Shakhov, who had to leave Ukraine on a medical flight for treatment after he was hit by shrapnel, said he was "not happy about leaving my country".
"I hope they will get me back on my feet quickly so I can get back," the 24-year-old told AFP.
Related Articles
Aug 29,2022
KYIV — International Atomic Energy Agency (IAEA) chief Rafael Grossi said on Monday he was en route to inspect Ukraine's Zaporizhzhia nuclea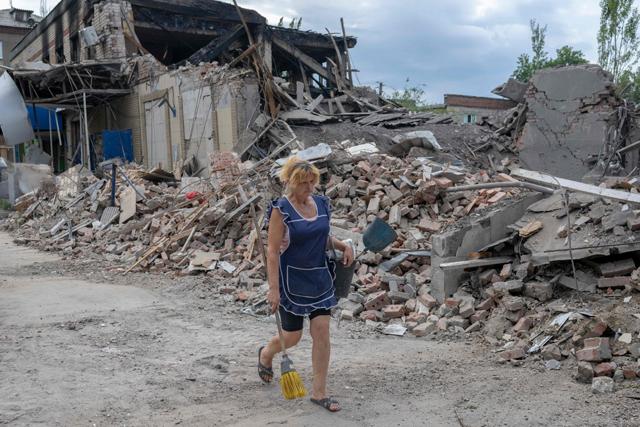 Aug 07,2022
KYIV, Ukraine — Parts of Ukraine's Zaporizhzhia nuclear power plant were "seriously damaged" by military strikes that forced one of its reac
Nov 21,2022
MOSCOW — Kyiv and Moscow on Sunday traded accusations of shelling on the territory of the Zaporizhzhia nuclear power plant that Russia contr