You are here
Gabon's new strongman meets regional envoy, opposition chief
By AFP - Sep 05,2023 - Last updated at Sep 05,2023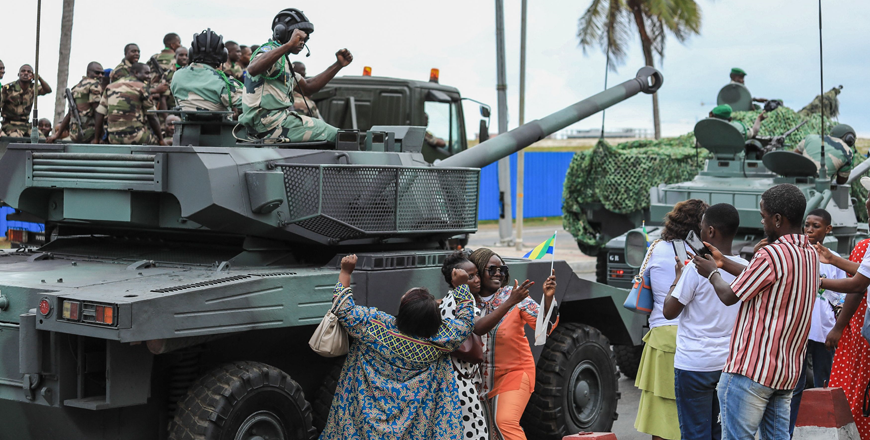 People wave and take photos with men in uniform, moments after the swearing-in ceremony of Brice Oligui Nguema, inaugurated as Gabon's interim president, in Libreville, on Monday (AFP photo)
LIBREVILLE — Gabon's new strongman on Tuesday met central Africa's mediator for the country and started to amnesty dissidents following a coup last week that brought the curtain down on the 55-year Bongo dynasty.
State TV said General Brice Oligui Nguema met the Central African Republic's president, Faustin Archange Touadera, in the aftermath of the August 30 putsch.
The Economic Community of Central African States (ECCAS) has appointed Touadera "facilitator of the political process" in Gabon.
He has been tasked with meeting "all Gabonese actors and partners of the country" with the goal of providing "a rapid return to constitutional order".
The oil-rich state joins Mali, Guinea, Sudan, Burkina Faso and Niger among African countries that have undergone coups in the last three years — a trend that has sounded alarm bells in the continent and beyond.
The broadcast gave no details of the talks, which came a day after ECCAS member Equatorial Guinea said Gabon had been suspended from the 11-nation group.
ECCAS also ordered the immediate transfer of its headquarters from Gabon's Libreville to the Equatorial Guinea capital of Malabo, the country's vice president, Teodoro Nguema Obiang Mangue, said on X, previously known as Twitter.
Touadera is expected to meet ousted president Ali Bongo Ondimba later Tuesday, Touadera's spokesman Albert Yaloke Mokpeme said in the CAR capital of Bangui.
Elections and amnesties
Oligui, head of the elite Republican Guard, was sworn in on Monday as interim president.
In a speech, he promised to hold "free, transparent and credible elections" to restore civilian rule, but he did not give a timeframe.
He also vowed to amnesty "prisoners of opinion," a move that was followed on Tuesday by the release of several individuals, said rights lawyer Anges Kevin Nzigou.
Among those freed, he said, was one of his clients, Jean Remy Yama, a 59-year-old teacher and trade unionist, who had been held since June 2022 on charges of embezzling public funds — an accusation that the opposition said was bogus.
"It's a good signal to start by addressing cases of injustice," Nzigou said, adding he hoped that "more will follow".
Oligui also met late Monday with Albert Ondo Ossa, the main opposition candidate in elections that precipitated the coup, Ondo Ossa's spokesman said on Tuesday.
The meeting marks a further step by Oligui to forge contacts with key figures after Wednesday's dramatic events.
Ondo Ossa, 69, was the chief rival to Bongo in fiercely disputed presidential elections on August 26.
Amid opposition claims of fraud, Bongo was declared victor of the poll in the early hours of August 30 — but moments later was detained by soldiers.
Monday night's meeting took place at Ondo Ossa's home, said Guy-Pamphile Mba, in charge of the former candidate's communications.
On Sunday, Oligui gave a warm reception to leaders of Alternance 2023, the coalition that named Ondo Ossa as its champion less than a week before the poll.
Interest groups
On Thursday and Friday, Oligui met business chiefs, religious leaders, civil society and other interest groups, spelling out his desire to clamp down on corruption and reform Gabon's decrepit pension system, a bugbear for many people.
Bongo took office in 2009, succeeding his father Omar, who ruled the country for some 41 years, gaining a reputation for iron-fisted rule and kleptocracy.
He was reelected in bitterly disputed circumstances in 2016 but two years later suffered a stroke that weakened his grip on power.
According to the official disputed results, Bongo picked up 64.27 per cent of the vote against 30.77 per cent for Ondo Ossa.
In the immediate aftermath of the coup, Ondo Ossa urged Oligui to step aside, arguing that he had won the elections but the outcome had now been "cancelled" by the military takeover.
He also suggested that Oligui and Bongo were connected by family ties, and that the event was less a coup than a "palace revolution" that was now perpetuating what he called the "Bongo system".
Newsletter
Get top stories and blog posts emailed to you each day.