You are here
Biden says Gaza, West Bank should be 'reunited' under Palestinian Authority
By AFP - Nov 20,2023 - Last updated at Nov 20,2023
This photo taken from southern Israel shows smoke rising above buildings during an Israeli strike on the Gaza Strip on Monday (AFP photo)
WASHINGTON — Gaza and the West Bank should eventually be "reunited" under a new Palestinian Authority, US President Joe Biden said in an opinion piece Saturday, as questions swirl over the future of the region once Israel achieves its goal of crushing the Hamas militant group.
"As we strive for peace, Gaza and the West Bank should be reunited under a single governance structure, ultimately under a revitalised Palestinian Authority, as we all work towards a two-state solution," Biden wrote in the piece published in The Washington Post.
"A two-state solution is the only way to ensure the long-term security of both the Israeli and Palestinian people. Though right now it may seem like that future has never been further away, this crisis has made it more imperative than ever," Biden said.
Israeli prime minister Benjamin Netanyahu did not reject Biden's plan, but said the Palestinian Authority "in its current form is not capable of receiving responsibility for Gaza."
Palestinian President Mahmoud Abbas has not condemned the Hamas attack and his senior ministers are celebrating it, Netanyahu said.
"We can't have a civilian authority in Gaza that supports terror, encourages terror, pays terror, and teaches terror," he said at a news conference.
Abbas, meanwhile, appealed to Biden to use his "significant influence" on Israel "to intervene immediately to... stop this humanitarian catastrophe, this genocide against our innocent people".
In his letter, Biden also threatened sanctions against settlers committing violence against Palestinians in the West Bank amid the conflict in Gaza.
"I have been emphatic with Israel's leaders that extremist violence against Palestinians in the West Bank must stop and that those committing the violence must be held accountable," he said.
"The United States is prepared to take our own steps, including issuing visa bans against extremists attacking civilians in the West Bank."
The United States said Saturday it was still working to secure a deal between Israel and Hamas after a reported tentative agreement to free women and children held hostage in Gaza in exchange for a pause in fighting.
"We have not reached a deal yet, but we continue to work hard to get to a deal," White House National Security Council spokeswoman Adrienne Watson said on X, formerly Twitter, in response to The Washington Post reporting a deal had been agreed.
The Post said a detailed, six-page agreement could mean hostage releases begin within days and could also lead to the first sustained pause in the conflict in Gaza.
Citing unnamed sources, the newspaper said all parties would halt combat operations for at least five days while some hostages were released in batches, with overhead surveillance monitoring movement to police the pause.
But the White House quickly responded on Saturday evening with its message on X to deny any major breakthrough.
Biden's main adviser on the Middle East said earlier Saturday there would be a "significant pause" in the war if hostages held by fighters in Gaza were freed.
"The surge in humanitarian relief, the surge in fuel, the pause... will come when hostages are released," Brett McGurk told a security conference in Bahrain.
The release of a large number of hostages would result in "a significant pause... and a massive surge of humanitarian relief", he said.
McGurk said Biden had discussed the issue on Friday evening with the ruler of the Gulf nation of Qatar, which is leading mediation efforts toward a ceasefire and release of the captives.
This week Biden said he was "mildly hopeful" of reaching a deal to free the hostages, believed to include about 10 US citizens.
Meanwhile, Qatar's Prime Minister Mohammed bin Abdulrahman Al Thani said on Sunday that a deal to free hostages seized by Hamas on October 7 now hinges on "minor" practical issues without providing details or a timeline.
Qatar has helped to broker talks aiming to free some of the about 240 hostages in return for a temporary ceasefire in the Gaza war.
"The challenges that remain in the negotiations are very minor compared to the bigger challenges, they are more logistical, they are more practical," Al Thani told a joint press conference with EU Foreign Policy Chief Josep Borrell.
Related Articles
Nov 23,2023
WASHINGTON — US President Joe Biden spoke with the leaders of Egypt, Israel and Qatar on Wednesday, the White House said, his first publicly
Nov 26,2023
GAZA STRIP, Palestinian Territories — Hamas fighters released a third group of hostages including a four-year-old American girl on Sunday, i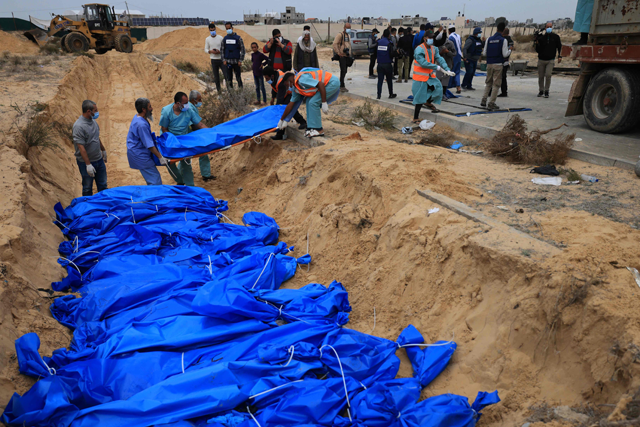 Nov 22,2023
OCCUPIED JERUSALEM/DOHA — Israel and Hamas announced a deal on Wednesday allowing at least 50 hostages and scores of Palestinian prisoners t