You are here
2013: Weather factfile on an exceptional year
By AFP - Feb 05,2014 - Last updated at Feb 05,2014
GENEVA – Factfile on 2013, described by the UN's World Meteorological Organisation (WMO) as a year of extreme heat and weather events:

- 2013 ranked with 2007 as the sixth warmest since modern records began in 1850. Earth's average surface temperature was 0.5 degrees Celsius (0.9 degrees Fahrenheit) above the average for 1961-1990.

- It adds to a string of above-average years for warming. Thirteen of the 14 warmest years on record have occurred in the 21st century. The hottest were 2010 and 2005.

- Global average sea levels reached a new record high. The current rise of 3.2 millimetres (0.12 inches) per year is double the 20th-century trend of 1.6 mm (0.06 inches), increasing the vulnerability of low-lying coastal regions.

- Arctic sea ice shrank to its sixth-smallest summer area, although this was a slight recovery from the unprecedented melt of 2012.

- According to US scientists, 2013 was the fourth warmest on record since 1880.

- Places that experienced record annual heat were Australia, parts of central Asia, Ethiopia, Tanzania, sections of the Arctic Ocean, the southwestern and central Pacific Ocean and the central Indian Ocean.

- Extreme events included Typhoon Haiyan, the most powerful tropical cyclone ever to make landfall and the deadliest storm to hit the Philippines; drought in Botswana, Namibia and Angola; and a heatwave that gripped southern China in July and August.

SOURCES: WMO interim report on 2013 temperatures, released February 5, 2014; WMO interim report on extreme weather and sea-level rise, released November 13, 2013; US National Oceanic and Atmospheric Administration (NOAA) Global Summary Information for 2013, retrieved February 5 2014.
Related Articles
Dec 03,2014
This year may end as the hottest on record, the UN's weather agency said Wednesday as it recounted a tale of rising seas, crippling droughts and floods since January.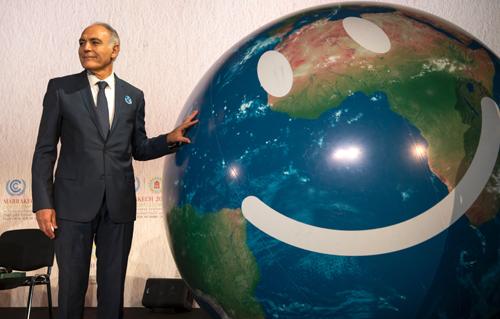 Nov 08,2016
MARRAKESH — Hot and wild and with an "increasingly visible human footprint" — that is how the UN weather agency sums up the global climate i
Mar 04,2014
Australia will suffer more days of extreme heat and a longer bushfire season as greenhouse gases force temperatures to continue rising, a new report warned Tuesday.
Newsletter
Get top stories and blog posts emailed to you each day.