You are here
UEFA head Platini to announce FIFA presidency bid
By Reuters - Jul 28,2015 - Last updated at Jul 28,2015
Michel Platini, head of European football's governing body UEFA, is set to announce his bid for the FIFA presidency this week (Photo courtesy of fansshare.com)
ZURICH — Michel Platini, the head of European football's governing body UEFA, is to announce in the next few days that he will stand for the presidency of FIFA, a source close to the former France international told Reuters on Tuesday.
The 60-year-old Platini, a former France and Juventus midfielder, has been UEFA president since 2007 and had been widely expected to throw his hat into the ring to succeed Sepp Blatter, who announced his plan to stand down two months ago.
Two officials familiar with Platini's plans have told The Associated Press that the FIFA vice president has made a decision to try to succeed Sepp Blatter. The officials spoke on condition of anonymity because Platini has not announced his candidacy.
The officials said that the UEFA president has been encouraged to run by most leaders of FIFA's continental confederations.
Five of the six continental leaders, including Platini, were in St Petersburg, Russia, last week for FIFA meetings and the 2018 World Cup qualifying draw.
Platini declined to discuss his ambitions when asked by the AP in St Petersburg.
The FIFA election is on February 26 and the deadline for candidates to formally present their nominations, with support, is October 26 and they will also have to undergo integrity checks, led by Domenico Scala, head of the ad-hoc election committee.
Platini is set to be the first serious contender to announce he will stand, two months after Blatter was re-elected for a fifth four-year term.
Platini's impending announcement, expected before the end of the week, is likely to prompt other contenders to confirm their plans to stand.
South Korea's Chung Mong-joon, a former FIFA vice-president, is expected to announce his candidacy next month, while Jordan's HRH Prince Ali, beaten by Blatter in May's presidential vote, is also considering running in next February's election.
Blatter, who has been president since 1998, was re-elected for a fifth term in May, but amidst the fall-out from the arrest of nine football officials, including some senior FIFA and ex-FIFA officials, he said he was "laying down" his mandate.
Platini has long been the bookmakers' favourite to succeed Blatter and last week his supporters indicated that he has picked up widespread support from leaders of the continental confederations.
A former protege of Blatter's, Platini turned into one of his biggest critics and he has said FIFA's corruption scandal "disgusted" him and gave him "stomach trouble".
After 17 years as FIFA president, Blatter said on June 2 he was standing down, under pressure from American and Swiss federal investigations of corruption implicating senior FIFA officials.
But the Frenchman's own critics will focus on his support for the 2022 World Cup to be held in Qatar.
Platini, part of the FIFA executive committee since 2002, voted for Qatar, despite FIFA's own technical report flagging up concerns about the searing heat in the Gulf state.
That may be a difficult line of attack for his two possible Asian rivals to take however, given that Qatar is part of the Asian Football Confederation.
Platini has not been linked to any wrongdoing, though his vote for Qatar as 2022 World Cup host has proved controversial. He was the first FIFA executive committee member to reveal who he voted for in the December 2010 hosting ballots that also gave the 2018 event to Russia.
Platini chose last year not to oppose Blatter in the recent election.
"Now is not my time, not yet," Platini said last August in Monaco when announcing he would focus on getting a third term at UEFA, which he won unopposed in March.
Three outsiders have also said they intend to run — Liberian FA chairman Musa Bility, former Brazil international Zico and ex-France winger David Ginola.
Ginola had intended to stand in May's vote, but was unable to get the five nominations from football federations needed to be a candidate — a problem Zico has conceded he will probably encounter.
Related Articles
Jun 21,2015
GENEVA — After years of waiting, Michel Platini's destiny with FIFA is coming faster than he thought.Platini had his 60th birthday on Sunday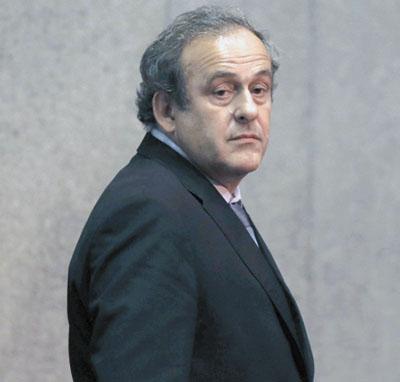 May 09,2016
LAUSANNE — Suspended European football boss Michel Platini will resign as head of governing body UEFA after losing a top level appeal agains
Oct 28,2015
GENEVA — Seven men are in the running to replace Sepp Blatter as FIFA president, with Michel Platini's candidature accepted but pending beca
Newsletter
Get top stories and blog posts emailed to you each day.