You are here
Oman's Abdullah Al Rawahi wins Jordan Rally
By JT - May 20,2023 - Last updated at May 20,2023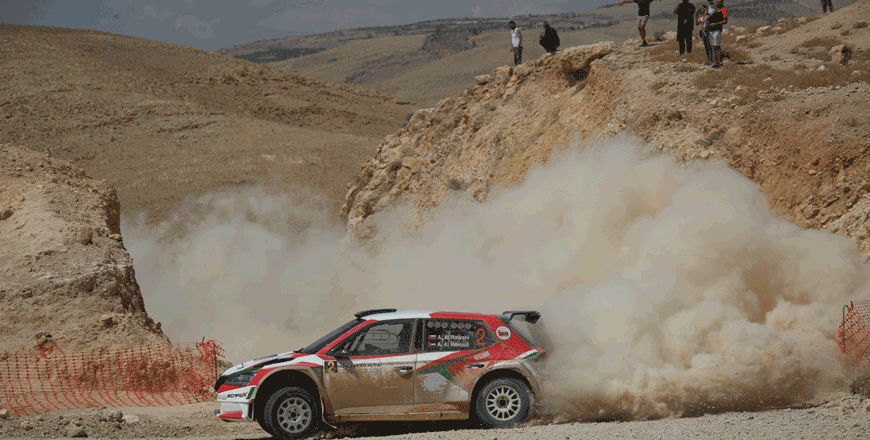 Oman's Abdullah Al Rawahi in action at the 2023 Jordan Rally on Saturday (Photo courtesy of the Jordan Rally Media Service)
AMMAN — Abdullah Al Rawahi became the first Omani ever to win the Jordan Rally after a dramatic fightback by Nasser Saleh Al Attiyah was thwarted by punctures on the closing stages of the rally on Saturday, according to the Jordan Rally Media Service.
Rawahi and his Jordanian codriver Ata Al Hmoud had taken a lead of 2min 33.5sec into the final six special stages in the Dead Sea and Jordan Valley areas in their Škoda Fabia Evo. But Attiyah and Mathieu Baumel launched a full-scale fightback during the morning and reduced the deficit to 1min 20sec at the midday service point.
The pendulum appeared to have swung in the Qatari's favour when the Oman Rally Team crew clocked out of service three minutes late and incurred a 30-second time penalty, reducing the deficit to 50 seconds. But Al-Attiyah was forced to change a punctured tyre on the first test after the restart and then punctured again with Rawahi reaching the finish 7min 04.2sec clear of the struggling defending champion.
With the pressure off on the final stage, it enabled Rawahi to secure his third career MERC win and Hmoud became the first Jordanian to win his home rally since Amjad Farrah and Khalid Zakaria prevailed on a dramatic final stage way back in 2004. Rawahi's third success drew him level with the late Björn Waldegård, Jean-Pierre Nasrallah and Abdullah Bakhashab in the regional Hall of Fame.
Rawahi said: "It's been a very tough weekend for us. The stages were really nice and we enjoyed them. We managed to win this rally. The second day was difficult, actually starting first on the road. Nasser was trying to keep the pressure but we held on. Well done to my team. They have worked really hard this weekend. It's an amazing feeling.
"When I started rallying my first rally was here in Jordan, so it's a big thing for me. I have been gaining so much experience against the champion. Every rally we learn a lot, especially from the pressure we were in this weekend. We won the first rally and now this one. We will keep pushing and see what happens."
Attiyah said: "This is my favourite race but, this year, it was not easy. Day one and day two, we were struggling a little bit with the problems. Today we had two flat tyres in the same stage and we tried to manage three stages with punctures and we had only one spare. We made it happen. It was important to finish and we finished second. Well done to Abdullah, he did an amazing race. Still, we are leading the championship and we look ahead to Lebanon. I am disappointed at one point but, on the other, I am happy to finish."
Meshari Al Thefiri teamed up with Qatar's Nasser Al Kuwari and were the class of the MERC2 field for the third successive event this season. The Kuwaiti rounded off the podium places and finished 6min 49.2sec clear of fourth-placed Jordanian Shaker Jweihan and his Omani co-driver Taha Al Zadjali.
"Very happy to win in MERC2. It was a tough day because I keep pole position and it was difficult to drive. Finally, we finished without any issues and we look forward to the next round," said Thefiri.
After Sheikh Bader Al Fayez and Emad Juma left the road on the second stage of the morning, that opened the door for Shadi Shaban and Samer Issa to finish fifth. The Lebanese pairing of Ahmad Khaled and Joseph Kmeid rounded off the top six and finished fourth in MERC2. Up-and-coming Jordanian talent Mustafa Al Atari was seventh overall.
Support for this year's event comes from Zain Jordan, Hala and Bliss FM.
Action in the 2023 FIA Middle East Rally Championship resumes in Lebanon on September 15-17.
Related Articles
Apr 27,2019
AMMAN — Nasser Saleh Al Attiyah survived a suspension scare on the first run through the Amar special stage, and went on to secure a record-
Jan 28,2023
AMMAN — The Oman Rally Team's Abdullah Al Rawahi and Jordanian co-driver Ata Al Hmoud clinched victory in the Oman International Rally for t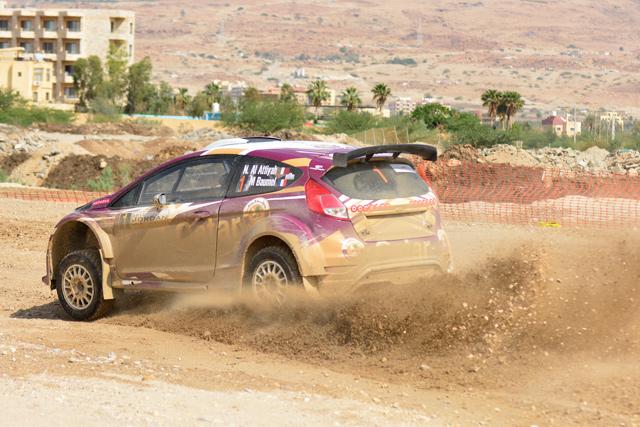 Apr 28,2018
DEAD SEA — Qatar's Nasser Al Attiyah on Saturday was crowned champion of the opening round of the 2018 FIA Middle East Rally Championship, J