You are here
Mourinho eyes more Euro glory with latest love Roma
By AFP - May 30,2023 - Last updated at May 30,2023
Roma manager Jose Mourinho (AFP photo)
MILAN — Jose Mourinho will put his remarkable European record on the line when Roma face Sevilla in Wednesday's Europa League final with a second straight continental cup up for grabs.
The 60-year-old coaching icon has never lost a European final in his career, five wins from five over two decades making him the first manager to reach a UEFA final with four different clubs.
Mourinho announced himself on the big stage in 2003 when he led Porto to the UEFA Cup, the Europa League's precursor, and the following year he claimed the first of two Champions League triumphs.
And 20 years on he is ready to take his tally of European trophies to six at Roma, who tasted success in last year's Europa Conference League.
The Italian capital has become a happy home for a coach whose time had looked to be over following his unfulfilling time at Tottenham Hotspur.
"Better coach, better person, same DNA. The DNA is motivation, is happiness. Desire for these big moments, and these are the feelings that I try to pass to the boys," Mourinho told reporters on Thursday.
"I think you can be better and better with your experiences... I think your brain becomes sharper and the accumulation of knowledge is better with the years.
"I think you stop when you lose motivation, my motivation grows up every day... I think I am better now."
Mourinho has become a bona fide hero to Roma fans after winning their team's first ever major European honour last season, a triumph which moved the Portuguese veteran to tears.
A deep emotional connection has developed between coach and the supporters — who had waited since 2008 to see their team lift a trophy.
It was reminiscent of his passionate, short-lived love affair with Inter Milan where in his pomp 13 years ago he won the treble of Serie A, Champions League and Italian Cup.
"It's because I give everything... People aren't stupid. In the Roma case I think it is above winning or European finals. I think they feel like I wore the shirt and I fight for them every day," said Mourinho.
"Maybe people think you cannot love every club. Yes, I love every club. I love every club because I also felt it the other way around, they also love me. So with Roma, one day it will be hard but we will be connected forever."
Roma come into the match in shaky form and hammered by injury problems which have accompanied them throughout the season.
The only matches Mourinho's team have won in their last 10 have been the home legs of the quarter- and semifinals against Feyenoord and Bayer Leverkusen which took them to Wednesday's showdown in Budapest.
Roma's starting line-up will almost certainly not feature injury-prone star Paulo Dybala, who has had ankle problems since an awful tackle by Atalanta's Jose Palomino a month ago and is hoping to be on the bench.
"I don't think so, honestly, I don't think so," said Mourinho when asked if there was any chance Dybala could start.
"However, if I'm speaking honestly I hope that he can be on the bench. If Paulo can be on the bench and give me 15 minutes of effort, I would be happy."
Mourinho's future beyond this season is in serious doubt as Wednesday's final could be his last major act at Roma.
His departure after two years and a European trophy would mirror how he left Inter in 2010, when he skipped off to Real Madrid almost immediately after lifting the Champions League trophy in the Spanish capital.
"The only thing I'm focussed on is the final. I'm not thinking about my future or anything else. Everything else becomes secondary when you have a final to play," said Mourinho.
"I'm not thinking about myself, I'm thinking about the players and the supporters... we want to play, and Wednesday we will be there."
Related Articles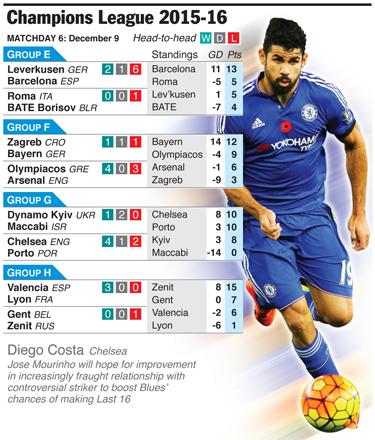 Dec 08,2015
Jose Mourinho's job could be on the line when Chelsea host Porto in the Champions League on Wednesday, and Alex Ferguson has urged the Londo
Jul 20,2022
ROME — Roma on Wednesday announced the signing of Paulo Dybala on a three-year contract after the Argentina forward's deal with Juventus exp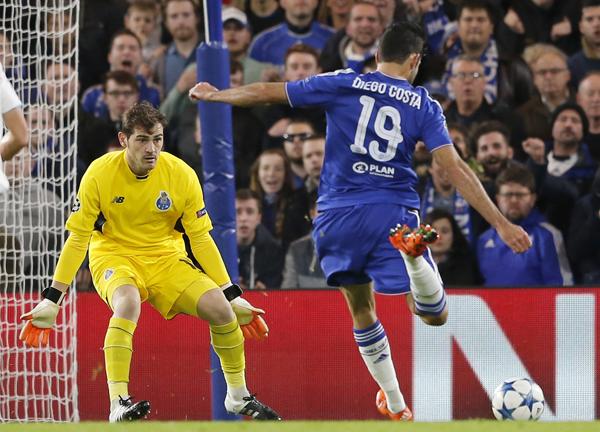 Dec 10,2015
Arsenal left their best performance for the last game of the Champions League group stage, advancing to the Round of 16 with a remarkable 3-