You are here
Jordan advances to U-23 Asian Cup
By Aline Bannayan - Sep 13,2023 - Last updated at Sep 13,2023
AMMAN - Jordan's U-23 football team qualified to its 6th AFC U-23 Asian Cup in Qatar set for April 2024.
Jordan hosted Group A qualifiers, and finished unbeaten after overcoming Brunei 9-0, Oman 1-0 and Syria 2-0 to clinch the sole qualifying spot from the group. Oman came in second after it beat Syria 2-0 and Brunei 3-0. Syria beat Brunei 11-0.
Forty three teams contested the qualifiers in 11 groups with the top team from each group together with four best second placed teams advancing to the U-23 Asian Cup alongside hosts Qatar. The top four teams from the AFC U23 Asian Cup will advance to the Olympics.
South Korea qualified from Group B, Vietnam from Group C, Japan from Group D, Uzbekistan from Group E, Iraq and Kuwait from Group F, UAE and China from Group G, Thailand and Malaysia from Group H, Australia and Tajikistan from Group I, Saudi Arabic from Group J and Indonesia from Group K.
Coach Abdullah Abu Zam'eh has guided his team to the Asian finals despite a lackluster preparation agenda as the team did not regroup much and played minimal friendlies against Lebanon, Bahrain, Palestine and the U20 national team.
Meanwhile, Jordan's senior team has lost two friendlies under incoming coach Hussein Amouta. Jordan went down to Norway 6-0 and Azerbaijan 2-1, as Amouta strives to prepare the team for the 23rd World Cup 2026 qualifiers set to kick off in October, which also serve as qualifiers for the 2027 Asian Cup. Jordan was drawn in Group G alongside Saudi Arabia, Tajikistan and the winner from the Cambodia/Pakistan match.
The Moroccan coach is set on advancing Jordan to the 2026 World Cup, which will be co-hosted by Canada, Mexico and the United States, as Asia will get 8 slots in the next edition in additional to a zonal qualifier after expanding the number to include 48 nations. Jordan also hopes to play for an advanced spot in the upcoming Asian Cup 2023 slated for Qatar in January 12, 2024, where Jordan will play in Group E alongside Bahrain, Malaysia and South Korea.
Related Articles
Oct 12,2023
AMMAN — Jordan hosts a four nation tourney on the weekend as national football teams prepare for the 23rd World Cup 2026 qualifiers set to k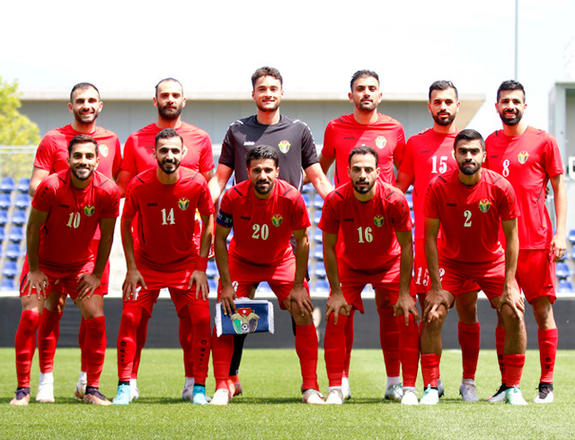 Nov 28,2023
AMMAN — The national football teams seem to have an uphill journey ahead as they start the countdown to their respective i
Aug 30,2023
AMMAN — Jordan's U-23 football team hosts Palestine on Thursday in the final week of preparations ahead of Group A qualifiers kicking