You are here
FIFA to discuss use of video replay to help refs
By AP - Feb 03,2014 - Last updated at Feb 03,2014
ZURICH –– The potentially radical use of video replay in football will be studied by FIFA's rules-making panel next month.
Extra technological help for referees is on the agenda despite long being ruled out by FIFA President Sepp Blatter and UEFA President Michel Platini.
The preliminary talks scheduled for March 1 can kick off a process which could yet confirm Platini's prediction that approving goal-line technology in 2012 would lead to using video for other decisions, such as penalty kicks and offsides.
FIFA said no decision will be made by the International Football Association Board (IFAB) group.
Platini's UEFA has sought to stall high-tech aids by promoting his idea of putting extra assistants behind each goal to advise referees on penalty-area incidents.
The IFAB panel will also look at the use of so-called "sin bins" in amateur football and the "triple punishment" of awarding a penalty kick, showing a red card and suspending a player for some offences.
IFAB could make a clear ruling to crack down on players revealing personal messages on their undershirts, especially during goal celebrations.
Mario Balotelli famously revealed a T-shirt with 'Why Always Me?' written on it after scoring for his then-club Manchester City against crosstown rival Manchester United in 2011.
The current laws of football prohibit a player revealing political slogans or advertising on an undershirt, and a proposed new wording would ban any kind of personal text or image.
"Players must not reveal undergarments that show political, religious, personal slogans, statements or images, or advertising other than the manufacturer logo," the IFAB panel suggests.
IFAB should also confirm that female Islamic players should get formal permission to wear headscarves in matches after trials begun in 2012 to prove their safety.
"After a two-year pilot, there is no indication as to why the wearing of head covers should be prohibited," the panel agenda stated.
In addition, the amended law should be extended to include men to avoid discrimination.
The IFAB panel is having its first annual meeting since being granted legally independent status from FIFA, and freedom to create two advisory groups of football and technical experts.
The main panel includes the four British national associations, which have one vote each, and FIFA, which has four votes. Law changes are approved when a 6-2 majority is reached, and typically take effect when the next season starts.
Related Articles
Mar 01,2015
Faced with football's "biggest decision ever", FIFA said on Saturday it would not be rushed into approving — or even testing — video technology to improve the accuracy of referees' decisions.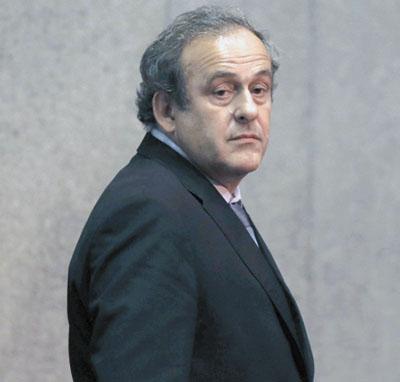 May 09,2016
LAUSANNE — Suspended European football boss Michel Platini will resign as head of governing body UEFA after losing a top level appeal agains
Oct 28,2015
GENEVA — Seven men are in the running to replace Sepp Blatter as FIFA president, with Michel Platini's candidature accepted but pending beca
Newsletter
Get top stories and blog posts emailed to you each day.