You are here
Faisali atop football League
By Aline Bannayan - Dec 17,2015 - Last updated at Dec 17,2015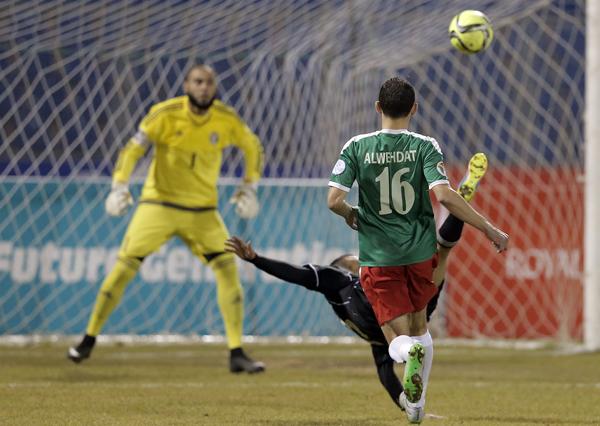 Wihdat in action against Al Baqa'a on Tuesday at the Amman International Stadium (Photo courtesy of Jordan Football Association)
AMMAN — Faisali ended Week 11 of the 64th Jordan Professional Football League atop the standings while titleholders Wihdat dropped to fourth as Leg 1 concluded this week.
Although there is a postponed week with teams readying to play the Jordan Cup quarters, the conclusion of Leg 1 matches saw former champs Faisali ,who beat Baqa'a 3-1 last week, holding Sarih 1-1 but managing to keep their lead as Wihdat lost 1-0 to Jazira last week and 3-0 to Baqa'a this week and dropped to fourth.
Wihdat goalkeeper Amer Shafie was quoted in Al Rai as saying he would retire from local and international football as Wihdat's line-up was blamed for the team's weak performances in the last two weeks.
Shabab Urdun are second after a 3-2 win over That Ras while Ahli jumped to third after impressive performances including a 2-1 win over Hussein Irbid and a 2-1 win over Shabab Urdun last week.
Ramtha are sixth after they were held 1-1 with Kufrsoum while Jazira, who beat Asala 1-0, are seventh and Hussein eighth. Baqa'a moved from last to 11th.
So far this season, Jordan Cup titleholders Faisali beat Wihdat 1-0 to win the 33rd Super Cup. Apart from losing the Super Cup, Wihdat were also knockout out of the Jordan Cup this season.
Wihdat have been league champions for the past two consecutive years. Faisali finished at a disappointing 7th place in the league last season as runner-up and third places went to Jazira and Ramtha.
League action returns in 2016 with Week 12 matches kicking off on February 2.
League Standings
(Last week's position in parenthesis)
| | | | | | | | |
| --- | --- | --- | --- | --- | --- | --- | --- |
| Team | P | W | D | L | GF | GA | PTS |
| Faisali (1) | 11 | 7 | 2 | 2 | 16 | 9 | 23 |
| Sh. Urdun (3) | 11 | 6 | 2 | 3 | 18 | 13 | 20 |
| Ahli (4) | 11 | 6 | 2 | 3 | 12 | 9 | 19 |
| Wihdat (2) | 11 | 6 | 1 | 4 | 13 | 9 | 20 |
| Sarih (6) | 11 | 3 | 6 | 2 | 11 | 9 | 15 |
| Ramtha (7) | 11 | 3 | 6 | 2 | 10 | 8 | 15 |
| Jazira (8) | 11 | 4 | 3 | 4 | 7 | 6 | 15 |
| Hussein (5) | 11 | 4 | 3 | 4 | 13 | 14 | 15 |
| Kufrsoum (9) | 11 | 3 | 4 | 4 | 11 | 13 | 13 |
| That Ras (10) | 11 | 2 | 3 | 6 | 8 | 13 | 9 |
| Baqa'a (12) | 11 | 1 | 4 | 6 | 7 | 14 | 7 |
| Asala (11) | 11 | 1 | 4 | 6 | 7 | 15 | 7 |
Related Articles
Jun 10,2016
AMMAN – Jordanians will elect their representatives in the Lower House on September 20 of this year, according to a decision by the Independ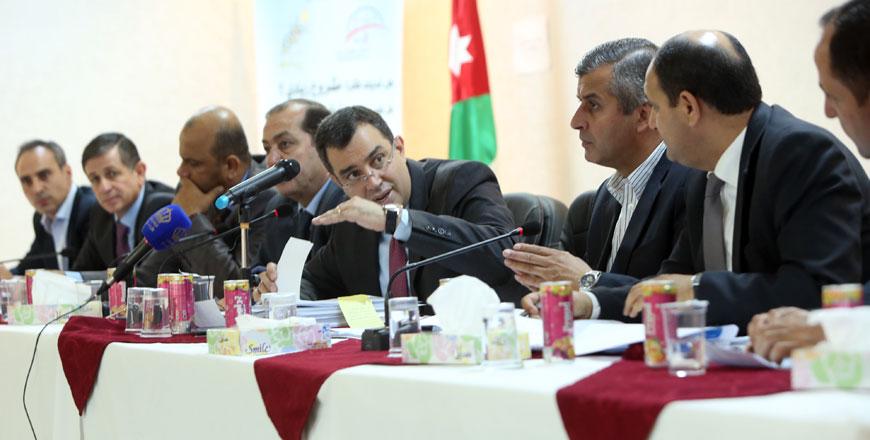 Jul 18,2016
AMMAN – The government on Monday launched a programme to raise awareness of loans and financing available to potential entrepreneurs across
Nov 28,2015
AMMAN — Wihdat will aim to capitalise on their lead, taking advantage of Shabab Urdun's faltering when Week 9 of the 64th Jordan Professiona