You are here
Drivers on mission to break Al Hussein Rumman Hill Climb record
By Roufan Nahhas - Jul 26,2017 - Last updated at Jul 26,2017
Jordan driver Husam Salem in action at the 2016 Al Hussein Rumman Hill Climb (Photo by Amjad Ghsoun)
AMMAN — Al Hussein Rumman Hill Climb kicks off on Friday with the participation of 19 drivers from Oman, the UAE, Palestine and Jordan.
The event organised by Jordan Motorsport will witness serious attempts to break the 1m48.76s record registered by Lebanon's Roger Feghali in 2007.
The absence of the Lebanese champions will give a boost to the Jordanian drivers.
Jordan's Khatsheek Shadian, who won the hill in 2015 after clocking 1m52s in his Cosworth F3 and in 2016 with 1m50.375s, is looking for a third time win and an opportunity to break Feghali's record.
Mohammed Tayseer is another candidate who could break the record, as last year he came second with 1m54:943s, followed by Saher Fatafteh 1m55:352s.
Veteran driver and winner of the hill in 2012 Husam Salem will be waiting for chance to repeat his victory over the hill.
Ayman Najjar will also have a good shot at the record armed with his Speed Test experience. Ehab Shurafa and Wael Mustafa could surprise with a win.
Othman Naseef Jordan Motorsport CEO said that the event will be a huge opportunity.
"There is no doubt that the door of breaking records is open and everyone will have a chance to break it," he told The Jordan Times.
"The hill is not easy and over the years so many tried but did not succeed but maybe this year we will have a Jordanian who will break the record and return the hill to its people," he added.
Salem, who has a long experience in the Speed Tests and Rumman Hill events, said that there is a big chance to break the record.
"We all have a good chance but in such events anything can happen and our plans might not work at all but we will do our best to win the hill," Salem, who will be driving his Mitsubishi EVO Pro Type, said.
The Hill Climb course is exactly tree kilometres in length and three metres in width with an average rise of 8.5 per cent. There are a total of 27 bends and corners including four hairpin bends. The course is situated two kilometres north of Rumman.
The event started as a competition among friends. His Majesty King Hussein patronised the opening of the Royal Automobile Club of Jordan in 1953 and took part in the first ever Rumman Hill Climb in 1956.
Related Articles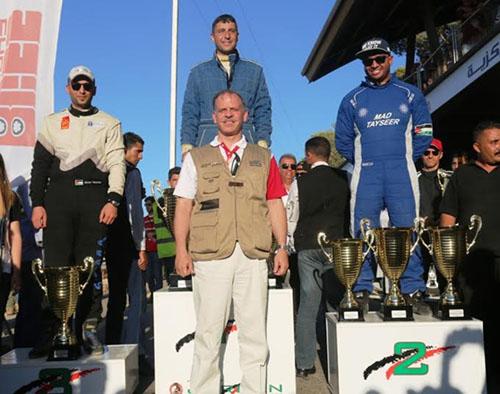 Jul 23,2016
AMMAN — Khatsheek Shadian on Friday was crowned champion of Al Hussein Rumman Hill Climb after clocking 1m50:357s, improving on his 2015 rec
Jul 26,2018
AMMAN — Many of Jordan's top speedsters will be looking to end a driver's grip on one of the Middle East's most prestigious motor sporting e
Aug 22,2015
AMMAN — Khatsheek Shadian on Friday was crowned champion of Al Hussein Rumman Hill Climb after clocking 1m52s in his Cosworth F3."Although I