You are here
Yemen rebels announce temporary Red Sea ceasefire
By AFP - Aug 02,2018 - Last updated at Aug 02,2018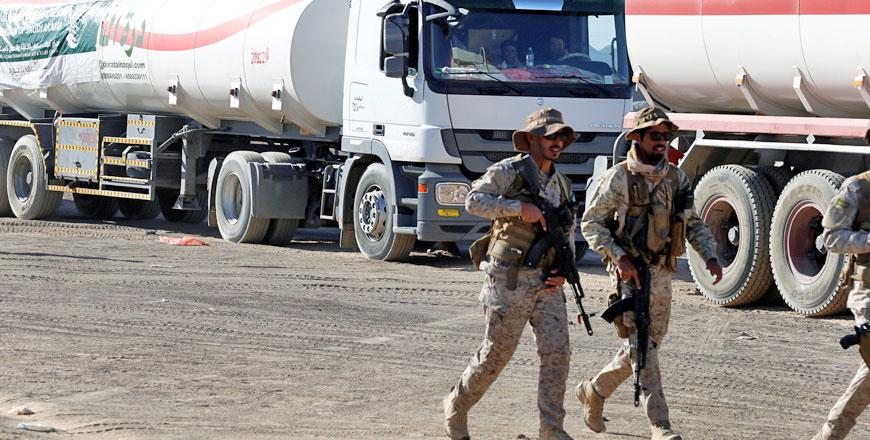 In this file photo Saudi soldiers walk by oil on tanker trucks delivered by Saudi authorities to support charities and NGOs in Marib, Yemen, on January 26 (Reuters photo)
SANAA — Yemen's Houthi rebels announced a two-week pause in Red Sea operations on Wednesday, after attacks against Saudi tankers last week prompted Riyadh to suspend oil shipments through a key waterway.
"The unilateral suspension of our naval operations is for a limited period," the rebels said in a statement released by their defence ministry.
The Houthis' Twitter and Facebook accounts said the suspension will last two weeks.
But "it can be renewed and expanded to other fronts if this initiative is well-received and reciprocated", the statement said.
The Houthis are fighting a Saudi-led military coalition that backs Yemen's government.
A spokesman for the coalition did not immediately respond to a written request for comment on the Houthis' unilateral truce.
On July 26, Saudi Arabia said it was temporarily suspending oil shipments through the Bab Al Mandab Strait — one of the world's busiest shipping lanes — after two oil tankers operated by Saudi shipping group Bahri were attacked, slightly damaging one vessel.
The pro-Houthi Al Masirah television said at the time that the rebels had targeted a Saudi warship named Al Dammam, without providing further details.
The Houthis, allied with Saudi Arabia's regional rival Iran, control Yemen's capital Sanaa and Hodeida port, the entry point for around three quarters of the impoverished country's imports.
The coalition on July 1 paused a ground offensive against Hodeida, in what coalition partner the UAE has described as a bid to give United Nations-led peace efforts a chance.
The head of the rebels' revolutionary council, Mohammed Ali Al Houthi, said Wednesday's offer of a temporary maritime truce came as "support for UN mediation and peace efforts".
UN envoy to Yemen Martin Griffiths has been pushing for a deal which envisions the rebels ceding control of Hodeida port to a UN-supervised committee.
Saudi Arabia and its allies joined Yemeni President Abedrabbo Mansour Hadi's fight against the Houthis in 2015.
Yemen's war has killed nearly 10,000 people and triggered what the UN calls the world's largest single humanitarian crisis, with more than eight million Yemenis at risk of starvation.
Related Articles
May 14,2019
ADEN — Yemen's warring parties started fresh UN-sponsored talks in Jordan on Monday, Yemeni officials said, two days after Houthi forces beg
Aug 02,2018
SANAA — At least 20 people were killed on Thursday in air strikes at the entrance of a hospital and a fish market in Yemen's rebel-held port
Aug 04,2018
RIYADH — Saudi Arabia said Saturday that it was resuming oil shipments through the Bab Al Mandab Strait, ending a 10-day suspension triggere