You are here
UN chief says Gaza ceasefire 'more urgent with every passing hour'
By AFP - Nov 07,2023 - Last updated at Nov 07,2023
UNITED NATIONS, United States — UN Secretary-General Antonio Guterres on Monday urged an immediate ceasefire in the Israel-Hamas conflict, as he warned that the bombarded Gaza Strip was becoming a "graveyard for children".
"The unfolding catastrophe makes the need for a humanitarian ceasefire more urgent with every passing hour," he told reporters at the UN headquarters.
"The parties to the conflict, and, indeed, the international community, face an immediate and fundamental responsibility: to stop this inhuman collective suffering and dramatically expand humanitarian aid to Gaza," he said.
"The nightmare in Gaza is more than a humanitarian crisis. It is a crisis of humanity."
According to the health ministry in Gaza, 10,222 people have died including more than 4,000 children in the Gaza Strip since Israel launched its strikes in retaliation.
Guterres also deplored the killings of media workers. According to the New York-based Committee to Protect Journalists, at least 36 journalists and media workers have been killed.
"More journalists have reportedly been killed over a four-week period than in any conflict in at least three decades," Guterres said.
Guterres was formally launching a recently announced $1.2 billion UN humanitarian appeal to help 2.7 million Palestinians over the entire Gaza Strip and parts of the occupied West Bank and East Jerusalem.
Aid trucks have been coming into Gaza from Egypt through the Rafah crossing, but the level remains well below the level before October 7, with Israel saying it needs time for security checks of vehicles, and they are not bringing fuel.
"Without fuel, newborn babies in incubators and patients on life support will die," Guterres said.
"The way forward is clear. A humanitarian ceasefire, now. All parties respecting all their obligations under international humanitarian law," he said.
Guterres again voiced alarm about the "clear violations of international humanitarian law that we are witnessing".
"Let me be clear: No party to an armed conflict is above international humanitarian law," he said without naming Israel.
Related Articles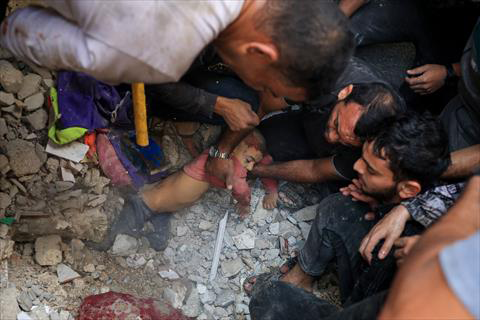 Nov 07,2023
UNITED NATIONS, United States — UN Secretary-General Antonio Guterres on Monday warned that the bombarded Gaza Strip was becoming a "graveya
Oct 25,2023
UNITED NATIONS, United States — UN Secretary-General Antonio Guterres on Tuesday alleged violations of international law as Israel pounds Ga
Jul 13,2021
OCCUPIED JERUSALEM — Israel said on Monday it had expanded the fishing zone off Gaza and would allow additional imports into the blockaded P