You are here
Turkey recalls envoy to Israel, blasts Netanyahu
By AFP - Nov 04,2023 - Last updated at Nov 04,2023
ISTANBUL — Turkey said on Saturday it was recalling its ambassador to Israel and breaking off contacts with the Israeli occupation's prime minister Benjamin Netanyahu in protest at the bloodshed in Gaza.
Palestinian ally Turkey had been gradually mending its torn relations with Israel until last month's start of Israel's war on Gaza.
The Turkish foreign ministry said Ambassador Sakir Ozkan Torunlar was being recalled for consultations "in view of the unfolding humanitarian tragedy in Gaza caused by the continuing attacks by Israel against civilians, and Israel's refusal [to accept] a ceasefire".
Turkish President Recep Tayyip Erdogan separately told reporters that he held Netanyahu personally responsible for the growing civilian death toll in the Gaza Strip.
"Netanyahu is no longer someone we can talk to. We have written him off," Turkish media quoted Erdogan as saying.
Israel had earlier withdrawn all diplomats from Turkey and other regional countries as a security precaution.
The Israeli foreign ministry said last weekend it was "reevaluating" its relations with Ankara because of Turkey's increasingly heated rhetoric about the Israel-Hamas war.
Erdogan said on Saturday that Turkey was not fully breaking off diplomatic relations with Israel.
"Completely severing ties is not possible, especially in international diplomacy," Erdogan said.
He said MIT intelligence agency chief Ibrahim Kalin was spearheading Turkey's efforts to try and mediate an end to the war.
"Ibrahim Kalin is talking to the Israeli side. Of course, he is also negotiating with Palestine and Hamas," Erdogan said.
But he said Netanyahu bore the primary responsibility for the violence and had "lost the support of his own citizens".
"What he needs to do is take a step back and stop this," Erdogan said.
The Turkish leader had taken a more cautious tone in the first days of the war.
But he led a massive rally in Istanbul last weekend during which he accused the Israel government of behaving like a "war criminal" and trying to "eradicate" Palestinians.
Related Articles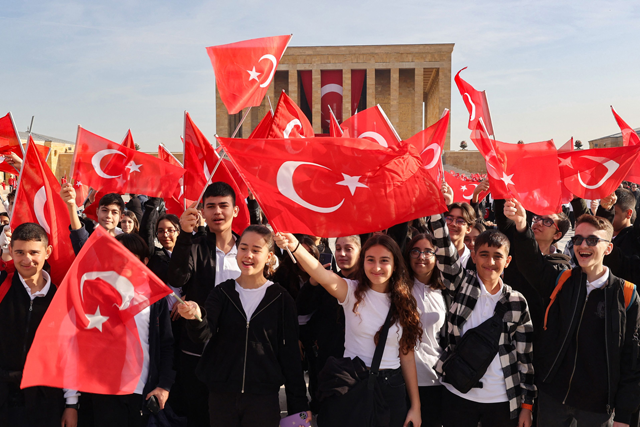 Oct 29,2023
ISTANBUL — Turkey marked its centenary as a post-Ottoman republic on Sunday with somewhat muted celebrations held in the shadow of Israel's
Mar 13,2019
ANKARA — Turkey's President Recep Tayyip Erdogan on Wednesday blasted Israeli premier Benjamin Netanyahu as a "tyrant" who "massacred" Pales
Dec 24,2018
ANKARA — Turkish President Recep Tayyip Erdogan on Sunday lambasted Israeli Prime Minister Benjamin Netanyahu as an ''oppressor'' after