You are here
Tunisia protester 'accidentally' killed in south
By AFP - May 23,2017 - Last updated at May 23,2017
Tunisians shout slogans against the government during a demonstration to show their support to protesters in the southern Tataouine region on Habib Bourguiba avenue in Tunis on Monday (AFP photo)
TATAOUINE, Tunisia — A young protester was killed on Monday after a national guard vehicle "accidentally" ran him over in south Tunisia, raising fears of mounting social unrest in a region rocked by weeks of protest.
The death comes as tensions have risen between protesters and security forces outside the El Kamour oil and gas pumping station.
Protesters have been camping outside the desert installation in the Tataouine region for around a month, blocking trucks from entering, to demand a share of local resources and priority for jobs in the sector.
"The health ministry announces the accidental death of a young man, [run over] by the national guard. He was a protester," it told AFP.
Security forces fired tear gas at demonstrators in El Kamour on Monday as they tried to storm the facility, local radio said, with another protest later reported in the city of Tataouine some 100 kilometres away.
The head of Tataouine hospital, Ibrahim Gharghar, said "around 50 injured" people were admitted, including one who was hit in the eye by a tear gas canister.
The death of the demonstrator came two days after soldiers fired warning shots in El Kamour to deter protesters.
It was the first escalation since President Beji Caid Essebsi said earlier this month the army would protect key economic installations from being disrupted by protests over social and labour issues.
Late Sunday, the defence ministry in a statement warned the army would use force against anyone who tried to enter these installations.
The statement warned "all citizens of legal proceedings in the case of clashes with military or security units" and of possible casualties in "the case of a gradual escalation of use of force".
"One must understand that attempting to enter by force an installation protected by the army... is not a peaceful act... It requires a reaction," ministry spokesman Belhassen Oueslati told Express FM radio on Monday.
Army in Tataouine
An AFP correspondent said clashes also erupted on Monday outside the Tataouine governor's office after residents staged a protest in support of the El Kamour sit-in.
Footage shared on social media showed at least one injured demonstrator, and ambulances arriving, sirens screaming, at the city hospital.
"We only went out to protest after violence erupted in El Kamour," one participant said, asking to remain anonymous.
He said a small group set fire to police and national guard stations in the city, which local media also reported.
"Everything is closed in Tataouine. Just the army is here — police and national guard have left," he said.
"We have no problem with the army, who behave in a very civilised way," the protester added.
The AFP correspondent said the atmosphere remained tense in the city.
In Tunis, dozens gathered near the interior ministry to protest against the violence in El Kamour. There was a heavy police presence nearby.
Tataouine, around 500 kilometres south of Tunis, has been rocked in recent weeks by protests over unemployment and poverty, and perceived marginalisation of the country's periphery.
Last month, Prime Minister Youssef Chahed travelled to the region in an attempt to address concerns but was shouted down and forced to leave a heated town hall meeting.
Dozens of protesters interrupted his speech with cries of "Work! Freedom! National Dignity!" — a slogan from the 2011 uprising that toppled veteran dictator Zine El Abidine Ben Ali.
In January 2016, Tunisia was rocked by some of the worst social unrest since the 2011 protests that sparked the Arab Spring uprisings.
Anger erupted after the death of a 28-year-old unemployed man who was electrocuted when he climbed a power pole while protesting in the central town of Kasserine.
That unrest had echoes of the public anger after the death of a young fruit seller who set himself on fire in Sidi Bouzid in December 2010 in protest at unemployment and police harassment.
Related Articles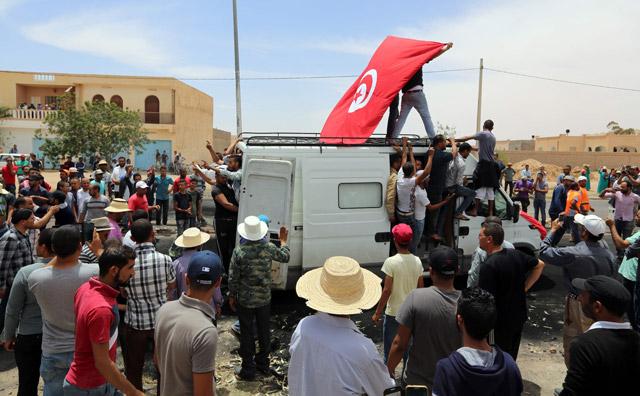 May 24,2017
BIR LAHMER, Tunisia — Thousands attended the funeral Tuesday of a protester killed during clashes in southern Tunisia as officials warned te
Jun 22,2020
TATAOUINE, Tunisia — Protesters demanding jobs and the release of an activist in Tunisia's marginalised south clashed on Monday with securit
Jul 11,2020
TUNIS — Hundreds of Tunisians demonstrated in the south of the country on Saturday against unemployment and the death of a young man they sa