You are here
Training Libya coastguard can help cut migrant deaths — EU mission head
More than 3,740 have died trying to make the crossing this year alone
By Reuters - Nov 02,2016 - Last updated at Nov 02,2016
ROME — Training Libya's coastguard to stop people smugglers and rescue boat migrants could help save many lives and avoid incidents in which Libyan officials have behaved too aggressively, the head of the European Union's Mediterranean mission said on Wednesday.
The Sophia mission, which aims to combat the criminal gangs that pack the migrants into boats making the perilous crossing from Libya to Europe, started training 78 Libyan coastguard officials on October 26. The training will run for 14 weeks.
A breakdown of law and order in Libya has allowed the smuggler gangs to operate with near-impunity, launching hundreds of thousands of mainly sub-Saharan Africans towards Europe over the past few years.
More than 3,740 have died trying to make the crossing this year alone.
The Libyan coastguard currently lacks the personnel and equipment to patrol more than 1,600km of coastline and the EU's Sophia mission can only operate in international waters, 12 nautical miles from land.
"A trained Libyan coastguard, already in that zone, could prevent many deaths," Rear Admiral Enrico Credendino, commander of the Sophia operation, told reporters in Rome.
"When a rubber boat overturns, it sinks quickly. Hardly any of the migrants can swim and they don't have life jackets so they drown fast," Credendino said.
Reports of incidents in which vessels apparently belonging to the Libyan coastguard have attacked migrant or rescue boats makes the training all the more urgent and necessary, he said.
"On some occasions, the coastguard that we are training has responded too violently because they are not trained."
Last month German humanitarian group Sea-Watch recovered the bodies of four migrants after an attack its members said had been carried out by a vessel with the markings of the Libyan coastguard. The coastguard denied any involvement in the incident.
Credendino said it was sometimes hard to tell whether such people were actually coastguard officials as some smugglers wear camouflage or uniforms and fly Libya's flag on their boats.
There had been some scepticism around the training plan, Credendino said, but the 78 officials "arrived with great enthusiasm ... a real desire to do this with us".
Sophia, which became operational in July 2015, has so far arrested and handed over to Italian authorities 99 suspected traffickers and seized 337 boats.
The mission is also aimed at disrupting drug trafficking networks in the Mediterranean and enforcing a United Nations arms embargo against Libya.
Related Articles
Nov 23,2017
ROME — The EU's anti-trafficking operation is working to train Libya's coastguard on how to respect the human rights of migrants recovered a
May 08,2018
ON BOARD THE AQUARIUS — The Libyan coastguard on Sunday prevented a rescue ship belonging to two NGOs from approaching a boat in distress ca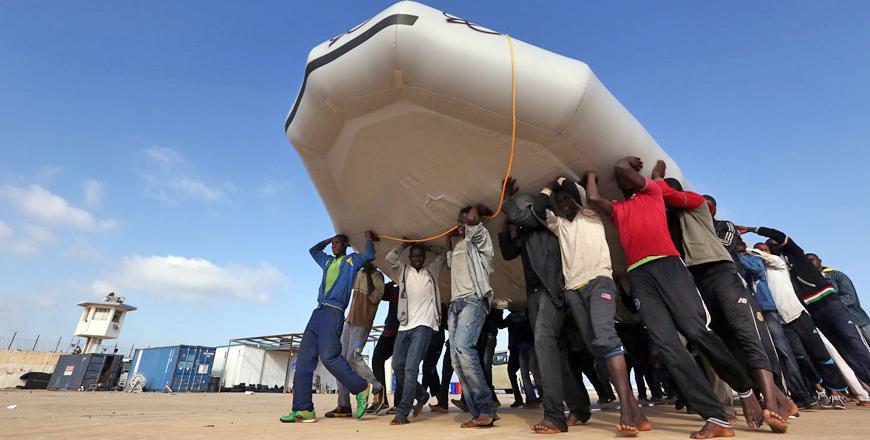 Oct 09,2015
ROME — Rival bands of traffickers are fighting over the lucrative migrant business in Libya and even intercept boats to extort the passenger
Newsletter
Get top stories and blog posts emailed to you each day.