You are here
Three years since Daesh attack, Yazidi wounds still open
By Reuters - Aug 03,2017 - Last updated at Aug 03,2017
Yazidis visit a cemetery during a commemoration to mark three years since Daesh launched what the United Nations said was a genocidal campaign against them in Sinjar region, Iraq, on Thursday (Reuters photo)
SINJAR, Iraq — Iraq's Yazidis marked three years since the Daesh terror group launched what the United Nations said was a genocidal campaign against them on Thursday, but their ordeal is far from over despite the ouster of the extremists.
Militants were driven out of the last part of the Yazidi homeland in northern Iraq in May. However, most Yazidis have yet to return to villages they fled when Daesh overran Sinjar in the summer of 2014, killing and capturing thousands because of their faith.
Nearly 3,000 Yazidi women and children remain in Daesh captivity, and control over Sinjar is disputed by rival armed factions and their regional patrons. Justice for the crimes Yazidis suffered, including sexual enslavement, has also so far proved elusive.
"The Yazidis' wound is still bleeding," one man told Reuters at a ceremony attended by several thousand people including the mayor and other local dignitaries, held at a temple at the foot of the mountain that dominates Sinjar.
"The Kurds and the Iraqi government are fighting for Sinjar and we are paying the price," said the man.
A UN human rights Commission of Inquiry, which declared the killings of thousands of Yazidis to be a genocide, said on Thursday that the atrocity had not ended and that the international community was not doing enough to stop it.
"The genocide is on-going and remains largely unaddressed, despite the obligation of States... to prevent and to punish the crime," the commissioners said in a statement.
Daesh extremists killed thousands of captured men during their attack on the Yazidis, a religious sect whose beliefs combine elements of several ancient Middle Eastern religions. Daesh considers Yazidis as devil-worshippers.
Images of desperate Yazidis fleeing up the mountain in the blazing summer heat were broadcast around the world and helped to galvanise the United States to conduct its first air strikes against Daesh in Iraq.
At least 9,900 of Iraq's Yazidis were killed or kidnapped in just days in the Daesh attack in 2014, according to a study documenting the number of Yazidis affected which could be used as evidence in any trial for genocide.
About 3,100 Yazidis were killed — with more than half shot, beheaded or burned alive — and about 6,800 kidnapped to become sex slaves or fighters, according to the report published in the Public Library of Science journal PLoS Medicine.
Enslaved women and girls are now reportedly being sold by Daesh militants trying to escape the US-led assault on their Syrian stronghold of Raqqa, the UN commission said.
Dispute over Sinjar
The array of forces that drove Daesh out of Sinjar are now vying for control of the area near the borders of Iraq, Syria and Turkey.
Kurdish peshmerga forces retook around half of Sinjar in late 2015, effectively annexing it to the autonomous region they hope to convert into an independent state. A referendum on independence is due to be held in September, which the government in Baghdad opposes.
Mainly Shiite paramilitary groups, some backed by Iran, retook the rest of the Yazidi homeland in May, bringing them within metres of the peshmerga.
Another group, the outlawed Kurdistan Workers Party (PKK), also gained a foothold in Sinjar and clashed with the peshmerga earlier this year. Its presence has made the area a target for Turkey, which has fought a three-decade war against the PKK on its own soil.
"People are worried about returning", said General Ashti Kojer, the local head of Kurdish police, known as Asayish. "The [Sinjar] region has become a conflict zone".
Kojer and another local official said the political environment was preventing international organisations from working on reconstruction and rehabilitation in Sinjar, further discouraging Yazidis from returning.
Water has to be trucked in, electricity is supplied from private generators, schools are closed, and the closest hospital is Dohuk — around three hours' drive away.
"The lack of services and political problems are preventing families from returning," Jalal Khalaf, the director of the mayor's office in Sinjar, told Reuters.
Related Articles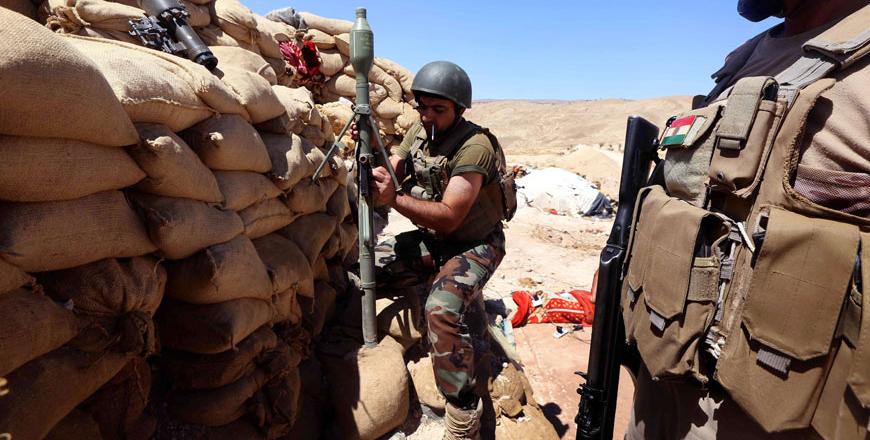 Aug 31,2015
SINJAR, Iraq — Militants occupying the Iraqi town of Sinjar are so close that Kurdish fighters can watch them without binoculars and battles
Nov 01,2015
ERBIL, Iraq — Kurdish forces are massing in northwest Iraq for an offensive to retake the town of Sinjar from Daesh militants who overran it
Nov 12,2015
MOUNT Sinjar, Iraq — Iraqi Kurdish forces backed by US-led strikes blocked a key Daesh supply line to Syria Thursday as they fought to retak
Newsletter
Get top stories and blog posts emailed to you each day.