You are here
Thousands of faithful celebrate Christmas in Bethlehem
By AP - Dec 24,2016 - Last updated at Dec 24,2016
A Christian worshipper prays after lighting a candle on Christmas Eve at the Church of the Nativity, built atop the site where Christians believe Jesus Christ was born, in the West Bank City of Bethlehem, on Saturday (AP photo)
BETHLEHEM, West Bank — Thousands of pilgrims and tourists from around the world together with locals began Christmas Eve celebrations in Jesus' traditional birthplace of Bethlehem on Saturday, lifting spirits after a tense year between Palestinians and Israelis.
The faithful braved the chilly weather outside Manger Square in the biblical West Bank town of Bethlehem as traditional Christmas songs like "Jingle Bells" played in Arabic over loudspeakers, and scout groups paraded with bagpipes and sang carols. Elated tourists and local Christians alike wandered around the square illuminated by festive red and golden lights and a large Christmas tree, visiting souvenir shops and restaurants.
"It's very unique, I've never seen anything like it" said Rodrigo Reis, 23, who came from Louisville, Kentucky.
"It's very meaningful, its Christmas time, where everything started."
Christian clergymen welcomed the top Roman Catholic cleric in the Holy Land inside the Church of Nativity in Bethlehem, the birth place of Jesus Christ, as Christians worldwide begin to prepare to celebrate Christmas this year.
The Rev. Pierbattista Pizzaballa, the apostolic administrator of the Latin Patriarchate, is the temporary chief clergyman to the local Catholic population. He travelled from Jerusalem to Bethlehem on Saturday in a traditional procession.
"I am happy that the war, at least the military war, in Aleppo is finished and that for the first time in Aleppo the Christians can celebrate without fear the Christmas season. I wish that they can now reconstruct, rebuild the city, not only the infrastructure but also the common relations that was a tradition over there," he told The Associated Press.
The Syrian government assumed full control of Aleppo earlier this month when rebels, including some extremists, agreed to withdraw from their last remaining enclave after more than four years of heavy fighting over the country's largest city.
Christmas festivities brought a boost of holiday cheer to Christians in the Holy Land that endured a wave of bloodshed that erupted over a year ago. Violence has tapered off in recent months but not halted completely.
Rula Maaya, the Palestinian minister of tourism, said all the hotels in Bethlehem were fully booked.
Despite the Christmas cheer, Mideast politics loom large in the background — the concrete barrier that surrounds parts of Bethlehem is just one hulking reminder. It was built by Israel last decade during the second Intifada, or uprising.
Israeli says the barrier is meant to keep out Palestinian attackers, but because it dips inside the West Bank, Palestinians see it as a land grab that also stunts their economy.
Related Articles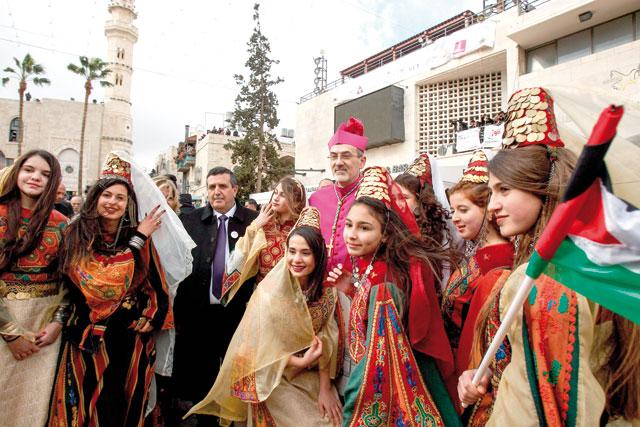 Dec 24,2017
BETHLEHEM, Palestinian Territories — Palestinian scouts played drums and bagpipes as Christmas celebrations began in Bethlehem on Sunday, bu
Dec 22,2016
BETHLEHEM — Preparations for Christmas are in full swing at the site of Jesus's birthplace, with Bethlehem shops, hotels and church official
Dec 23,2017
QUETTA, Pakistan/JAKARTA — Christmas church services and other celebrations are being held this weekend under the gaze of armed guards and s
Newsletter
Get top stories and blog posts emailed to you each day.