You are here
'Syria army, allies retake Albu Kamal from Daesh'
By AFP - Nov 19,2017 - Last updated at Nov 19,2017
A rocket is fired from a military vehicle in Albu Kamal, Syria, in this still image taken from a video obtained by Reuters on Sunday (Reuters photo)
DEIR EZZOR, Syria — The Syrian army and loyalist militiamen Sunday retook full control of Albu Kamal from the Daesh terror group, a military source said, ousting the extremists from their last urban stronghold in Syria.
Albu Kamal has changed hands several times, with government forces announcing the capture of the town near the Iraqi border earlier this month but losing it to a blistering Daesh counterattack a week ago.
"Syrian troops and allied forces took full control of Albu Kamal, and are removing mines and explosives left by Daesh", the military source in Deir Ezzor told AFP on Sunday.
"Daesh put up fierce resistance and tried to use explosives and suicide bombers, but besieging the city allowed the army to clinch the offensive and take full control of the city," the source added.
State news agency SANA also reported the advance in Albu Kamal, saying the "Syrian army and its allies eliminated the last Daesh terrorist pocket in the town."
A string of territorial defeats across northern and eastern Syria had left Albu Kamal as the last significant Syrian town held by Daesh.
Syria's army announced on November 9 it had ousted Daesh from the town, but the extremists launched a lightning offensive and retook it.
A week later, the army and allied Iraqi, Lebanese, and Iranian fighters broke back into Albu Kamal and steadily advanced through the town.
The Britain-based Syrian Observatory for Human Rights confirmed on Sunday that Syrian troops and their allies had captured Albu Kamal.
"Daesh fighters withdrew from the city towards the Euphrates River," Observatory head Rami Abdel Rahman told AFP.
"There is no more fighting in the town, but there are clashes around Albu Kamal," he said.
The monitor said more than 80 fighters were killed in the three days of ferocious push to retake the town, including 31 pro-regime forces and at least 50 Daesh extremists.
Daesh seized large areas of both Syria and neighbouring Iraq in a lightning 2014 campaign, but this year has lost much of the territory it once held.
The loss of Albu Kamal caps the group's reversion to an underground guerrilla organisation with no urban base.
Related Articles
Nov 16,2017
BEIRUT — The Syrian army on Thursday entered Albu Kamal, the last town in the country held by the Daesh terror group, several days after the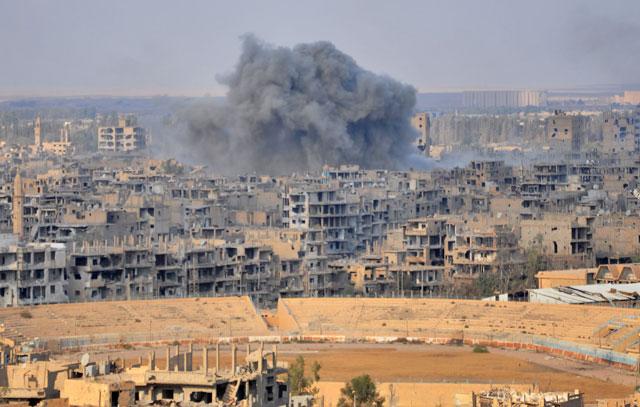 Nov 04,2017
DEIR EZZOR, Syria — Syrian and allied forces converged Saturday on holdout Daesh group fighters in the Syrian border town of Albu Kamal, the
Nov 18,2017
BEIRUT — Syrian troops and allied fighters advanced Saturday to capture most of Albu Kamal, a monitor said, in a tug-of-war over the Daesh t
Newsletter
Get top stories and blog posts emailed to you each day.