You are here
Syria's Assad 'will visit North Korea'
By Reuters - Jun 04,2018 - Last updated at Jun 04,2018
SEOUL, South Korea — Syrian President Bashar Al Assad said he plans to visit North Korean leader Kim Jong-un, North Korean state media reported on Sunday, potentially the first meeting between Kim and another head of state in Pyongyang.
"I am going to visit the DPRK and meet HE Kim Jong-un," Assad said on May 30, North Korea's KCNA news agency reported, using the initials of the country's official name, the Democratic People's Republic of Korea.
There was no immediate comment from the Syrian president's office.
Assad reportedly made the remarks as he received the credentials of North Korean Ambassador Mun Jong-nam.
Pyongyang and Damascus maintain good relations, and United Nations monitors have accused North Korea of cooperating with Syria on chemical weapons, a charge the North denies.
Both countries have faced international isolation, North Korea over its nuclear weapons programme, and Syria over its tactics during a bloody civil war.
Since the beginning of the year, however, North Korea's Kim has launched a flurry of diplomatic meetings with leaders in China and South Korea, and is scheduled to hold a summit with US President Donald Trump in Singapore on June 12.
Since taking power in 2011, Kim has not publicly met with another head of state in North Korea.
"The world welcomes the remarkable events in the Korean Peninsula brought about recently by the outstanding political caliber and wise leadership of HE Kim Jong-un," Assad said, according to KCNA. "I am sure that he will achieve the final victory and realize the reunification of Korea without fail."
According to South Korea's foreign ministry, North Korea established diplomatic relations with Syria in 1966, opening its embassy in Damascus. Syria opened its mission in Pyongyang in 1969.
Close military cooperation between the two countries began when North Korea sent some 530 troops including pilots, tank drivers and missile personnel to Syria during the Arab-Israeli war in October 1973.
"The Syrian government will as ever fully support all policies and measures of the DPRK leadership and invariably strengthen and develop the friendly ties with the DPRK," Assad said, as quoted by KCNA.
Related Articles
Nov 19,2023
SEOUL — A Russian official said that Moscow wanted to "comprehensively strengthen ties" with North Korea after a two-day visit by a governme
Feb 20,2023
SEOUL — North Korea fired two ballistic missiles Monday, its second weapons test in 48 hours, which Pyongyang said was a drill for a rocket
Oct 08,2022
SEOUL — North Korea on Saturday defended its recent flurry of missile tests as a legitimate counter to US military threats.The reclusive com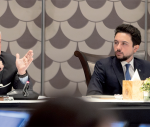 Newsletter
Get top stories and blog posts emailed to you each day.