You are here
Suspected Jewish vandals torch West Bank mosque
By AFP - Jan 15,2014 - Last updated at Jan 15,2014
DEIR ISTIYA, Palestinian Territories — Suspected Jewish extremists torched the entrance to a mosque in the West Bank early on Wednesday, in an apparent revenge attack for Palestinians beating and detaining Israeli settlers last week.
The attackers scrawled "Arabs out" and "Revenge for blood spilled in Qusra" in Hebrew on the walls of the mosque in Deir Istiya village, which lies next to the sprawling Ariel settlement in the northern West Bank, an AFP correspondent said.
Security spokeswoman Luba Samri said in a statement the attacks were "nationalistically" motivated.
Palestinians beat and detained around a dozen settlers last week in the village of Qusra, near the northern city of Nablus, and released them after negotiating with Israeli soldiers.
Seven of the settlers were arrested on suspicion of provoking the violence when they entered Qusra from Esh Kodesh, an illegal settlement outpost nearby.
The January 7 incident in Qusra has already sparked other revenge attacks, when suspected Jewish extremists torched two cars near Nablus and cut down trees belonging to Palestinians in an Arab-Israeli town east of Tel Aviv.
Palestinian property is often targeted by Jewish extremists who carry out so-called "price tag" attacks, usually for state moves against unauthorised settlement activity in the West Bank.
Perpetrators of the attacks have also targeted Muslim and Christian sites, as well as Arab property in Israel.
Related Articles
Jan 07,2014
Palestinians beat and detained several Israeli settlers who had sparked clashes after entering Qusra village near the West Bank city of Nablus Tuesday, sources on both sides said.
Aug 11,2015
QUSRA, West Bank — Armed men stopping cars at checkpoints in the West Bank are usually Israeli security forces controlling the occupied terr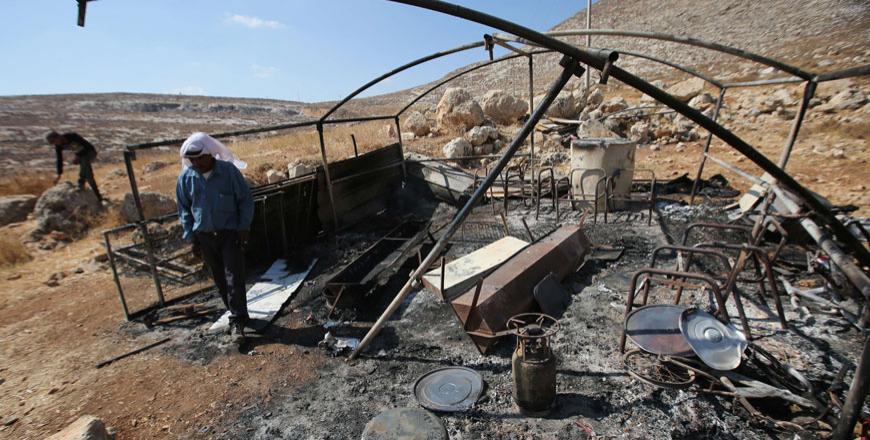 Aug 13,2015
EIN SAMIYA, Palestinian Territories — A tent was torched and Hebrew-language graffiti was sprayed Thursday at a Palestinian bedouin village