You are here
Somalia hotel attack death toll rises to 15
Shabab radical group claims attack
By AFP - Aug 31,2016 - Last updated at Aug 31,2016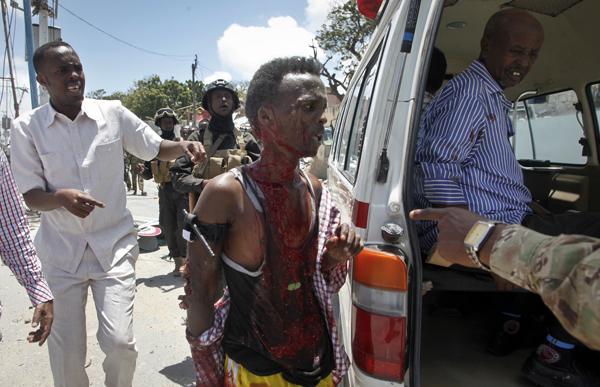 A man who was wounded by a blast near the presidential palace is helped into a vehicle in the capital Mogadishu, Somalia, Tuesday (AP photo)
MOGADISHU —At least 15 people died when extremists exploded a suicide car bomb outside a popular hotel close to the presidential palace in Somalia's capital Mogadishu, police said Wednesday, updating an earlier toll.
"The number of the people who died in the blast reached 15 and 45 others were wounded, most of them lightly," said Mogadishu Police Chief Bishar Abshir Gedi.
He said civilians and security forces were among the dead in Tuesday's attack.
Several journalists who were at the hotel at the time of the attack were injured.
A vehicle rammed through a checkpoint on Tuesday and was fired on by security forces before it exploded outside the SYL hotel.
An earlier toll stood at five killed and 28 injured.
The hotel is situated close to the main entrance to the Villa Somalia government complex that includes the presidential palace, ministry buildings and residences.
A witness described seeing a large blast and a thick plume of smoke that rose high into the air.
"I saw a car speeding towards the area and huge smoke and fire went up in the sky," said Elmi Ahmed.
The explosion left a scene of widespread damage with a crater in the road, buildings damaged, nearby walls collapsed and debris scattered across the usually busy carriageway.
The Al Qaeda aligned Shabab radical group said it was responsible for the attack.
The fortified hotel, popular with government officials, business people and visiting diplomats and delegations, was previously attacked in both February this year and January last year.
Last week gunmen detonated a bomb outside a beachside restaurant before storming inside and killing at least seven people.
The extremists have also staged repeated attacks in neighbouring Kenya and a recent security analysis warned the group was expanding its horizons with cells active in Djibouti, Ethiopia, Kenya, Tanzania and Uganda as well as Somalia.
Related Articles
Feb 27,2016
MOGADISHU — The death toll rose to 14 on Saturday from massive bomb blasts outside a Mogadishu hotel and a park that was claimed by Somalia'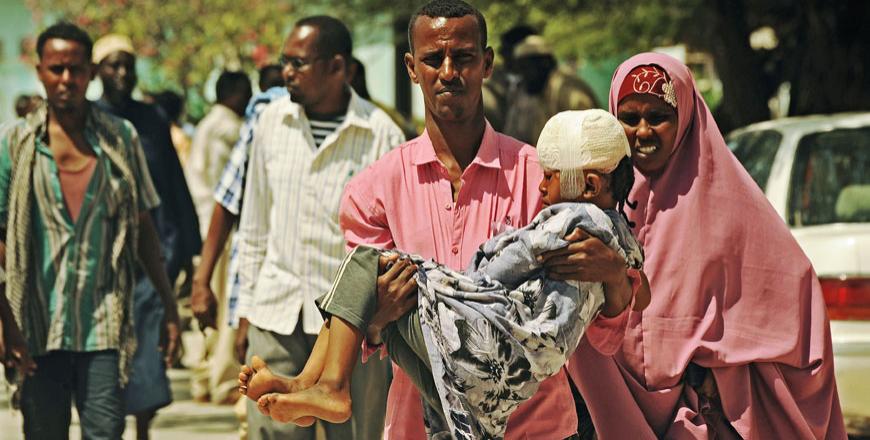 Sep 22,2015
MOGADISHU — At least seven people were killed and at least 10 wounded on Monday when a car bomb exploded near a heavily guarded complex hous
Jul 26,2016
MOGADISHU — At least 13 people were killed on Tuesday in twin bombings near UN and African Union buildings by Mogadishu's airport, police sa
Newsletter
Get top stories and blog posts emailed to you each day.