You are here
Saudi holds live-fire drills during Gulf war games
Manoeuvres also take place in strategic Strait of Hormuz
By AFP - Oct 04,2016 - Last updated at Oct 04,2016
RIYADH — Saudi Arabia is conducting live-fire drills during war games under way in the Arab Gulf, official media said on Tuesday, as tensions simmer with Iran.
Exercise Gulf Shield 1 has begun with naval ships, aircraft, marines and "special units", the Saudi Press Agency said.
The manoeuvres are also taking place in the strategic Strait of Hormuz and the Sea of Oman.
Navy Brigadier Majid Al Qahtani said the exercises include "shooting of live ammunition" as part of the effort to improve combat readiness and protect the kingdom's waters "against any possible aggression".
Saudi Arabia and Iran — which lie on opposite sides of the Arab Gulf — have no diplomatic relations and are at odds over regional issues including the wars in Syria and Yemen.
The Royal Saudi Navy says the latest exercise is part of a series.
A Saudi-led coalition, including naval forces, operates a blockade of Yemen as part of efforts to prevent weapons reaching Shiite Houthi rebels and their allies who overran much of Saudi Arabia's neighbour.
The United States and Saudi Arabia accuse Iran of sending missiles and other weapons to the rebels, but Tehran denies the charge.
Riyadh's ally Washington has accused Iran of repeated dangerous encounters with the US Navy in and around the Strait of Hormuz in recent months.
Last week, an Iranian commander said two of Tehran's warships held manoeuvres with an Italian frigate in the Strait of Hormuz after it made an Iranian port call.
Major oil producers in the Gulf, including world top exporter Saudi Arabia, ship most of their exports through the Hormuz, which Iran has threatened to close during past rounds of tension.
Saudi Arabia's navy consisted of 13,500 men, including 3,000 marines and a helicopter wing, according to The Military Balance 2015, issued by the International Institute for Strategic Studies.
up
55 users have voted, including you.
Related Articles
Oct 06,2016
TEHRAN — Iran's elite Revolutionary Guards warned regional rival Saudi Arabia to stay away from Iranian waters during its military exercises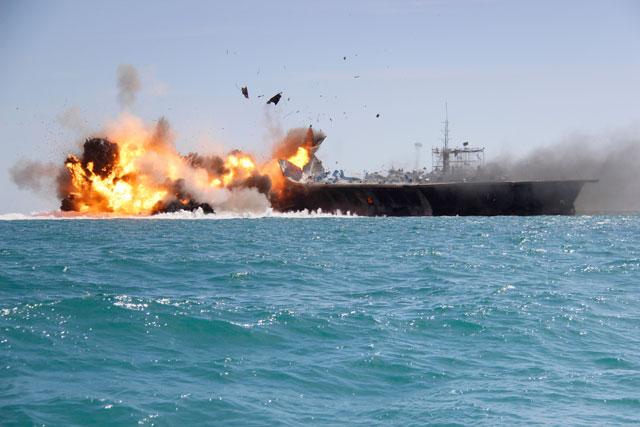 Feb 25,2015
With rockets roaring and guns blazing, more than a dozen swarming Iranian speedboats assaulted a replica of a US aircraft carrier Wednesday during large-scale naval drills near the strategically vital entrance of the Persian Gulf.
Apr 06,2014
The navies of Iran and Pakistan plan to hold joint military exercises in the eastern part of the Strait of Hormuz on Tuesday, Iran's state news agency said on Sunday.
Newsletter
Get top stories and blog posts emailed to you each day.