You are here
Russia warns US after Syrian warplane downed
By AFP - Jun 20,2017 - Last updated at Jun 20,2017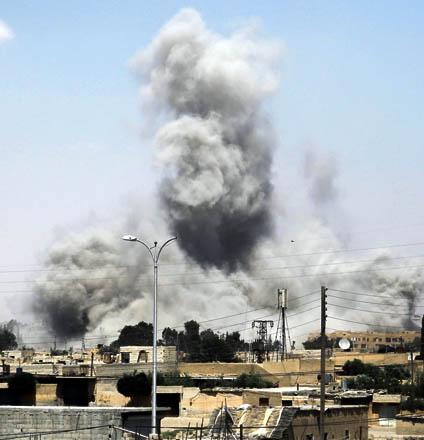 Smoke billows from buildings in the northern Syrian city of Raqqa on Sunday during an offensive by US-backed fighters to retake the Daesh terror group bastion (AFP photo)
BEIRUT — Russia on Monday warned it would track US-led coalition aircraft in central Syria as "targets" and halted an incident-prevention hotline with Washington after US forces downed
a Syrian jet.
Moscow has only once before suspended the hotline, which was established in October 2015 to prevent conflict between the different forces operating in Syrian airspace.
The shootdown incident and Russia's response further complicate Syria's six-year war and come as the US-led coalition and allied fighters battle to oust the Daesh terror group from its Syrian bastion Raqqa.
Analysts say neither Washington nor President Bashar Assad's regime appear to be seeking further confrontation, but warn that the risks are high in Syria's increasingly crowded battlefields.
Russia's foreign ministry accused Washington of failing to use the hotline before downing the plane near Raqqa, and called for a "careful investigation by the US command" into the incident.
"Any flying objects, including planes and drones of the international coalition, discovered west of the Euphrates River will be tracked as aerial targets by Russia's air defences on and above ground," it warned.
The Syrian jet was shot down on Sunday evening after regime forces engaged fighters from the Syrian Democratic Forces (SDF), an alliance battling with US support against Daesh, in an area close to Raqqa.
The American F/A-18E Super Hornet shot down the Syrian SU-22 around 7:00pm as it "dropped bombs near SDF fighters" south of the town of Tabaqa, the coalition said in a statement.
It said that several hours earlier, regime forces had attacked the SDF in another town near Tabaqa, wounding several and driving the SDF from the town.
The coalition said the Syrian warplane had been shot down "in accordance with rules of engagement and in collective self-defence of coalition partnered forces".
'Flagrant aggression'
Syria's army disputed the account, saying its plane was hit while "conducting a mission against the terrorist Daesh group".
It warned of "the grave consequences of this flagrant aggression".
Russia's deputy foreign minister Sergei Ryabkov called it a "continuation of America's line to disregard the norms of international law", adding: "What is this if not an act of aggression?"
The incident was the latest skirmish between the US-led coalition and regime forces in the increasingly tense and crowded space in Syria's north and east.
The coalition has for months backed SDF forces in their bid to capture Raqqa, an operation in which the regime has not been involved.
The SDF entered Raqqa for the first time earlier this month and now holds four neighbourhoods in the east and west of the city.
Damascus has instead turned its focus further east, to the largely Daesh-held oil-rich province of Deir Ezzor, where government forces are besieged in part of the provincial capital.
It is advancing towards the region on three fronts, south of Raqqa, through the badia desert region in central Syria, and along Syria's eastern border.
But the advances have created conflict with the US-led coalition, particularly along the Syrian border, where US and other foreign forces are training an anti-Daesh force at the Tanf garrison.
In recent weeks, the coalition has fired on pro-regime ground forces approaching the garrison and shot down a pro-regime armed drone.
The coalition describes these incidents as "force protection" measures and says its primary focus remains targeting Daesh.
Outside of coalition operations, US forces have only once directly targeted the regime, when Washington launched a barrage of strikes in April against an airbase it said was the launchpad for an alleged chemical attack that killed dozens of civilians.
Sam Heller, a Syria expert at The Century Foundation think tank, said the regime was provoking confrontations, but neither side appeared to want a major escalation.
"I think that it was just that the regime engaged in a provocation and then a lower-rung US commander responded in self-defence," he said of Sunday's incident.
"The regime got too close and it got burned."
'Escalation by accident'
He said the provocations by Syria's government and its allies were a potentially risky strategy.
"It doesn't look like anyone currently intends to deliberately escalate further, but when you've got these little skirmishes... the risk is that you can end up in an escalation by accident."
On Monday morning, the area where the regime and SDF fighters clashed was quiet, and the US-backed force was continuing to battle Daesh inside Raqqa, the Syrian Observatory for Human Rights monitor said.
Government forces meanwhile seized the town of Rusafa, south of Raqqa, a key stop on its path to Deir Ezzor and located near provincial oil and gas fields, the monitor said.
Syria's war began in March 2011 with anti-government protests, but has since spiralled into a complex and bloody conflict that has killed more than 320,000 people.
Syria's rebels are now on the backfoot after regime advances with support from allies Russia and Iran.
On Sunday, Tehran for the first time fired missiles from its territory against Daesh positions in Deir Ezzor.
It said the missiles were "in retaliation" for a June 7 attack on the parliament complex and shrine of revolutionary leader Ayatollah Ruhollah Khomeini, which killed 17 people and was claimed by Daesh.
Russian Foreign Minister Sergei Lavrov also announced Monday that the next round of Syria peace talks in Kazakhstan's capital Astana will be held on July 10.
The meeting is set to coincide with a fresh round of UN-sponsored Syria peace talks that will also begin in Geneva the same day.
Related Articles
Jun 21,2017
BEIRUT — A US warplane shot down an Iranian-made drone operated by pro-regime forces in southern Syria early Tuesday, officials said, in the
Apr 24,2017
BEIRUT — A US-backed alliance of Arab-Kurdish forces entered the key extremist-held town of Tabaqa on Monday as they pursued their campaign
Nov 30,2017
WASHINGTON — Over 400 US Marines involved in battling the Daesh terror group in Syria are being withdrawn as part of a cut in forces after t
Newsletter
Get top stories and blog posts emailed to you each day.