You are here
Russia strikes kill 6 civilians in rebel-held Syria — monitor
By AFP - Oct 25,2023 - Last updated at Oct 25,2023
This aerial view shows destruction in the aftermath of a Russian air strike at a camp for those displaced by conflict on the outskirts of the rebel-held village of Al Hamamah in the district of Jisr Al Shughur in the west of Syria's north-western Idlib province on Tuesday (AFP photo)
BEIRUT — Six people, including two children, were killed on Tuesday in Russian strikes on a displacement camp in Syria's northwest, the country's last main rebel bastion, a war monitor said.
Tensions have soared in northwest Syria since a drone attack on a military academy graduation ceremony in Homs earlier this month killed dozens of people, with the government blaming "terrorists".
"Six civilians, including a woman and two of her children, were killed and eight others injured after Russian warplanes carried out two air strikes on a camp for displaced people" in the west of Idlib province, said the Syrian Observatory for Human Rights.
Hayat Tahrir Al Sham (HTS), led by Al Qaeda's former Syria branch, controls swathes of Idlib province and parts of the neighbouring Aleppo, Hama and Latakia provinces.
"Russian forces have increased their air strikes since the Homs attack, while HTS intensified its drone strikes," observatory director Rami Abdel Rahman told AFP.
On Sunday, Syrian army shelling in the country's northwest killed six children, four from the same family, said the British-based group with a wide network of sources inside Syria.
The attack on the military academy in Homs was one of the bloodiest to hit government forces since the outbreak of the civil war in Syria in 2011.
Civil war erupted in Syria after President Bashar Assad's government crushed peaceful protests.
The conflict has killed more than half-a-million people and displaced millions after spiralling into a devastating war involving foreign armies, militias and extremists.
Related Articles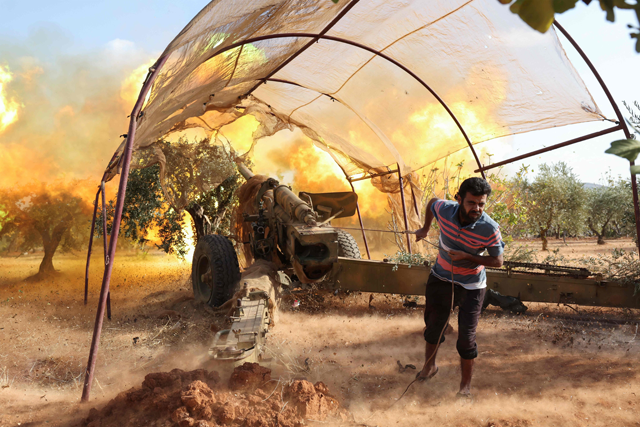 Nov 06,2022
KAFR JALES, Syria — Syrian government rocket fire killed nine people including at makeshift camps for displaced people in the country's last
Sep 10,2018
BEIRUT — Regime and Russian air raids pounded Syria's last major rebel bastion of Idlib on Sunday after an overnight lull, killing at least
May 12,2019
DAMASCUS — Rebel rocket fire killed four children and a woman Sunday in a regime-held town outside the embattled extremist bastion of Idlib