You are here
Researchers unearth 2,000 ram heads in Egypt temple
By AFP - Mar 26,2023 - Last updated at Mar 26,2023
This handout photo released by the Egyptian Ministry of Antiquities, on Saturday, shows mummified ram heads uncovered in recent excavations at the temple of Ramses II in Abydos (AFP photo)
CAIRO — Archaeologists in Egypt have discovered more than 2,000 ancient mummified sheep heads left as offerings in a temple to the pharaoh Ramses II, the tourism and antiquities ministry said on Sunday.
Mummies of dogs, goats, cows, gazelles and mongooses were also exhumed by a team of US archaeologists from New York University at Abydos, a site in southern Egypt famous for its temples and tombs.
Sameh Iskandar, head of the American mission, said the ram heads were "offerings" indicating "a cult to Ramses II celebrated 1,000 years after his death".
Ramses II reigned over Egypt for nearly seven decades, from 1304 to 1237BC.
Mostafa Waziri, head of Egypt's Supreme Council of Antiquities, said the finds will help people know more about the temple of Ramses II and the activities which took place there from its construction between 2374 and 2140BC and the Ptolemaic period, from 323 to 30BC.
As well as the remains of mummified animals, archaeologists discovered the remains of a palace with 5 metre-thick walls dating to some 4,000 years ago.
They also found several statues, papyri, remains of ancient trees, leather clothes and shoes.
Abydos, which lies some 435 kilometres on the Nile river south of Cairo, is famed for its temples such as that of Seti I, as well as its necropolises.
Cairo regularly announces new archeological discoveries, which some suggest are made more for political and economic impact than their scientific or historic importance.
Egypt, home to some 105 million people, is mired in an economic crisis and relies on tourism for 10 per cent of GPD, employing two million people.
Cairo hopes to revive tourism by targeting 30 million visitors a year by 2028, compared to 13 million before the coronavirus pandemic.
Critics, however, point to the dilapidated state of some archaeological sites and museums.
Related Articles
Feb 13,2021
CAIRO — A high-production brewery believed to be the world's "oldest" has been uncovered by a team of archaeologists at the Abydos funerary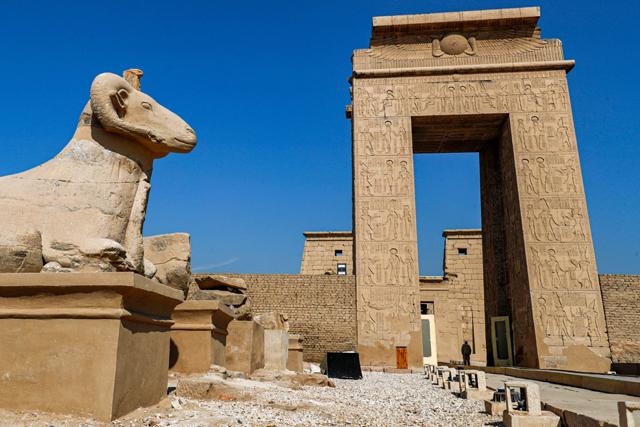 Nov 27,2021
LUXOR, Egypt — Egypt unveiled on Thursday a road lined with hundreds of ram-headed sphinx statues dating back more than 3,000 years, in a gr
Mar 09,2017
CAIRO — Archaeologists from Egypt and Germany have found a massive eight-metre statue submerged in ground water in a Cairo slum that they sa