You are here
Regime bombing kills at least 21 in north Syria — monitor
By AFP - Apr 30,2015 - Last updated at Apr 30,2015
BEIRUT — Air strikes by Syrian government forces killed at least 21 people, including six children, and wounded 50 on Wednesday in the northern provinces of Aleppo and Idlib, a monitor said.
In the south of Aleppo city, a small girl was among four civilians killed in the rebel-held neighbourhood of Ferdus, said the Syrian Observatory for Human Rights.
Another seven civilians died in Deir Hafer and Bab, two areas located in the east and north of Aleppo under the control of Daesh terror group, said the observatory.
Explosives-filled barrels and missiles were used in the wave of bombing, which left 50 people wounded.
In Idlib, air strikes killed 10 people, five of them children, said the Britain-based monitor, which relies on a network of sources on the ground for its reports.
A newly formed rebel alliance calling itself the Army of Conquest has seized key positions in Idlib province in recent weeks, including the provincial capital of the same name, the town of Jisr Al Shughur and a military headquarters.
In fighting between rival factions within the anti-regime camp, the Observatory and opposition sources said, 36 people have been killed since Monday on the edge of the Israeli-occupied sector of the Golan Heights.
Observatory head Rami Abdel Rahman said 31 of the deaths came in fighting in Qahtaniya pitting Jaish Al Jihad, which has pledged allegiance to Daesh, against Islamists backed by Al Qaeda affiliated Al Nusra Front and other rebel forces.
In nearby Saham Jolan, five Al Nusra fighters were killed, including a chief, in clashes with Al Yarmuk Martyrs Brigade, another group close to Daesh, opposition sources said.
Related Articles
Aug 12,2018
BEIRUT — At least 53 civilians including 28 children, have been killed in fierce bombardment on Friday that targeted rebel-held areas of nor
Dec 15,2015
BEIRUT — At least 34 civilians were killed on Tuesday in suspected Russian air strikes on two markets in northern Syria, a monitoring group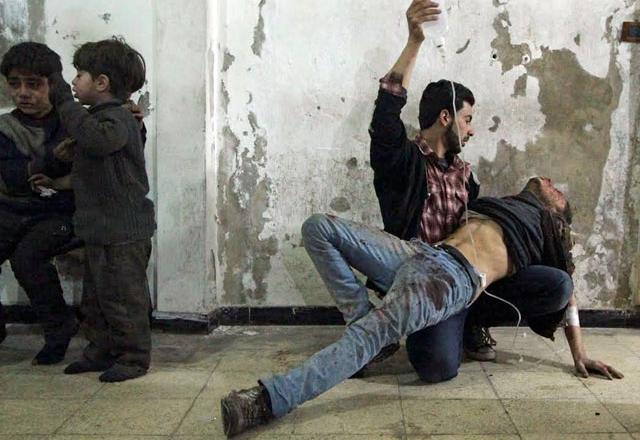 Feb 02,2015
Syrian government air strikes on opposition-held towns across the country killed at least 44 people on Monday and wounded more than 100, a monitoring group said.
Newsletter
Get top stories and blog posts emailed to you each day.