You are here
Protesters and police clash in northern Morocco
By AFP - Jun 11,2017 - Last updated at Jun 11,2017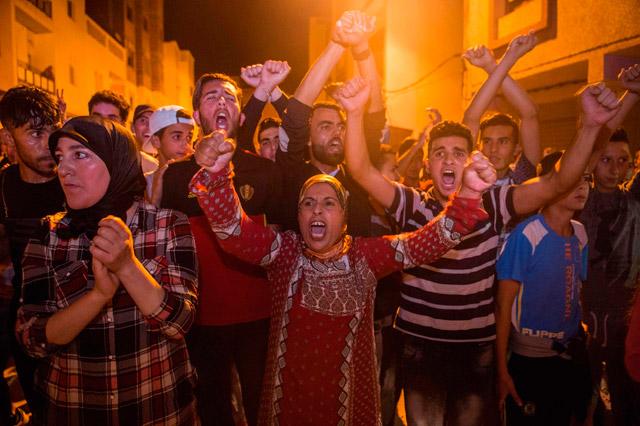 Protesters stand off before police during a demonstration against corruption, repression and unemployment in Al Hoseima, Morocco, on Saturday (AFP photo)
IMZOUREN, Morocco — Protesters clashed with security forces in Morocco's Al-Hoceima early on Saturday, an AFP correspondent reported, after more than a week of protests in the northern province.
The violence broke out in the town of Imzouren after police tried to stop demonstrators from gathering, activists said.
Dozens of youths wearing balaclavas threw stones at security forces, who responded with tear gas, the correspondent said.
The clashes ended before dawn, with the police deploying around 50 vehicles in the area.
There were no immediate reports of any casualties.
Last Saturday, both sides had also clashed in the town, some 15 kilometres from the city of Al Hoceima, a centre of social unrest since the gruesome death of a fishmonger there last year.
Mouhcine Fikri, 31, was crushed to death in a rubbish truck in October as he tried to prevent the destruction of swordfish which had been confiscated because it was caught out of season.
Calls for justice in Morocco's neglected Rif region have since snowballed into a grassroots movement demanding jobs and an end to corruption, dubbed Al Hirak Al Shaabi, or Popular Movement.
Protesters have rallied nightly in Al Hoceima since the arrest on May 29 of Al Hirak leader Nasser Zefzafi and the subsequent detention of dozens of other activists.
Late Friday, more than 1,000 demonstrators — mostly young men and women, some with children — gathered in Al-Hoceima under a heavy police presence to call for Zefzafi and fellow activists to be freed.
Participants cleaned the streets as the protest came to an end shortly before midnight (2400 GMT).
The mainly Berber Rif region has long had a tense relationship with the central authorities in Rabat, and it was at the heart of the Arab Spring-inspired protests in Morocco in February 2011.
Related Articles
Jun 11,2017
IMZOUREN, Morocco — Moroccan police have detained four people in northern Morocco, an official and an activist said, as protests continued f
Jul 20,2017
AL HOCEIMA, Morocco — Protesters prepared to march in the Moroccan city of Al Hoceima on Thursday in defiance of a government ban, the lates
Jun 05,2017
RABAT — Moroccan authorities on Monday arrested two more leaders of a protest movement, after demonstrators rallied for more than a week aga
Newsletter
Get top stories and blog posts emailed to you each day.