You are here
Powerful Iranian cleric killed in attack in a bank
By AFP - Apr 26,2023 - Last updated at Apr 26,2023
TEHRAN — A powerful Iranian cleric, a member of the Assembly of Experts that selects the country's supreme leader, has been killed in an armed attack, officials said Wednesday.
"Ayatollah Abbas Ali Soleimani was killed this morning in an armed attack... the assailant was also arrested and is now being investigated," IRNA news agency reported, citing the political and security official for the northern Mazandaran province where the attack happened.
The attack took place in a bank in the city of Babolsar, the official said.
"The motive of the assailant is not yet clear and will be announced after it is clarified," the official added.
The governor of Mazandaran province Mahmoud Hosseinipour said the attacker was a local security personnel of the bank.
"So far, our information and documents indicate that this was not a security or terrorist act," Hosseinipour told state television.
Soleimani, 75, was previously the representative of the country's Supreme Leader Ayatollah Ali Khamenei.
He had also been the imam who led the weekly Friday prayers in the cities of Kashan, in central Isfahan province, and Zahedan in the southeastern province of Sistan-Baluchistan.
Under the constitution, the 88-strong Assembly of Experts is mandated with supervising, dismissing and electing the Supreme Leader.
The all-powerful deliberative body is now headed by ultra-conservatives 96-year-old cleric Ahmad Jannati.
Its members are chosen in popular elections for eight year-terms from a pool of candidates vetted by the country's Guardian Council.
The attack is believed to be the most significant against a cleric in years in the country.
In April 2022, a suspected extremist knife attack in the northeastern shrine city of Mashhad in Razavi Khorasan Province led to death of two clerics and injury of another.
The chief suspect, identified as Abdolatif Moradi, 21, was an ethnic Uzbek who had entered Iran illegally via the Pakistani border a year ago, Tasnim news agency said at the time.
Moradi was hanged in June in the same city on the accusation of "moharebeh", or "war against God".
The assailant struck on the third day of the holy month of Ramadan as large crowds of worshippers gathered at the shrine of Imam Reza, one of the most revered figures in Shiite Islam.
The attack in Mashhad came days after two Sunni clerics were shot dead outside a seminary in the northern Iranian town of Gonbad-e Kavus.
Related Articles
Jun 14,2023
TEHRAN — An Iranian court has sentenced a man to death after convicting him of killing a powerful cleric in April, the judiciary said on Wed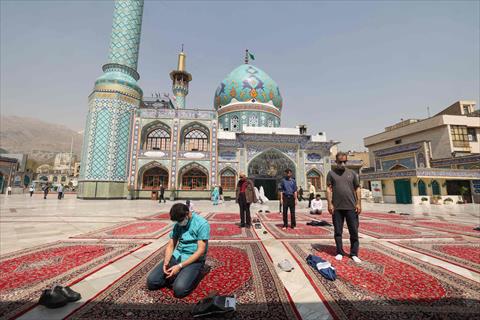 Apr 05,2022
TEHRAN — An attacker stabbed to death an Iranian Shiite Muslim cleric on Tuesday and wounded two others, one of them seriously, in the shrin
Mar 15,2020
TEHRAN — Iran shut a key Shiite tomb and appealed Sunday to its citizens to stay at home to halt a coronavirus outbreak it said has claimed