You are here
One dead, dozens hurt in stampede before Iraq Gulf Cup final
By AFP - Jan 19,2023 - Last updated at Jan 19,2023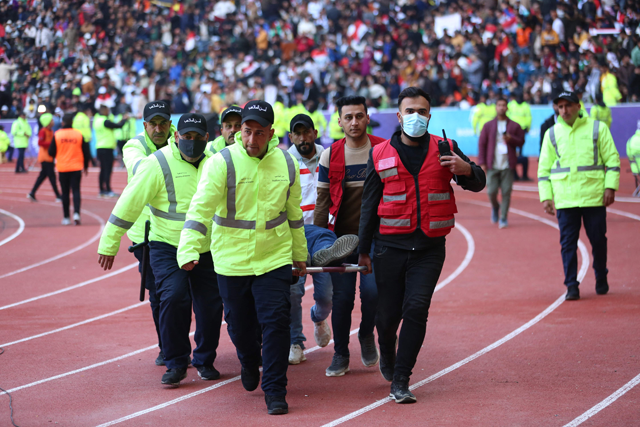 Iraqi stadium security team members carry an injured football fan to an emergency area at the Basra International Stadium following a stampede ahead of the final match of the Arabian Gulf Cup between Iraq and Oman, on Thursday, in Basra (AFP photo)
BASRA, Iraq — One person was killed and dozens injured Thursday when a stampede broke out outside a football stadium in Iraq hours before the Gulf Cup final, officials said.
Long banned from hosting international football matches, war-torn Iraq had been counting on the Gulf Cup to burnish its image but it had already been forced to apologise for organisational lapses.
Thousands of fans, many without tickets, had gathered outside the 65,000-seater stadium in Iraq's main southern city of Basra since dawn in the hope of watching the final between Iraq and Oman.
"There has been one death and dozens of slight injuries," a medic said.
An interior ministry official gave the same toll. "A large number of fans, many of them without tickets, had gathered since first light to try to get in," the official said.
An AFP photographer inside the stadium said the turnstiles were still closed when the crush occurred. Sirens blared as ambulances arrived to ferry the injured to hospital.
Images posted on social media showed a sea of people outside the stadium.
Fans began arriving again in the afternoon as calm was restored to Basra International Stadium, said interior ministry spokesman Saad Maan.
The gates were closed after fans entered the arena, many of them waving Iraqi flags ahead of the match that the football federation confirmed would begin at 7:00 pm (1400 GMT).
'Doing honour to Iraq'
Prime Minister Mohammed Shia Al Sudani had earlier chaired a meeting with key ministers and the governor of Basra to discuss "special measures for the Gulf Cup final", his office said.
The Iraqi leader headed to Basra to oversee the situation on the ground, it added.
The army called on fans to heed the instructions of security force personnel on access to the stadium to allow the championship to be "wrapped up in a civilised fashion that does honour to Iraq".
Iraq has been the scene of deadly stampedes in the past, most recently in Karbala during the Ashura commemorations of 2019, when 31 people died.
Football is by far Iraq's biggest spectator sport and the rare opportunity to see home international games has drawn thousands of fans.
The tournament has also attracted thousands of foreign fans who crossed from neighbouring Kuwait to see the games in Basra, little more than 50 kilometres from the border.
The Gulf Cup is contested by Bahrain, Kuwait, Oman, Qatar, Saudi Arabia, the United Arab Emirates and Yemen as well as Iraq.
This year makes its 25th edition but it is the first time Iraq has hosted it since 1979, the same year Saddam Hussein took power.
Saddam's 1990 invasion of Kuwait triggered a ban on Iraq by world football's governing body FIFA.
Other bans followed sporadically until early last year because of Iraq's years of war and instability.
But despite Iraq's determination to prove it can safely host international sports event, the tournament has been plagued by logistical difficulties that have seen fans with tickets as well as accredited journalists turned away.
Iraq was forced to apologise to its neighbour Kuwait after a scuffle in the VIP section prevented its leader's representative from attending the opening ceremony.
Related Articles
Feb 09,2015
A riot broke out Sunday night outside of a major football game in Egypt, with fighting between police and fans killing at least 20 people, security officials said.
Dec 05,2021
AMMAN — HRH Prince Ali, president of the West Asian Football Federation (WAFF), on Sunday expressed his thanks to the Iraq Football Associat
Oct 02,2022
MALANG, Indonesia — At least 125 people died at an Indonesian football stadium when thousands of angry home fans invaded the pitch and polic