You are here
Mother of Palestinian boy killed in arson attack dies
By AFP - Sep 07,2015 - Last updated at Sep 07,2015
Palestinian women hold placards during the funeral of Riham Dawabsheh (on the posters), the mother of a Palestinian child killed in the July firebombing of the family's home, on Monday at a cemetery in the West Bank village of Duma (AFP photo)
DUMA, Palestinian Territories — The mother of a Palestinian child killed when their family home was firebombed was buried Monday after dying of her wounds, amid renewed calls for Israel to crack down on Jewish extremism.
Teacher Riham Dawabsheh, who turned 27 on Sunday, died overnight at a Tel Aviv hospital where she was being treated for severe burns sustained in the July 31 attack in the West Bank village of Duma.
Palestinians marched alongside her body during the funeral in the village on Monday, some chanting "Israel — terrorist state".
They began at a school renamed after her son and continued to a nearby cemetery. Palestinian authorities called for three days of mourning and ordered flags to be flown at half mast.
The attack by suspected Jewish extremists also killed Riham's 18-month-old son, Ali Saad Dawabsheh, who died on the night of the attack.
Her husband, Saad, succumbed to his injuries in early August.
Their four-year-old son Ahmed is now the sole survivor of the immediate family and he is still in hospital.
His condition has improved, but he still faces a number of operations, a hospital spokeswoman said.
There have been several arrests of suspected Jewish extremists since the firebombing, but none has been specifically accused of the attack, prompting critics of the government to call the moves window dressing.
The firebombing came only hours after a stabbing attack at a Jerusalem Gay Pride march that killed a 16-year-old girl and wounded five other people.
International condemnation
While unrelated, both attacks have led to criticism of Israel's security forces, who have been accused of failing to tackle Jewish extremism, and sparked international condemnation of the violence.
Saeb Erakat, secretary general of the Palestine Liberation Organisation, said in a statement Monday that "there is a culture of hate that has been developing in Israel by supporting settlements" in the occupied West Bank.
"The assassination of the Dawabsha family reflects the clear connection between hate speech, settlement expansion and the impunity granted to Israel by the international community," he said.
Nickolay Mladenov, the UN special coordinator for the Middle East peace process, said he was "concerned by the lack of progress in identifying and prosecuting the perpetrators of this outrage".
"The tragedy of the Dawabsha family serves as a shocking example of the destructive nature of extremism," he said.
"It is incumbent upon political, religious and community leaders to speak out and to act decisively against those who incite and perpetrate hatred on all sides."
Prime Minister Benjamin Netanyahu has strongly condemned the firebombing and pledged to use all legal means to bring the attackers to justice.
He labelled the attack "terrorism" — a word usually used by Israelis to refer to violence by Palestinians.
On Monday, he issued a statement expressing his condolences and adding that "the security forces are doing their utmost to apprehend the assailants and bring them to justice."
'Administrative revenge'
July's firebombing shared similarities with previous hate crimes known as "price-tag" attacks.
The term refers to extremists warning that there would be a price to pay for any action by Israeli authorities they regard as hostile to the Jewish settlement movement or to far-right religious beliefs.
Such radicals have also targeted Christians, Arab Israelis and even Israeli soldiers.
There has been speculation that the firebombing was in response to the demolition of two settlement buildings in the West Bank that had been erected without Israeli government permission.
After the attack, three alleged Jewish extremists were placed in a form of detention without trial usually used for Palestinians. Israel has also restricted the movements of another 10 people.
No one has been charged specifically with the firebombing, however.
Last month, a tent was torched and Hebrew-language graffiti sprayed in a West Bank bedouin village in what residents and an NGO said was another suspected attack by extremists.
The village is near a wildcat Jewish settlement outpost where Israeli forces detained several people in raids linked to the July firebombing, before later releasing them.
The graffiti, which read "Administrative revenge", seemed to refer to the internment without charge — known as administrative detention — of the three suspected Jewish extremists after the arson attack.
Two alleged rightwing extremists — 19-year-old Avi Gafni and an unidentified minor — have been charged over the tent arson, Israeli forces announced on Monday.
Related Articles
Aug 09,2015
OCCUPIED JERUSALEM — Israel arrested several suspects Sunday in raids linked to the deadly firebombing of a Palestinian home and placed two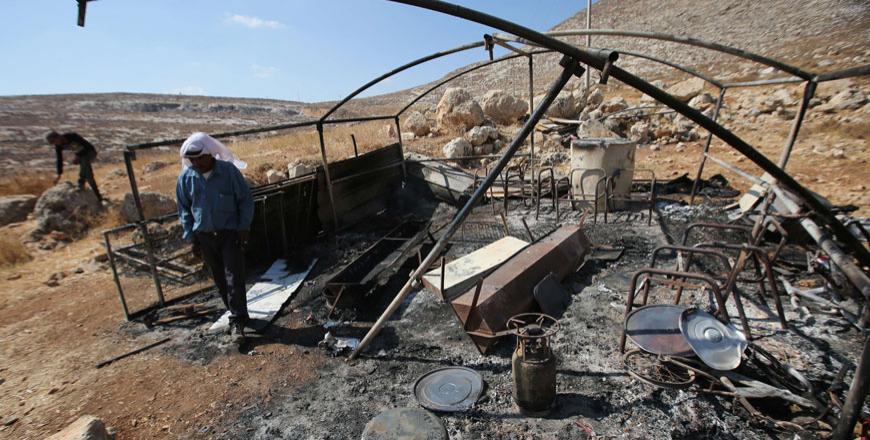 Aug 13,2015
EIN SAMIYA, Palestinian Territories — A tent was torched and Hebrew-language graffiti was sprayed Thursday at a Palestinian bedouin village
Aug 01,2015
JALAZON REFUGEE CAMP, Palestinian Territories — The parents and brother of a Palestinian toddler burned to death by suspected Jewish extremi
Newsletter
Get top stories and blog posts emailed to you each day.