You are here
Mattis tells Saudi leader of urgent need to find end to Yemen's war
By Reuters - Mar 23,2018 - Last updated at Mar 23,2018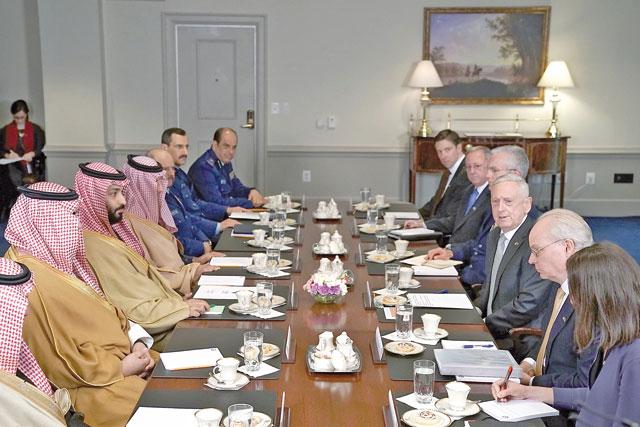 US Secretary of Defence Jim Mattis (3rd right) speaks during a bilateral meeting with Crown Prince Of Saudi Arabia Mohammad Bin Salman (3rd left) on Thursday at the Pentagon in Arlington, Virginia (AFP photo)
WASHINGTON — US Defence Secretary Jim Mattis told Saudi Crown Prince Mohammed Bin Salman on Thursday there was an urgent need to find a political solution to Yemen's war, as he voiced hope for a UN special envoy's peace efforts and firmly backed Riyadh.
A Saudi-led coalition intervened in neighboring Yemen in 2015 against Iran-aligned Houthis, who had ousted the internationally recognised government of President Abed Rabbu Mansour Hadi. The civil war has killed an estimated 10,000 people.
"We must also reinvigorate urgent efforts to seek a peaceful resolution to the civil war in Yemen and we support you in this regard," Mattis said.
Asked by reporters at the start of his talks whether he would raise the issue of civilian casualties in Yemen, Mattis said: "We are going to end this war, that is the bottom line. And we are going to end it on positive terms for the people of Yemen, but also security for the nations in the peninsula."
Earlier this year, the United Nations chief appointed former British diplomat Martin Griffiths as his new envoy charged with trying to broker peace in Yemen.
Mattis praised Saudi Arabia for the "significant amounts of humanitarian aid" it had provided to civilians in Yemen. The Saudi-led coalition said earlier this year it would commit $1.5 billion in humanitarian aid for the country.
The war in Yemen has displaced more than 2 million people and driven the country — already the poorest on the Arabian Peninsula — to the verge of widespread famine. Nearly 1 million people have been infected with cholera.
On Tuesday, the US Senate killed a resolution seeking an end to US support for Saudi Arabia's campaign in Yemen.
The Senate voted 55-44 to dismiss the resolution, which sought for the first time to take advantage of a provision in the 1973 War Powers Act that allows any senator to introduce a resolution on whether to withdraw US armed forces from a conflict not authorised by Congress.
The vote was largely along party lines, although a handful of Democrats voted with the majority Republicans to kill the measure, and a handful of Republicans supported the failed effort to let it move ahead.
During Senate debate before the vote, some backers called the three-year-long conflict in Yemen a "humanitarian catastrophe", which they blamed on the Saudis.
The United States provides refueling and intelligence support to the Saudi-led coalition.
Before the start of his meeting at the Pentagon, which was delayed by 30 minutes, due to his late arrival, Prince Mohammed said that the two countries were working together on combating a number of threats.
"Under the leadership of you, Mr Secretary, the cooperation has improved tremendously between the two ministries of defence and we will continue doing so in the future," the crown prince said. He was speaking through a translator.
President Donald Trump gave a warm welcome to the crown prince during a meeting at the White House earlier this week and credited US defence sales to Saudis with boosting American jobs.
up
90 users have voted, including you.
Related Articles
Mar 26,2018
SANAA, Yemen — Hundreds of thousands of Houthi rebel supporters flooded the streets of Yemen's capital Monday to mark three years of wa
Mar 20,2018
WASHINGTON — President Donald Trump on Tuesday praised US defence sales to Saudi Arabia as a boost to American jobs, even as lawmakers criti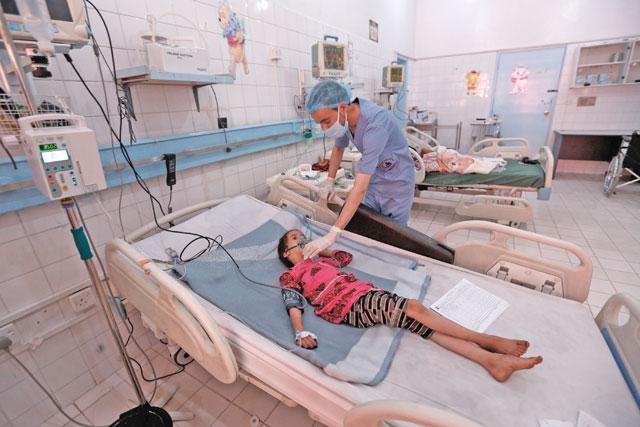 Nov 22,2017
RIYADH — The Saudi-led coalition fighting in Yemen said on Wednesday it would reopen a key Red Sea Port and Sanaa airport to aid, after a mo
Newsletter
Get top stories and blog posts emailed to you each day.