You are here
Mali, Libya crises to top agenda as Hollande visits Algeria
By AFP - Jun 14,2015 - Last updated at Jun 14,2015
PARIS — French President Francois Hollande heads to Algeria on Monday as the two nations, once bitter foes, work ever closer to resolve the political turmoil and jihadist threat in Mali and Libya.
The trip will be Hollande's second to Algiers since a 2012 visit during which he recognised France's century of "brutal" rule over the Algerian people which ended in a bloody independence war.
While some prickly issues remain between the two countries — such as Hollande's refusal to apologise for crimes under colonial rule — the mutual concern over rampant jihadism in north Africa has taken the upper hand.
Algeria shares a border with Mali's north, which is still fragile after a French-led operation in 2013 ousted jihadists who had seized the upper half of the west African nation.
While French troops patrol northern Mali, Algiers has mediated a peace accord between Mali's main Tuareg-led rebel groups and Bamako which will be signed on June 20 and is aimed at bringing some stability to the region.
Algeria has also hosted talks between rival political factions from chaos-torn Libya — with which it also shares a long border.
The energy-rich north African nation is eager to see peace in its neighbourhood, and with France running counter-terrorism Operation Barkhane in five countries in the Sahel region — three of which border Algeria — Hollande and his Algerian counterpart will have plenty to discuss.
The French leader will hold talks with President Abdelaziz Bouteflika and Prime Minister Abdelmalek Sellal on his visit.
"Clearly, for France, security issues have taken the upper hand," said Pierre Vermeren, a specialist on the Maghreb region.
"Algeria is also one of the main actors in stabilising the situation in Libya along with the UN, and obviously France is counting on its capacity for mediation," he said.
Ties 'unrivalled'
The defrosting of ties between Paris and Algiers in recent years comes half-a-century after French forces brutally cracked down on Algerians fighting for independence in a 1954-62 war that left some 1.5 million Algerians dead.
The topic has remained a deep wound between the countries who — despite their troubled past — remain closely linked with more than half a million Algerians living in France.
However, French ambassador to Algiers Bernard Emie recently said that Bouteflika described the current relations with Paris as "unrivalled".
Algeria is still dealing with the fallout from a civil war between the military and Islamist militants in the 1990s that left tens of thousands dead.
During that time it was the birthplace of the Salafist Group for Preaching and Combat which later became an Al Qaeda affiliate — carrying out attacks and kidnappings both in Algeria and across the border in Mali and Mauritania.
The group, known as Al Qaeda in the Islamic Maghreb played a key role in the takeover of northern Mali in 2012.
Politically, Paris steers clear of commenting on 78-year-old Bouteflika's ill-health and the accusations his recent re-election for a fourth term was riddled with fraud.
France — whose economy is sorely in need of a boost — is also keen to win back the title of Algeria's main trade partner, which China won in 2013.
Related Articles
May 08,2014
Algerian President Abdelaziz Bouteflika said 10 militants killed by government forces this week included fighters from Libya, Mali and Tunisia, state news reported on Wednesday.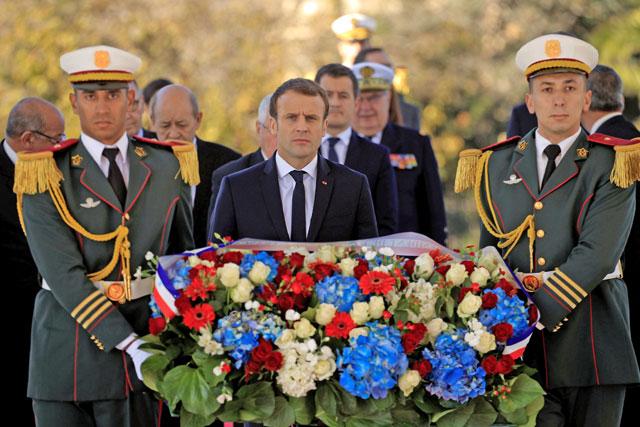 Dec 07,2017
ALGIERS — French President Emmanuel Macron on Wednesday made his first official visit to Algeria, announcing that he came as a "friend" desp
Jul 26,2014
His Majesty King Abdullah on Saturday sent a cable to Algerian President Abdelaziz Bouteflika offering his condolences over the death of a number of Algerians in the Air Algerie plane crash in the north of Mali, the Jordan News Agency, Petra, reported.
Newsletter
Get top stories and blog posts emailed to you each day.