You are here
Libyan naval forces deny charges of attack on migrant boat
By Reuters - Oct 22,2016 - Last updated at Oct 22,2016
TRIPOLI — Libyan naval forces denied charges from a rescue organisation that one of their crew had attacked a migrant boat packed with around 150 people, causing some to fall into the sea and at least four to drown, a spokesman said.
Some reports said that with the missing the death toll could rise into the 20s.
The Germany-based humanitarian group Sea-Watch said on Friday a speedboat labelled "Libyan coast guard" attacked a migrant boat packed with some 150 migrants, beating them with sticks. Four bodies were later recovered.
Migrant rescues are often complicated in Libya, where the UN-backed Tripoli government struggles to impose its authority, coast guard operations are under-equipt and police units are run by some of the competing armed brigades.
Sea-Watch, one of several non-governmental organisations operating vessels off the coast of Libya, said the speedboat swooped in just as they were about to go to the aid of the overcrowded rubber boat in the early hours of Friday.
The spokesman for the naval forces in Tripoli, Ayoub Qassem denied the allegations about an armed attack on the Sea-Watch operation and said a patrol had only boarded one vessel to check why it was in Libyan waters.
"The crew alleged that we attacked them and a number of casualties have been reported but this is not true at all and we call on them to prove this incident if they are right," he said.
Qassem said at around 2:30am on Friday, the coast guard of the western region of Libya spotted three vessels off the coast. The patrol commander boarded the vessel and found Sea-Watch was involved.
"The commander asked them why they are in the Libyan waters but the crew of the organisation did not answer logically. The crew was asked to leave," he said. "It's a breach and disrespect to Libyan sovereignty according to international rules and norms."
Sea-Watch said the violent intervention caused mass panic onboard the rubber boat in distress. One of the tube of the boat collapsed and caused the majority of the 150 people onboard to slip into the water.
The Sea-Watch crew recovered four bodies, spokesman Ruben Neugebauer told Reuters. They brought about 120 others safely onto their ship and transferred them to an oil tanker from which they were later moved to another rescue ship bound for Italy.
The incident happened before the planned start of training next week of up to 100 Libyan coast guard members as part of the EU mission Operation Sophia. A spokesman for Sophia had no comment on whether it would affect the programme.
Related Articles
Oct 25,2016
BERLIN — A German-based humanitarian group said on Tuesday up to 30 African migrants may have died because of what it called "aggressive" Li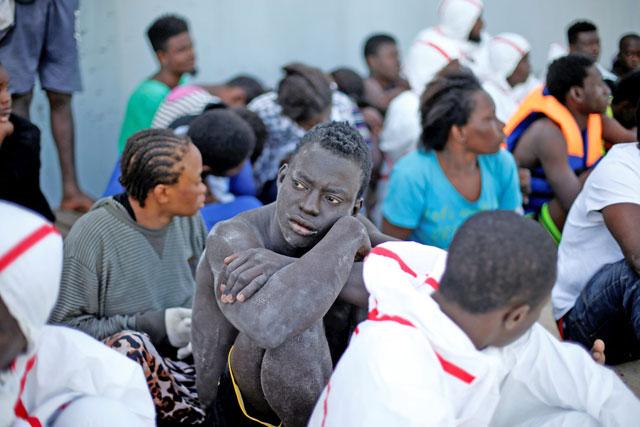 Nov 06,2017
ROME — Five migrants, including one young child, died on Monday as result of a "violent, reckless" and "illegal" intervention by Libya
Nov 02,2016
ROME — Training Libya's coastguard to stop people smugglers and rescue boat migrants could help save many lives and avoid incidents in which
Newsletter
Get top stories and blog posts emailed to you each day.