You are here
At least 39 killed, dozens wounded in south Yemen clashes
By AFP - Jun 24,2015 - Last updated at Jun 24,2015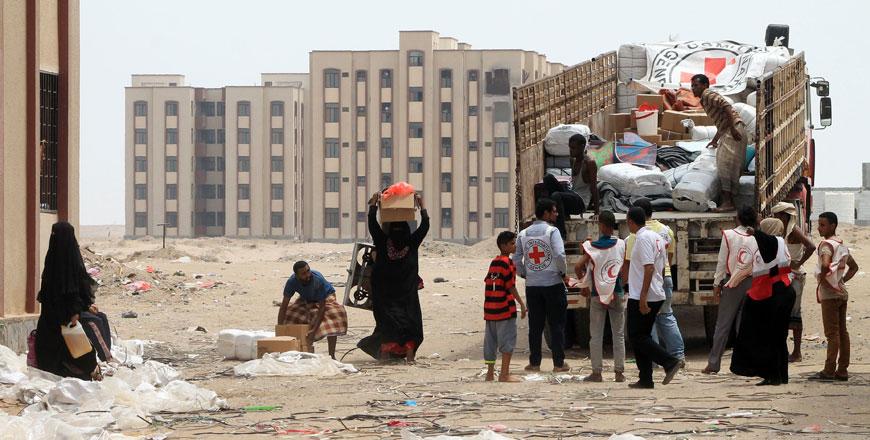 Members of the Yemeni Red Crescent distribute aid to displaced families in Al Saleh neighbourhood, north of the southern Yemeni city of Aden, on Monday as coalition air strikes continue to target rebel positions, and clashes between rebels and pro-government forces riddle the city (AFP photo)
ADEN — At least 39 people were killed and dozens wounded in 24 hours of clashes in the southern Yemeni cities of Aden and Dhaleh, officials said Tuesday.
In Aden, Yemen's second city, seven civilians died and 94 were wounded after Shiite Houthi rebels fired rockets on neighbourhoods controlled by troops loyal to exiled President Abed Rabbo Mansour Hadi, the city's health chief Al Khader Laswar told AFP.
The fire destroyed several houses, according to Aden vice-governor Nayef Al Bakri.
Further north in Dhaleh, fierce clashes between Houthi fighters and loyalist troops killed 24 rebels and eight in the pro-Hadi camp, including a local commander, a local official said.
Both camps used heavy weapons after the rebels attacked pro-government positions in the northern and eastern areas of the city, the official said, adding that there were dozens of wounded on either side.
Fighting has dragged on for several months in Aden, where Iran-backed Shiite rebels have battled pro-Hadi loyalists since the president fled to Riyadh in March.
A Saudi-led coalition has been pounding rebel positions in Yemen since March 26, following a Houthi advance from their northern stronghold into the capital Sanaa, and a subsequent push south towards Aden
More than 2,600 people have been killed in Yemen since March, according to UN figures, and almost 80 per cent of the population — 20 million people — are in need of urgent humanitarian aid.
UN-brokered peace talks between the rebels and government officials ended in Geneva last week without agreement.
Related Articles
Nov 22,2016
ADEN — Renewed clashes between Yemeni government forces and rebels killed more than 40 people on Tuesday, military officials said, a day aft
Nov 08,2015
ADEN — Iran-backed rebels retook positions in southern Yemen in a bid to advance on second city Aden, military sources said Sunday as a land
Jan 28,2018
ADEN — Yemen's government accused southern separatists of an attempted coup on Sunday after they took over its headquarters amid fierce clas