You are here
Israeli forces kill Palestinian in West Bank raid
By AFP - Mar 23,2023 - Last updated at Mar 23,2023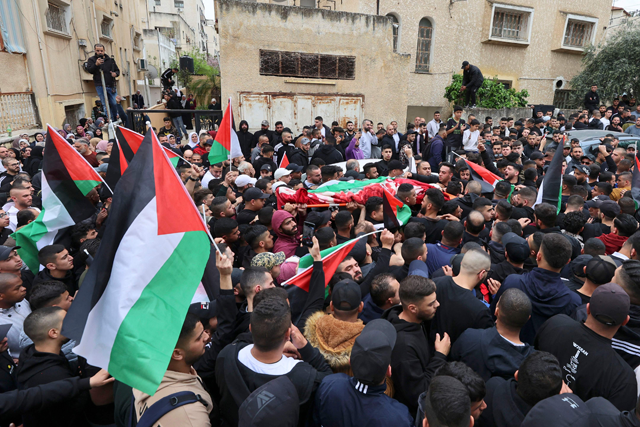 Palestinian mourners carry the body of Amir Imad Abu Khadija, who was killed in an Israeli raid, during his funeral on Thursday in Tulkarem in the occupied West Bank (AFP photo)
Tulkarem, Palestinian territories — Israeli forces shot dead a Palestinian man Thursday, the Palestinian health ministry said, the first killing in the occupied West Bank during Ramadan as the army said it targeted an armed suspect.
Amir Imad Abu Khadija, 25, was killed by "the Israeli occupation bullets during their aggression on Tulkarem," the ministry said in a statement.
He was shot in the head and lower limbs, the statement added.
The Israeli forces raided the village of Shufa, near Tulkarem, in pursuit of Abu Khadija who was allegedly involved in multiple shootings targeting Israelis.
"During the arrival of the forces and surrounding of the building, the wanted suspect drew a gun within the apartment at the forces, who responded with live fire. A hit was identified," an army statement said.
The killing is the first fatality in the Israeli-Palestinian conflict during the Muslim holy month of Ramadan, which started on Thursday.
The Tulkarem Brigade claimed Abu Khadija as one of its "leaders and founders."
"He will be the first to bid us farewell in this holy month," the group said in a statement.
The latest deadly Israeli raid in the West Bank came just days after Israeli and Palestinian officials met in Egypt in a bid to reduce tensions, amid a surge in violence.
Since the start of the year, the conflict has claimed the lives of 87 Palestinian adults and children, including militants and civilians.
The United Nations Middle East peace envoy, Tor Wennesland, said on Wednesday that Israeli operations and subsequent clashes "have led to a staggering number of Palestinians killed and injured".
"I am deeply disturbed by the intensifying cycle of violence that threatens to plunge Palestinians and Israelis deeper into deadly crisis," he told the UN Security Council, while also condemning attacks on Israelis.
Newsletter
Get top stories and blog posts emailed to you each day.