You are here
Israeli forces kill 2 Palestinians in confrontations over home demolition
By AFP - Nov 16,2015 - Last updated at Nov 16,2015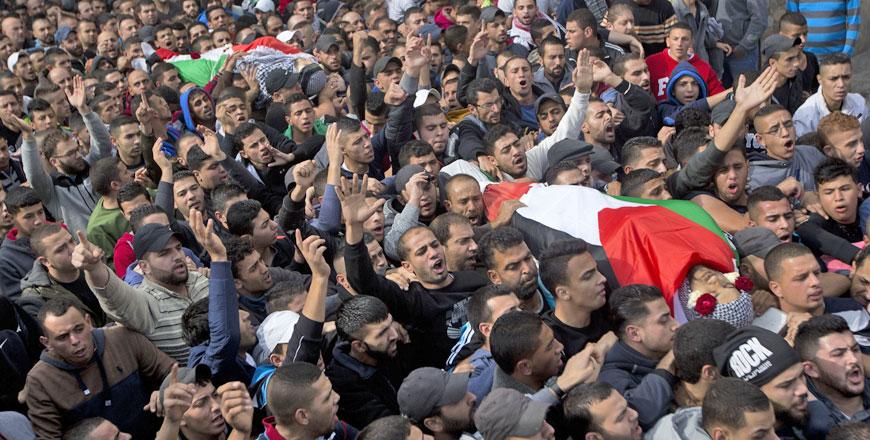 Palestinians carry the bodies of Ahmed Al Ayeh, 28, and Laith Manasra, 21, during their funeral in the Qalandia refugee camp on the outskirts of the West Bank city of Ramallah, on Monday (AP photo)
QALANDIYA, Palestinian Territories — Israeli forces shot dead two Palestinians when confrontations erupted Monday during an operation to destroy the West Bank home of an alleged attacker, the latest in a series of punitive demolitions.
In a bid to halt a wave of knife, gun and car-ramming attacks since the start of October, Israeli authorities have moved to expedite the demolitions of suspects' homes, a controversial measure meant as a deterrent.
Confrontations have erupted in the past over such demolitions, but they have rarely been as deadly as Monday's at the Qalandiya refugee camp, just beyond a checkpoint leading from occupied East Jerusalem to the occupied West Bank.
The Israeli military said hundreds of Palestinians threw rocks and firebombs at its forces and that some opened fire.
A resident calling himself Abu Amr said he heard noises at around 2am and opened his window to check.
"There were hundreds of soldiers everywhere," he told AFP.
"I told my children not to move. Later there was an explosion, then afterwards there was shooting [which] lasted about 30 minutes."
Israeli forces shot three Palestinians, with two confirmed dead by Palestinian hospital sources. Medics identified them as father-of-three Ahmed Al Ayesh, 28, and Laith Manasra, 21.
Residents said those in the building were forced to leave ahead of the demolition.
The home on the top floor of a three-storey building was destroyed with explosives, residents said, also damaging the other floors and nearby residences.
'15 minutes to get out'
The home targeted was that of Mohammad Abu Shahin, accused of shooting dead Israeli hiker Danny Gonen, 25, in June. His wife and two daughters lived there, residents said.
Hundreds of people also gathered for the funeral for the two Palestinians killed nearby and dozens of stone-throwing youths confronted the Israeli forces at the checkpoint.
The brother of the alleged attacker who lived in the next building said: "Israeli forces came and told my family we have to leave immediately because of a court decision to destroy [the house]."
"They gave us only 15 minutes to get out," he added, giving his name only as Abu Shahin.
Adnan Al Husseini, the Palestinian governor of Jerusalem, blamed Israel's occupation for the violence.
"I am sure if they are continuing with these processes, there will be reactions like this," he said.
Shahin's arrest was announced in July, with Israel alleging he belonged to an armed group linked to the Fateh faction of Palestinian President Mahmoud Abbas.
Israel has sought to expedite demolitions of suspects' homes in response to the surge of violence that began in October.
The violence has killed 82 Palestinians, an Arab Israeli and 12 Israelis.
United Nations experts said Monday that Israeli forces had used excessive force and may have carried out summary executions over the past six weeks.
"Cases of excessive use of force by Israeli forces against Palestinians, including some which appear to amount to summary executions, continue to be reported," said the UN Special Rapporteur on the human rights situation in the Palestinian Territories, Makarim Wibisono, and the expert on summary executions, Christof Heyns.
"We urge the authorities to carry out independent, thorough, prompt and impartial investigations into all suspected cases of extra-judicial, arbitrary and summary executions, and to provide compensation to the victims or their families," the UN experts said.
On the razing of homes, Robert Piper, UN coordinator for humanitarian aid for the Palestinian territories, said that "punitive demolitions are inherently unjust, punishing innocent people for the acts of others".
On Saturday, Israeli troops razed the West Bank homes of four Palestinians accused of attacking Israelis, hours after an Israeli father and son were shot dead near the flashpoint city of Hebron.
Those operations also sparked clashes in which nine Palestinians were wounded.
Related Articles
Jul 26,2016
QALANDIYA — Israeli authorities early Tuesday destroyed 11 Palestinian homes in an area on the outskirts of Jerusalem divided from the city
May 11,2022
OCCUPIED JERUSALEM — Israeli occupation authorities demolished a residential building in occupied East Jerusalem on Tuesday, leaving 35 peop
Jul 24,2017
OCCUPIED JERUSALEM — Two Palestinians died in confrontations with Israeli forces Saturday as the army moved in to seal off an attacker's hom