You are here
Israel presses Gaza hospital raid
By AFP - Nov 17,2023 - Last updated at Nov 17,2023
Patients receive treatment at Al Shifa hospital in Gaza City on November 10 (AFP photo)
GAZA STRIP, Occupied Palestine — Israel renewed its attack on Thursday on Gaza's largest hospital, targeting what it claimed was a Hamas command centre hidden beneath thousands of patients, medics and displaced people.
Both Israel and its top ally the United States say Hamas has built in tunnels below the Al Shifa complex, which has become a focal point in the war.
The Palestinian resistance group and directors at the hospital have denied the charge.
Gaza's health ministry said on Thursday that Israeli armoured bulldozers had "destroyed parts of the southern entrance" of the hospital.
Before Israel first sent troops into the hospital complex on Wednesday, UN agencies estimated that 2,300 patients, staff and displaced civilians were sheltering at Al Shifa.
But with the Hamas-run health ministry saying the death toll from the offensive has now topped 11,500, including thousands of children, calls for a truce are mounting.
Israeli forces claimed an initial raid in Al Shifa had uncovered military equipment, weapons and what spokesman Daniel Hagari described as "an operational headquarters with comms equipment".
The health ministry in Gaza said on Wednesday the Israeli military did not find any weapons when it raided the hospital.
Witnesses have described conditions inside the hospital as horrific, with medical procedures performed without anaesthetic, families with scant food or water living in corridors, and the stench of decomposing corpses filling the air.
"The protection of newborns, patients, medical staff and all civilians must override all other concerns," UN humanitarian chief Martin Griffiths said. "Hospitals are not battlegrounds."
A journalist in contact with AFP, trapped inside Al Shifa, said that Israeli soldiers, some wearing face masks, shot in the air and ordered young men to surrender when they first entered the facility.
About 1,000 male Palestinians, hands above their heads, were led into the courtyard, some in their underwear, by Israeli soldiers checking them for weapons or explosives, the journalist said.
Related Articles
Nov 16,2023
AMMAN — The Arab Parliament on Wednesday condemned the Israeli storming of Gaza's Al Shifa Hospital, holding Israeli occupation authorities
Nov 23,2023
GAZA STRIP, Palestine — A doctor at Gaza's largest hospital Al Shifa told AFP that the facility's director and several other medical personn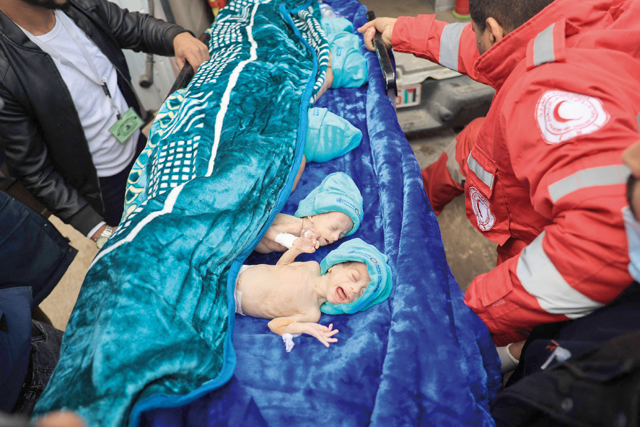 Nov 20,2023
GAZA STRIP, Palestine — Gaza's health ministry said on Monday Israeli forces had struck the Indonesian Hospital and killed at least 12 peopl