You are here
Israel, Gaza exchange fire after Palestinian woman killed by Israeli forces
By AFP - Jun 04,2018 - Last updated at Jun 04,2018
Palestinian paramedics carry an injured protester during a demonstration organised after Razan Al Najjar, 21, a female paramedic, was shot dead by Israeli forces while treating wounded demonstrators during Great March of Return protests in Khan Younis on Saturday (Anadolu Agency photo)
GAZA CITY, Palestinian Territories — Israeli aircraft pounded over a dozen militant targets in Gaza, Israeli occupation forces said on Sunday, following Palestinian projectile fire.
The latest escalation came hours after thousands of Palestinians attended the funeral of a young female volunteer medic killed by Israeli occupation forces' fire on Gaza's border fence.
In a first wave of air strikes, Israeli "fighter jets targeted 10 terror sites in three military compounds belonging to the Hamas terror organisation in the Gaza Strip," the army said in a statement early Sunday, referring to the Hamas resistance group. .
"Among the targets were two Hamas munition manufacturing and storage sites and a military compound," the army said.
The strikes came in retaliation for rockets fired at Israel, Israel said.
A few hours later aircraft shot at "five terror targets at a military compound belonging to the Hamas terror organisation's naval force in the northern Gaza Strip," Israeli occupation forces said in a separate statement.
There were no reports of casualties in Gaza.
On Saturday evening, fighters in the Palestinian enclave fired two projectiles at southern Israel, where air raid sirens sent residents to bomb shelters.
The Iron Dome aerial defence system intercepted one projectile, while the other was believed to have fallen short of its target and landed within Gaza, according to the army.
Early on Sunday, four more projectiles were separately launched at Israel. Three were intercepted, Israel said, with the fourth apparently hitting an open field.
Mourning Razan Al Najjar
No group in Gaza claimed responsibility for the projectile attacks, which came shortly after the Saturday funeral of Razan Al Najjar, 21, a volunteer with the Gaza health ministry, who was fatally shot in the chest near Khan Yunis on Friday by Israeli occupation forces.
Ambulances and medical crews attended the funeral, where Najjar's father held the white blood-stained medics' jacket she wore when she was shot.
Gazans have since March 30 staged border protests demanding the return of Palestinians to land they fled or were expelled from during the 1948 war surrounding Israel's creation.
The demonstrations peaked on May 14 when at least 61 Palestinians were killed by Israeli forces as tens of thousands of Gazans protested the US transfer of its embassy in Israel to the disputed city of Jerusalem the same day.
On Sunday, Gaza health ministry spokesman Ashraf Al Qudra announced the death of Mohammad Hamada, 30, who was wounded on May 14.
Hamada's death brings the toll of Gazans killed by Israeli occupation forces' fire since the end of March to 124.
Low-level demonstrations have continued since.
Palestinians in the besieged coastal enclave have also used kites carrying burning cans to set ablaze Israeli fields, torching large patches of farmland near Gaza.
Following the funeral, several Gazans were wounded by Israeli forces east of Khan Yunis, the health ministry said.
The weekend launches were the first since Israel said it had struck some 65 militant sites in Gaza earlier this week in retaliation for a barrage of approximately 100 rockets and missiles fired from the territory on Tuesday and Wednesday.
Palestinian Islamist groups in Gaza, including the strip's rulers Hamas, said a ceasefire deal was reached after the escalation, although there was no confirmation from Israel.
Related Articles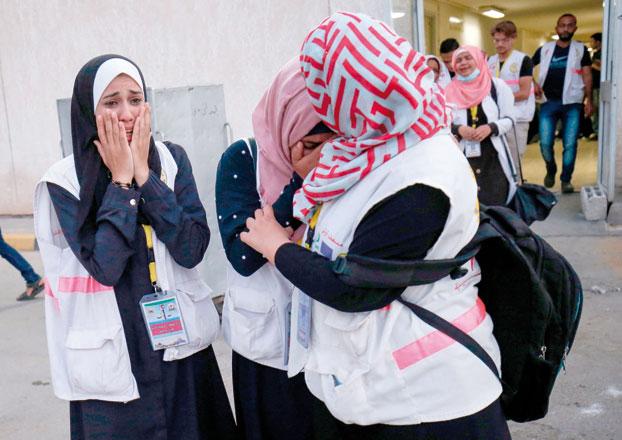 Jun 02,2018
GAZA CITY, Palestinian Territories — Thousands of Palestinians attended the funeral on Saturday of a young female volunteer medic killed by
Oct 31,2018
OCCUPIED JERUSALEM — Israeli authorities said on Tuesday it has opened an investigation into the killing of a Palestinian medical volunteer
Mar 26,2018
OCCUPIED JERUSALEM — Israel's Iron Dome anti-missile shield was fired on Sunday against machinegun fire reportedly originating in the Hamas-