You are here
Israel charges settlers with 'terror' for attacking Palestinians
Move comes after settlers attacked Palestinian family in Huwara
By AFP - Mar 30,2023 - Last updated at Mar 30,2023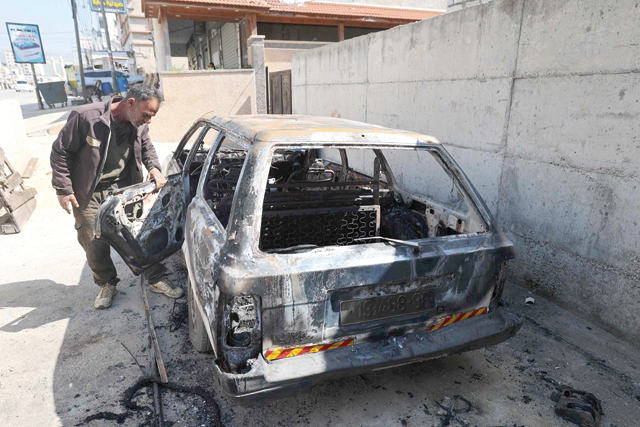 A man looks at a burnt vehicle following a reported attack by Israeli settlers on the Palestinian town of Huwara in the occupied West Bank on Tuesday (AFP photo)
OCCUPIED JERUSALEM — An Israeli court on Thursday charged two Jewish settlers with "committing an act of terror" for attacking Palestinians in a village of the occupied West Bank this month, officials said.
The rare indictment, normally reserved for Palestinians, came after a group of settlers attacked a Palestinian family in their car in Huwara, where eight days earlier two Israeli settlers had been shot dead amid a surge in violence in the Palestinian territory.
The fatal February 26 shootings sparked a rampage by dozens of Israeli settlers who set homes and cars ablaze in Huwara, with Israeli Finance Minister Bezalel Smotrich saying he thought the village should be "wiped out" in remarks he later retracted.
According to the indictment filed at Israel's central district court, the two young men were among a group of eight to 10 settlers who on March 6, during the Jewish holiday Purim, drove to the parking lot of a supermarket in Huwara.
Upon seeing the settlers emerge from two vehicles armed with an axe, hammer, stones and pepper spray, shoppers rushed into the supermarket and closed its metal shutters to defend themselves.
A Palestinian couple and their toddler daughter remained in their car as one of settlers who was charged threw stones at the vehicle and the other used the axe to break its windows and attack the father.
The father suffered wounds to his shoulder and arm while the attackers doused the car with pepper spray and the other accused vandalised two other cars parked nearby.
The family eventually managed to drive away as the settlers hurled rocks at them, wounding the father in the head.
The pair were charged with "a severe act of terror" and "racially motivated" damage, which prosecutors alleged had "an ideological or nationalistic motive".
According to Israel's Shin Bet internal security service, the accused, arrested on March 13, belong to "a violent group acting to harm Palestinians and undermine the actions of security forces in dealing with Palestinian terror".
Such nationalistic crimes are "a danger" to Israel's security, cause unrest and harm "the routine of West Bank residents", Shin Bet said in a statement.
Newsletter
Get top stories and blog posts emailed to you each day.