You are here
Iraqi Kurdish independence poll: How far will Turkey go?
By AFP - Sep 26,2017 - Last updated at Sep 26,2017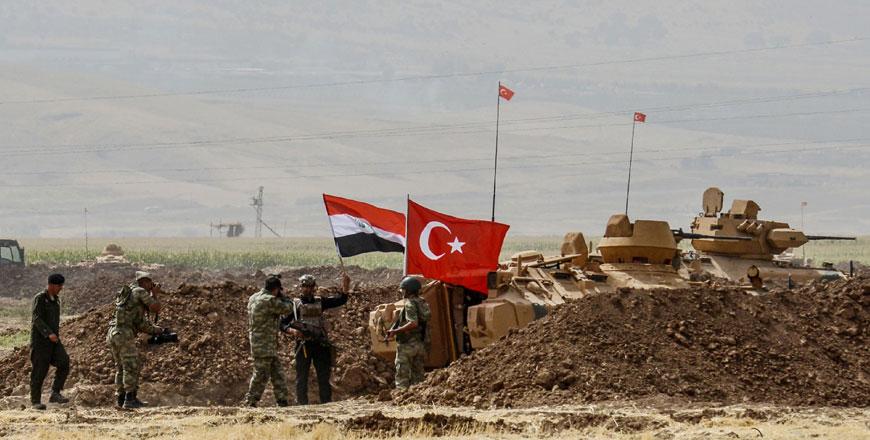 A photographer takes photos as soldiers stand next to tanks bearing Turkish and Iraqi flags during a joint military exercise near the Turkish-Iraqi border on Tuesday (AFP photo)
ISTANBUL — Turkey has reacted with unbridled fury to the independence referendum in Iraq's Kurdistan region, warning of consequences up to military action, but Ankara will be wary of provoking a total rupture with the Iraqi Kurdish leadership.
After Monday's non-binding poll, which is expected to deliver a resounding "yes", Ankara fears a declaration of independence by the Kurdistan Regional Government (KRG) could encourage a similar move by the Kurdish population of northern Syria and ultimately the Kurdish minority in Turkey itself.
Turkish President Recep Tayyip Erdogan is incandescent with rage that Iraqi Kurd leader Massud Barzani — a frequent and warmly-received visitor to Ankara in recent years — pushed ahead with the referendum in defiance of his warnings.
Over the last 48 hours, Erdogan has let rip with a string of warnings for the Iraqi Kurds, even suggesting they risk "not finding food or clothes".
He indicated Turkey will shut the border and could halt its transit of oil from the KRG to the Turkish Mediterranean Port of Ceyhan, an economic lifeline for the Iraqi Kurds.
Warning that "all options are on the table," Erdogan has reserved the right to take military action. The Turkish army has been holding exercises this week on the KRG border now joined by the Iraqi army.
"We can come unexpectedly in the night," Erdogan growled.
'Sanctions could backfire'
Under Barzani's rule, Turkey developed close economic ties with the KRG, helping make Iraq the second-largest Turkish export market after Germany in 2016.
This gives Ankara huge economic levers and, in the most extreme case, could undermine any basis for the KRG to be an independent state.
"It is clear that Ankara is prepared to escalate its responses," Ziya Meral, resident fellow at the British Army's Centre for Historical Analysis and Conflict Research, told AFP.
He said the response could include sanctions, a tightening of the border and limiting or even ban on civilian flights. But he warned: "All of these have economic costs for Turkey and Turkish businesses, from energy to trade."
Meral said Ankara would be wary of undermining Barzani especially as Turkey presses its fight against the outlawed Kurdistan Workers' Party (PKK) which has bases in northern Iraq.
Any Turkish military action against the KRG would be "militarily highly risky, demand a large deployment and carry fierce domestic and regional risks", he added.
Anthony Skinner of risk consultancy Verisk Maplecroft said that independence would be "meaningless" for the Iraqi Kurds if Turkey denied access to the Mediterranean for its oil exports.
It "would be equivalent to restricting the coronary artery feeding Kurdistan's heart", he said.
But he warned that Ankara would be mindful that 1,300 Turkish businesses have a presence in Iraqi Kurdistan and cross border trade is a major job creator in Turkey's own Kurdish-dominated southeast, where employment opportunities are limited.
"Slapping heavy sanctions on the KRG could backfire," he said.
'Cool and calculated'
In seeking to thwart any independence move, Ankara has vowed to work closely with the Baghdad government and Iran, which has its own Kurdish minority and bitterly opposes the drive by the Iraqi Kurds.
Widely seen as the world's largest stateless people, Kurds are spread between Iraq, Iran, Syria and Turkey, which has by far the largest population.
Erdogan has warned Barzani he risks isolation, noting that Israel is the only major player to have come out in favour of the referendum.
But while publicly mocking the KRG leader's solitude, Ankara will be ruffled by the position of Russia, which has not explicitly opposed the poll.
A week before the referendum Russian energy giant Rosneft announced deals to build gas pipelines in the KRG which could reduce its dependence on Turkey.
Turkey should be mindful of "miscalculating and pushing Erbil more closely towards Russia", said Skinner.
In this delicate calculus, Erdogan will also be mindful that votes of conservative Kurds in Turkey have greatly helped his own electoral success.
Conservative Turkish nationalists called for drastic intervention to thwart the KRG. "If we do not want war in Anatolia, we must take action," wrote Ibrahim Karagul, editor-in-chief of the pro-Erdogan newspaper Yeni Safak.
Other commentators urged a more pragmatic stance. "Turkey should be cool and calculated," wrote Taha Akyol, columnist of newspaper Hurriyet.
Related Articles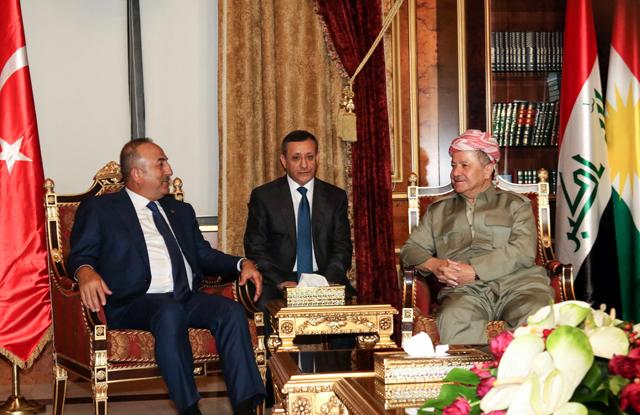 Aug 24,2017
ANKARA — The head of Turkey's nationalist opposition said on Thursday a planned independence referendum by Kurds in northern Iraq should be
Sep 17,2017
ANKARA — Turkish President Recep Tayyip Erdogan will meet Iraqi Prime Minister Haider Al Abadi during his visit to the United States this we
Oct 04,2017
ERBIL, Iraq — Iraq's autonomous Kurdistan region announced on Tuesday it was calling presidential and parliamentary elections for November 1
Newsletter
Get top stories and blog posts emailed to you each day.