You are here
Iraqi forces push further into northeast Mosul
By Reuters - Jan 11,2017 - Last updated at Jan 11,2017
Abu Wissam, whose wife and son were killed by Daesh militants, cries as he holds up the militants' execution order for his son, east of Mosul, Iraq, on Wednesday (Reuters photo by Ahmed Saad)
MOSUL, Iraq — Iraqi forces made new advances against the Daesh terror group in eastern Mosul and fought the militants in areas near the Tigris river on Wednesday, military officials said, keeping up the momentum of a renewed offensive in the extremists last major Iraqi stronghold.
Elite troops have pushed into several neighbourhoods in the east and northeast of the city in the past few days as they try to reach the Tigris River bisecting Mosul before launching an offensive on the west, all of which the militants still hold.
The counter-terrorism service (CTS) were advancing into the northeastern Sadeeq and 7th Nissan districts, according to a senior commander on the ground.
A Reuters reporter in eastern Mosul saw CTS forces fighting Daesh militants in Sadeeq, firing towards Mosul University and into the adjacent Hadba area, which army units advancing from the north had breached a day earlier.
The forces are expected to meet somewhere in between.
"Operations are ongoing and this district will be liberated very shortly, God willing," Lieutenant General Abdelwahab Al Saadi told Reuters on the front line in Sadeeq, one block from the strategically important university complex.
Tank shells, machinegun fire and air strikes from a US-led coalition backing the Iraqis targeted Daesh gunmen holed up in a handful of buildings nearby. The militants detonated several car bombs and returned gunfire.
During their attack, Iraqi soldiers repeatedly diverted their attention to the sky to fire their machine guns at white commercial drones circling a few hundred metres in the air.
They were unable to down the aircraft, which Daesh uses for reconnaissance, to record its suicide attacks and to drop grenades behind its enemy's lines.
Push to the river
Securing Hadba, Sadeeq and other nearby districts will allow the CTS to advance further towards the Tigris, control of whose eastern bank will be crucial to launching attacks on western Mosul.
Near Sadeeq and 7th Nissan, in the Sukkar district, a plume of white smoke rose from the site of a Daesh suicide bomb on Wednesday morning, while charred limbs and car parts from an earlier explosion were scattered along a carriageway.
Some residents streamed out of areas where clashes took place, waving white flags and towing suitcases behind them.
But many civilians have stayed in their homes, watching the military's advance from behind curtains and locked doors before walking out cautiously to greet soldiers and offer them tea.
CTS forces also clashed with the militants further south, a military statement said, seeking to build on gains along that part of the river bank, which they reached last week for the first time in the nearly three-month campaign.
Troops from the rapid response division, an elite interior ministry unit, with the backing of coalition air strikes also battled in the Sumer district in the south where they have faced fierce resistance since they entered it this week.
The US-backed offensive to drive Daesh out of Mosul involves a 100,000-strong force of Iraqi troops, Kurdish fighters and Shiite militias.
Masrour Barzani, head of the Kurdistan Regional Government's security council, said on Twitter that Daesh was "on the verge of collapse". His region's peshmerga forces are not fighting inside the city.
Related Articles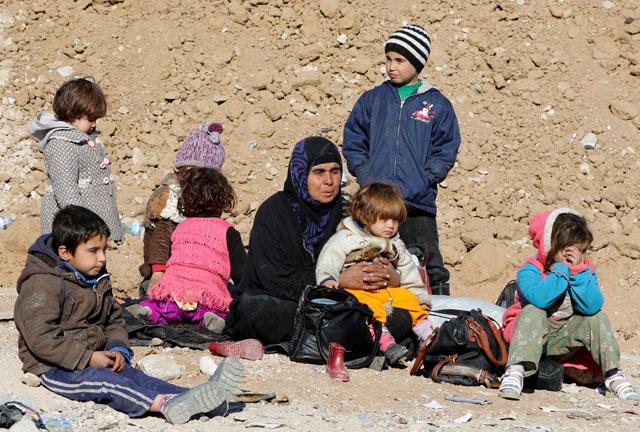 Jan 12,2017
BAGHDAD/ERBIL — Iraqi forces joined flanks in northern Mosul and drove back Daesh militants in the southeast on Thursday in a renewed push t
Jan 11,2017
ERBIL /BAGHDAD — Iraqi forces pushed Daesh militants back further in Mosul on Tuesday in a renewed effort to seize the northern city and dea
Jan 09,2017
MOSUL —Iraqi special forces made further advances against the Daesh terror group in Mosul on Monday, pushing militants from another eastern
Newsletter
Get top stories and blog posts emailed to you each day.